---
Cairo: Israel, Hamas agree to 3-day cease-fire
---
Sierra Leone: Ebola outbreak: fight against disease hampered by belief in witchcraft, warns British doctor
---
Scotland: Ebola terror at Commonwealth Games - Sierra Leone cyclist's 4 days' isolation in Glasgow
---
Atlanta: American with Ebola to be treated at Georgia hospital
---
Sapporo: Australian tropical cyclone activity said to be at the lowest level in modern history
---
Jerusalem: IDF strikes Gaza power plant, Haniyeh's home as it methodically takes out terror targets
---
Washington: Russia tests missiles, violates 1987 treaty with U.S.
---
MH17: U.S., Europe impose tough new sanctions on Russia
---
Senegal: New fears about Ebola spread after plane ride by Nigerian man just days before his death; he had visited his infected sister who later died
---
Journal of Palestine Studies - 2012: 'At least 160 children died digging tunnels for Hamas'
---
Washington: White House shows thin skin and poor skills as an ally, as it fumes over Israeli criticism of lame John Kerry
---
Mark Steyn: Israel and Ukraine, each fighting against the forces of terror and chaos
---
R. Emmett Tyrrell, Jr: In the Middle East, a new alignment being born?
---
TIME: Chemical in coffee, fries, and baby food linked to cancer, report says; advice given on how to avoid
---
Gil Troy: Why Hamas is guilty for the Gaza war
---
Jerusalem Post: Israel President Shimon Peres accuses Qatar of financing Hamas terrorism with petro dollars; one of last acts, as president steps down
---
Ukraine: Malaysia jet probe seeks missile evidence in black boxes, bodies
---
Curt Smith: Romney can say 'I told you so'; in a new Quinnipiac University national poll, America deems Obama the worst U.S. President of the last 70 years, dating to the end of World War II
---
Soon? Apple granted comprehensive 'iTime' smartwatch patent with in-strap circuitry, arm gesture support
---
Kiev: Two Ukrainian fighter jets shot down over rebel-held territory
---
Reuters: Sierra Leone's chief Ebola doctor contracts deadly virus
---
Incheon: South Korea ferry fugitive hid behind cabin wall, bags of cash at hand
---
MH4: Malaysia Airlines defends rerouting flight over Syria war zone just days after MH17 shot down over Ukraine
---
Unintended, ignored consequences: Killing marine life with ethanol
---
Ross Douthat: The parent trap
---
Jerusalem: Gaza militants infiltrate south Israel, IDF suffers casualties; IDF troops uncover 40 tunnels in Gaza, 14 of them intact
---
MH17: Outrage building over treatment of bodies at debris site
---
MH17: Recovered bodies put on refrigerated train
---
Donetsk: Rebels say they have what may be MH17 black boxes
---
NY Times: Attack kills at least 21 Egyptian soldiers at checkpoint in western desert
---
David Singer: Israel takes off the gloves
---
Gaza City: Israeli troops battle Hamas, uncover more than a dozen cross-border tunnels, destroy arsenals as Hamas rockets kill in Israel
---
Jerusalem: IDF starts Gaza ground offensive to take out terror tunnels
---
Johnny Winter: Blues legend dies at 70 in Zurich
---
Lois Lerner: Justice Dept: Missing emails now part of IRS probe
---
Media quake: Murdoch undeterred, continues to pursue purchase of Time Warner; would sell CNN, wants HBO to compete with Netflix
---
Israeli schoolgirl: My Letter of apology to the world media
---
Lenore Skenazy: Mom jailed because she let her 9-year-old daughter play in the park unsupervised... gasp
---
updated: Claim not terrorism: At least 21 dead, 136 injured in Moscow subway derailment
---
WSJ: Syria's allies are stretched by widening war
---
Tripoli: UN pulls its staff from Libya due to worsening crisis
---
Washington: Middle East descends further into chaos, endangering Israel -- and U.S. influence; Obama's foreign policy sandstorm "has the potential for much wider conflict" says John Bolton
---
Pew: Russia becoming more unpopular around globe due to invasion of Ukraine
---
Jerusalem Post: Netanyahu says more 'stages' to come in Gaza operation
---
Spy vs Spy: Germany asks CIA station chief in Berlin to leave country over U.S. spying row
---
Jerusalem: Gaza dead reach 78 as Israelis hint at invasion
---
Ukraine: Donetsk bridges blown up to halt access to rebel-held city
---
Wall Street Journal: Obama's new Ambassador to Canada is a diplomatic bungler; appears keen (or oblivious) to upset relationship with America's biggest trading partner
---
Kampala: Uganda says kills 60 gunmen, troops deployed near oil area
---
Kiev: Ukraine forces retake two more rebel-held cities
---
SOUTHCOM General: Southern border crisis threatens U.S. existence
---
Slavyansk: Pro-Russian rebels seen fleeing eastern town as Kiev savours military victory
---
Another bogus claim revealed: Plastic bag fantasy island vanishes like Atlantis, scientist corrects made-up million-ton floating estimate
---
Better than a helmet: Airbag head protection contained in collar for bikers promises safer landing
---
ISIS/ISIL: 'You have to kill them' says former U.S. Ambassador to Iraq
---
Joel Achenbach: Science is open to error, misinterpretation and even fraud
---
LA Times: Europe starting to see the flaws in the 'right to be forgotten' ruling
---
Brazil: Overpass collapses in World Cup city; at least two dead
---
Quinnipiac University: Only CBS covers new poll labelling Obama as the 'worst President' since WW II
---
Wall Street Journal: Sanctions could have 'significant impact' on Russia's economy: Russia Finance Ministry
---
Washington: U.S. seeks beefed-up foreign airport security after reports of undetectable bombs surgically implanted
---
Baghdad: U.S. sends Apache attack helicopters to Iraq
---
Baghdad: Iraq's Maliki says hopes for deal on government that could see him go
---
2007 campaign link: Nicolas Sarkozy, former French president, detained in corruption probe
---
Murder: Israel launches airstrikes in Gaza after bodies of 3 missing teens found; 34 locations targeted as Israeli troops raid homes of abductors
---
Detroit: GM recalls 8.2 million cars for ignition switches
---
MH370: Power outage linked to possible hijacking attempt
---
Kevin D. Williamson: Politics pays; no society can long thrive by making its innovators subservient to its bureaucrats
---
New Delhi: 2 arrested, 22 dead in India building collapses
---
Shot changed the world: Sarajevo marks 100 years since WWI with concert
---
Obama record of failure: ISIS success shows U.S. out of touch with Iraq's reality
---
MH370: Australian report assumes Malaysia Airlines Flight 370 lost oxygen
---
Cairo: Kerry and U.S. need Egypt for regional stability
---
'Fault line between civilization and savagery' — Netanyahu: Israel airstrikes hit 9 military targets in Syria
---
Iraq crisis: Iranians get shorts in a knot claiming Americans trying to exploit Iraq crisis as they try to exploit Iraq crisis
---
Chicago Tribune editorial: More smoke at the IRS — and not only from the hard drives; Special Prosecutor needed
---
American Thinker: MSM cofferdam around IRS scandal springs a leak; "Make no mistake: the weaponization of the IRS and subsequent cover-up is biggest political scandal in history of United States"
---
IRS cover-up plot thickens: IRS cancelled contract with email-storage firm weeks after Lerner's alleged computer crash
---
Summer: Iced water really is good for dogs on hot days
---
Hollywood: Actor James Woods decries New York Times 'lapdog media' coverage of Obama's 'thugs' at IRS
---
Doug Schoen: Obama flubs Iraq; "We're leaving behind a sovereign, stable, and self-reliant Iraq"
---
Baghdad: Iraq insurgents capture fourth town in Anbar
---
Mexico: Central American migrants are on a word-of-mouth exodus to the U.S.
---
Neil Macdonald: Washington throws the book at 'campus rape culture'; but new university guidelines on sexual behaviour go well beyond the laws of the land
---
Cairo: Egyptian court confirms death sentence on Brotherhood leader
---
Carl J. Asszony: Our foreign policy has been a flop
---
Mexico: Illegal migrants to U.S. massing at Rio Grande's edge
---
Daniel Keyes: Author of 1966 novel 'Flowers for Algernon,' dies at 86
---
Syria: Car bomb kills 34, injures 50
---
New York: Global refugee figure passes 50m for first time since WWII
---
Iraq: 1,083 assassinations, 4,465 car bombs: ISIS publishes detailed figures on terror campaign
---
Baghdad: Iraqi forces, militants battle for oil refinery
---
Kuala Lumpur: Boat sinks off western Malaysia, 66 Indonesians feared drowned
---
Report: U.S. trained ISIS at secret Jordan base
---
Iraq crisis: Militants take control of Tal Afar, advance closer to Baghdad
---
Jeff Wise: My MH370 Mea Culpa; How I went wrong in my analysis of the missing airliner
---
Iraq crisis: The bare-faced ISIS executioner who spreads terror with his open killing
---
Iraq: ISIS extends grip in north, freely post pictures of atrocities they commit
---
ISIS crisis: U.S. rules out co-ordinated military action with Iran
---
Can-Am study: Brain injury rates on the rise in cities with bike-share programs
---
Mombasa: Gunmen kill at least 50 in Kenya during World Cup TV screening
---
How convenient: IRS lost Lois Lerner's emails in tea party probe
---
Iraq: Army claims it kills 279 Islamic militants in 24 hours
---
Mosul: Iraq crisis: despite decapitations and deaths thousands return willingly to city held by ISIS terrorists
---
Ukraine: Russia sends tanks, other heavy weaponry into Ukraine
---
Kiev: Bomb found near Ukrainian president's office
---
ISIS crisis: The jihadist behind the takeover of Mosul — and how Obama let him go
---
Obama's folly: Iraq disintegrating as insurgents advance; Kurds seize Kirkuk
---
ISIS crisis: Obama says he won't rule out any type of help for Iraq; given his 100% failure rate in international matters, who will care?
---
Iraq crisis: al-Qaeda militants push towards Baghdad
---
Iraq: ISIS just stole $425M and became the 'world's richest terrorist group'
---
Las Vegas: Five reported dead in North Las Vegas police ambush
---
Kiev: Pro-Russian rebels launch latest assault in beleaguered Ukraine's east
---
Hidden hero: Exploits of Britain's first ever double agent revealed in new book; Canada and Hollywood connections revealed in 'Snow – The Double Life of a World War II Spy'
---
Kiev: Poroshenko takes oath as Ukrainian president, offers amnesty to armed groups
---
The final frontier: Sleep's memory role discovered
---
Afghanistan: Afghan election front-runner escapes car bombings in Kabul
---
D-Day 70th anniversary: Benedict Cumberbatch to read original D-day news bulletins on Radio 4; BBC's 70th anniversary coverage of Normandy invasion includes new recordings
---
Guelph: Monarch butterfly decline due to loss of milkweed, new study shows; link to growing corn for ethanol
---
Warsaw: Obama vows to defend freedom in Europe, support democratic movements worldwide
---
British Columbia: TransCanada plans $1.9B pipeline to serve Canadian LNG plant
---
Vin Scully: A legendary 65 years behind the microphone
---
MH370: After Malaysian flight disappearance, IATA says it will propose new tracking options
---
Madrid: King Juan Carlos of Spain abdicates
---
Abuja: One arrested after Nigeria football pitch bombing that killed 40 people
---
Former NHL, NBA owner: Media, sports mogul among dead with 6 others in Massachusetts 'fireball' plane crash
---
Guantanamo Bay: The Gitmo detainees swapped for Bergdahl: Who are they?
---
American Thinker: Scientist confesses he made up polar bear population estimates
---
---
Links formerly right here, now at http://www.newswatchcanada.ca/oldnews2014-1.html
---
---
---
---

---
Click this for Kiev/Ukraine video links, videos & screen caps from Feb. 20
---
Sierra Leone declares state of emergency as it struggles to contain Ebola
---
Liberia: Worst recorded Ebola outbreak ever now 'above the control'
of local government, has claimed at least 700 lives


Social commentator Alfred Sirleaf, comments on current events including the deadly Ebola virus by using a blackboard, as people gather round him to listen in Monrovia, Liberia, Thursday, July 31, 2014. ~ Jonathan Paye-Layleh AP Photo
---
Africa: Liberia shuts schools as Ebola spreads;
U.S. Peace Corps leaves three countries
---
Ebola: Doctors told to prepare for global outbreak after victim on 2 planes
---
Africa: Airline suspends Sierra Leone, Liberia flights amid Ebola scare
---
Ukraine: U.S. says evidence shows Russia fired across border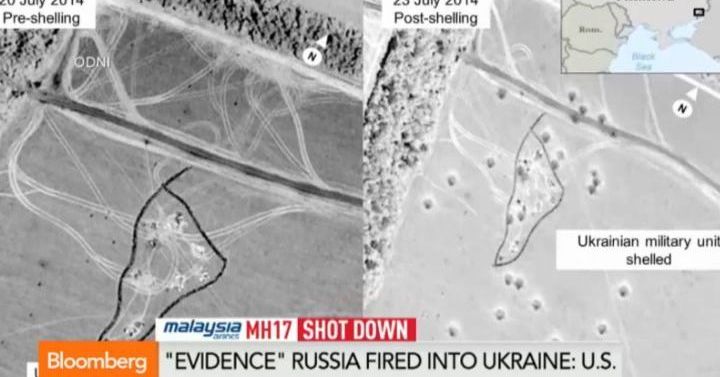 U.S. shows satellite proof of Russians firing across Ukraine border in act of war. ~ Bloomberg
---
Israel: Web of secret tunnels reveal threat from Gaza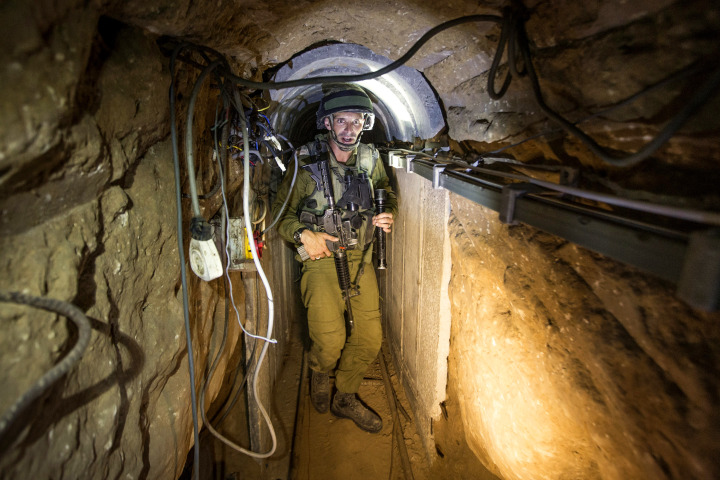 Israeli soldier during organized tour in tunnel used by Palestinians for cross-border attacks. ~ Jack Guez AFP/Getty
---
Gaza City: Hamas rocket mis-fires and falls into park, killing 10;
but the terrorists blame Israel while blocking media access
---
MH17: Fierce fighting in Ukraine prevents Dutch forces reaching crash site
---
BBC: Hamas-declared ceasefire in Gaza bogus as they fire more rockets
---
Jerusalem: Israel offers truce extension, Hamas rejects it
---
Jerusalem: Israel agrees to 12-hour Saturday ceasefire;
will keep seeking out tunnels and respond if fired upon
---
Toronto: Passenger says "wants to bomb Canada" on flight to Panama;
U.S. F-16s escort plane back to Pearson; was upset over price of cigarettes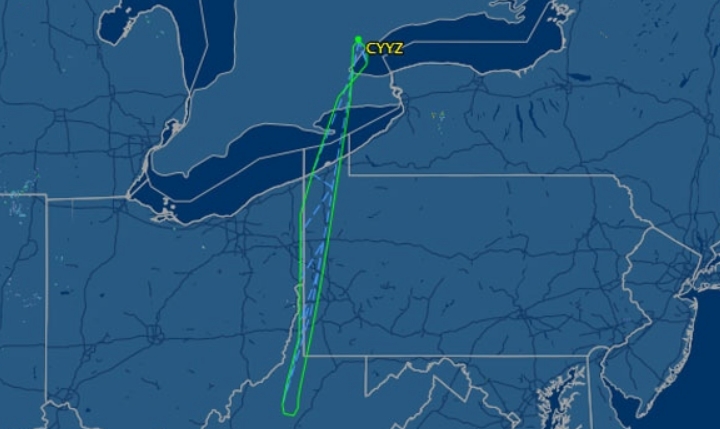 The flight path of Sunwing flight 772 is shown on Friday, July 25, 2014. Was turned around over West Virginia and
escorted back to Toronto by two F-16s scrambled by NORAD. ~ Flightaware.com
---
Mali: Wreckage of Air Algerie AH5017 said found in Sahara Desert
---
Mali: All 116 dead as Air Algerie McDonnell Douglas MD-83 jet crashes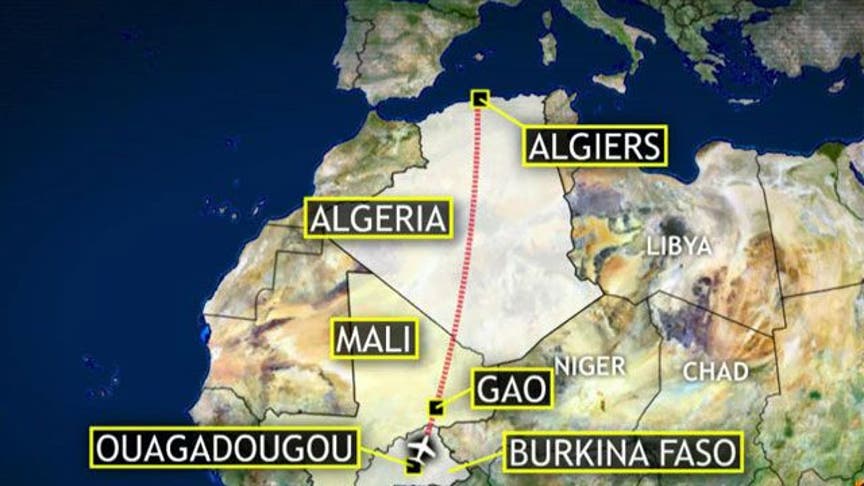 Air navigation services lost track of the Swiftair-owned McDonnell Douglas Air Algerie MD-83 roughly 50 minutes after takeoff from Ougadougou, the capital of Burkina Faso, at 9:55 p.m. ET Wednesday, the official Algerian news agency said. That means that Flight 5017 had been missing for hours before the news was made public. The list of passengers includes 51 French, 27 Burkina Faso nationals, eight Lebanese, six Algerians, five Canadians, four Germans, two Luxemburg nationals, one Swiss, one Belgium, one Egyptian, one Ukrainian, one Nigerian, one Cameroonian and one Malian, Burkina Faso Transport Minister Jean Bertin Ouedraogo said. The six crew members are Spanish, according to the Spanish pilots' union. ~ FOX News
---
Thousand Islands: Canada burns one of 1,865 famous islands to kill beetle


Camelot Island in St. Lawrence River on Canada-U.S. border is being burned to kill off pine beetle. The 10.3-hectare Camelot Island is about 12 kilometres upriver from Ivy Lea, with a handful of campsites, sheltered bays and a popular spot for paddlers. As part of the Lake Fleet Group, it is named after a British gunboat that patrolled these waters for enemy Americans during the War of 1812. Neighbouring isles are similarly named: Deathdealer, Bloodletter, Scorpion. ~ Ottawa Citizen
---
Ottawa: Sleepy fox takes nap on Ottawa city bus, twitter likes it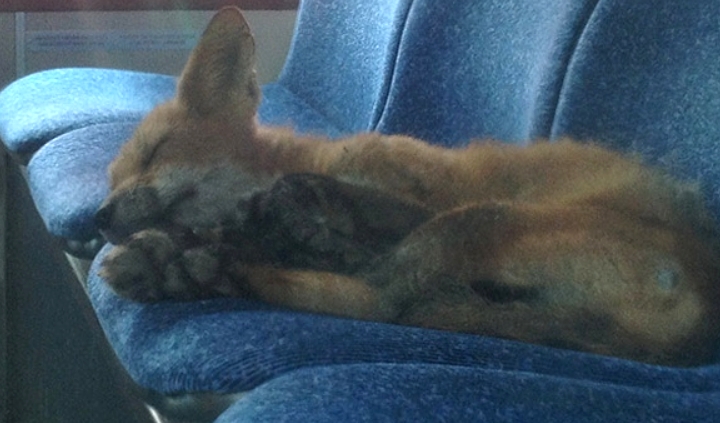 A cute slumbering fox that was found sound asleep at the back of an Ottawa city bus is becoming a bit of a Twitter
sensation. OC Transpo tweeted on Wednesday that the fox had snuck onto the bus while it was parked at a garage for
regular maintenance. The sleepy stowaway left on its own after its nap. ~ OC Transpo
---
Taiwan: 47 dead after TransAsia Airways plane crashes during typhoon;
11 injured during emergency landing near runway on island of Penghu
---
Ukraine: Russia still shipping arms to murderous separatists
---
MH17: Ukraine pro-Russian rebels finally give up 'black boxes'
---
MH17: Canada to expedite sanctions against Russia
---
Ukraine: Photos show weasel rebels sneaking Buk
launchers back into Russia after MH17 shot down
---
MH17: Vladimir Putin 'must feel pain' of sanctions


On a day of hectic diplomacy after the Flight MH17 disaster, momentum builds for tougher international sanctions on Russia to force Vladimir Putin to cooperate with the West to resolve the Ukraine crisis. ~ AFP/Getty
---
Tel Aviv: Hamas infiltrates through tunnel and kills two Israeli soldiers
---
Kiev: Ukraine says Russia helping separatists destroy evidence;
say have removed 38 bodies and are moving plane parts to Russia
---
Ukraine: Rebels confiscate evidence at MH17 debris sites;
investigators have been hampered by limited access
---
Washington: Obama condemns Russia over MH17
downing, gunmen hamper inquiry
---
Canberra: Australian PM lambastes Russia over response to downed plane
---
The Hague: Downed MH17 jet claimed victims from 11 countries
---
Ukraine: Outcry grows as world mourns downed MH17
---
Ukraine: Smoking Gun: intercepted phone calls between rebel
and Russian military intelligence prove guilt and link
---
Washington: Obama causes outrage with joke-filled speech after MH17
downing; termed it 'tragedy' rather than criminal act
---
Amsterdam: One Canadian among dead on MH17; 154 were Dutch,
27 Australians, 23 Malaysians, 11 Indonesians, six from UK, four
each from Germany and Belgium, and three from the Philippines


People inspect the crash site of Malaysian Airlines MH17 near the village of Grabovo, Ukraine,
Thursday, July 17, 2014. ~ Dmitry Lovetsky AP
---
New York: UN Security Council sets urgent meeting on Ukraine
---
Ukraine: Rebels in denial, but they stole Buk SAM launchers from Ukraine
and have used them this week to shoot down several aircraft;
today they trumpeted a plane kill at same location as MH17 debris
---
BBC: LIVE updates on shooting down of MH17 over Ukraine
---
WSJ: Sophisticated surface-to-air system
needed to shoot down high-flying jets
---
Ukraine: 298 die as Malaysian Airlines Boeing 777 FLT MH17
shot down by pro-Russians with missile fired from Buk launcher


Flight MH17 was travelling at 33,000 feet from Amsterdam to Kuala Lumpur when it was downed
over Ukraine, according to the Interfax News Agency. A Malaysia Airlines official has confirmed
the plane has crashed and they are due to make a statement shortly. ~ AP
---
Washington Post editorial board: Hamas is playing
a dangerous game with Gazan lives
---
Ottawa: Canada condemns Hamas rejection of ceasefire with Israel
---
Jerusalem: Israel, Palestine battle as Gaza ceasefire collapses
---
WSJ: Key to detecting Alzheimer's early could be in the eye;
retina is like a "piece of brain outside the brain" says researcher
---
Jerusalem: Israel approves Egyptian-proposed
Gaza truce but Hamas suspicious
---
WSJ: Egypt proposes cease-fire between Israel and Hamas
---
Jerusalem: Israel shoots down drone as more rockets fired from Lebanon
---
Gaza: Hamas publishes photo of a drone it says it built


Hamas's military wing published a photograph that it says shows one of its drones. The image gives no direct indication of how big the aircraft is, what its capabilities are, where it came from or where or when the photo was taken. According to Jane's Defence Weekly, the Iranian-made Ababil-1 is nine and a half feet long, with a range of about 150 miles, and is able to carry up to 88 pounds of payload, such as explosives or camera equipment.
---
Wind hoodwinking: Ontario wind opponents saving taxpayers $$billions


The mess that Ontario Liberals have created for Ontario power consumers.
---
Japan: M6.8 quake hits Japan near Fukushima, triggering small tsunami
---
Jerusalem: Israel struck with rocket fire from Lebanon, Gaza
---
Jerusalem: More Hamas rockets hit Israel;
ground/naval/air retaliation strikes hit Gaza
---
Kiev: Ukrainian troops repel militant attack on Donetsk airport
---
Ontario: Grey County formally asks province to lower
hydro rates; groundswell building over exorbitant increases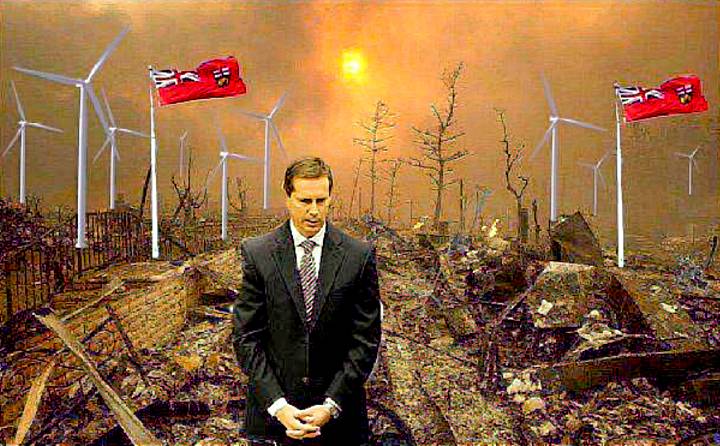 Grey County council is urging Ontario Premier Kathleen Wynne to do something as quickly as possible to bring hydro rates down to a "reasonable level." — "We're going to lose businesses in the county and in the rest of Ontario if we don't get the costs down for hydro," Owen Sound/Grey County Coun. Arlene Wright said during Tuesday's county council meeting. — Wright moved the motion, which also "strongly urges" Wynne to find out the reasons behind the escalating costs.
---
Saskatchewan: Tornado in weekend wedding photos stirs storm


Pro photographer Colleen Niska was snapping photos of a newly married couple on Saturday when a tornado formed behind the posing love birds. She decided to keep snapping, and the resulting images have gone viral. ~ Colleen Niska
---
Mexico: M7.1 quake kills at least two in Guatemala; depth 92.2 km
---
updated: Post-tropical: Arthur leaves 200K Maritimers without power
---
Arthur: New York airports cancel 385 flights with thousands more delayed
---
Batten down hatches for weekend: Arthur to hit
Nova Scotia with damaging winds, flooding


While Arthur will undergo transformation and weaken over the cold waters of the North Atlantic, it will still
be a large storm with a strong circulation. ~ Accuweather.com
---
Ruining July 4th: Arthur strengthens to hurricane
---
U.S. First hurricane in two years may disrupt July 4th celebrations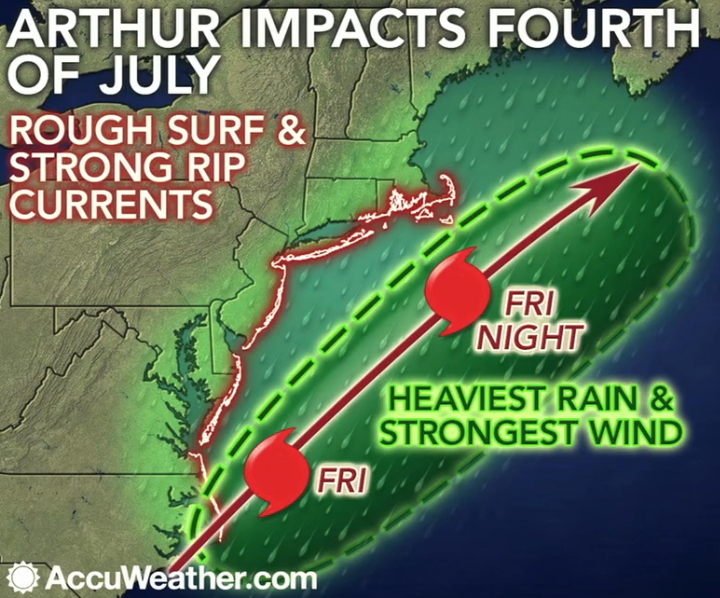 Arthur seen to graze U.S. East Coast before slamming Nova Scotia on weekend. ~ Accuweather.com
---
Mark Steyn: Happy Dominion Day!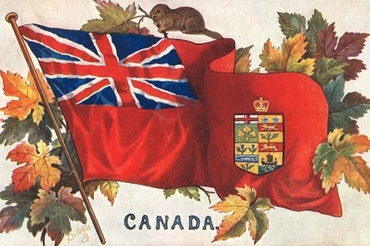 An early Canadian Red Ensign with the shield showing Canada's four founding provinces - Ontario, Quebec, New Brunswick and Nova Scotia.
---
Canada Day: Nation's Capital has big program planned for radio/TV;
Parliament Hill festivities include concerts, Snowbirds, CF-18 fly-bys


Canadians are celebrating the country's 147th birthday on July 1st. ~ Chris Wattie REUTERS
---
Canada Day: Crowds ready in Ottawa for a scorching, fun celebration


Shown here left to right are Natalia Rivera, Fang Pongpap and Francisco Antonelli
who are excited to be in Ottawa for the first time for Canada Day on Tuesday,
July 1, 2014. ~ Danielle Bell Ottawa Sun/QMI AGENCY
---
ISIS becomes IS: Alarm, ridicule for declaration of Islamic State
---
Ukraine meddling: Europe puts sanctions ultimatum on Putin
---
ISIS: Weapons windfall may alter balance in Iraq, Syria conflicts
---
Obama crisis: ISIS declares new Islamic caliphate in Syria/Iraq lands held


ISIS, the al-Qaida breakaway group that has seized much of northern Syria and huge tracks of neighboring Iraq formally declared the creation of an Islamic state on Sunday, June 29, in the territory under its control. ~ Associated Press
---
ISIS crisis: Obama Administration deepens U.S. role in Syria and Iraq;
major change in direction an admission of foreign policy failures?
---
ISIS crisis: Militants 'take full control' of Iraq's largest oil refinery
---
Telegraph: The scandal of fiddled global warming data; NOAA
has been fraudulently "adjusting" its record by replacing real
temperatures with data "fabricated" by computer models
---
Alaska: M8.0 quake hits off Aleutian Islands; "rings Earth like bell"
---
ISIS crisis: Kerry pledges 'intense' U.S. support for Iraq against militants
---
Cairo: Al Jazeera journalists jailed in Egypt, West condemns
---
Elliott Abrams: Barack Obama—The man who broke the Middle East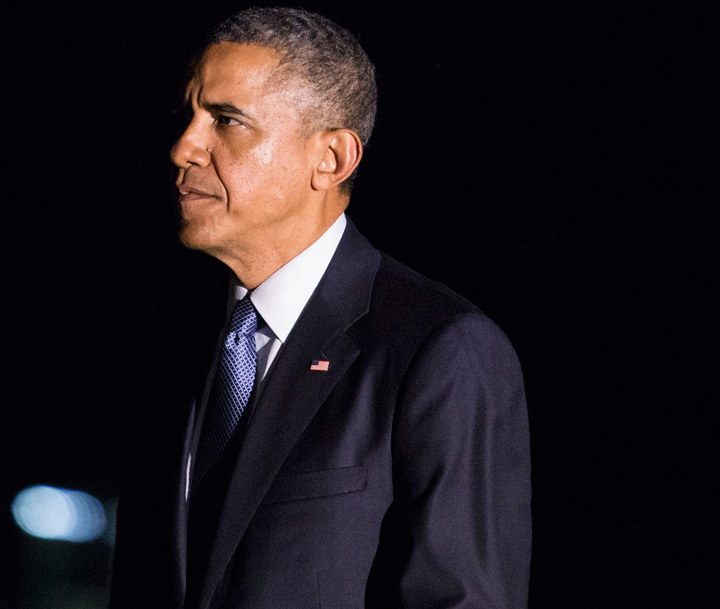 Barack Obama: Made many promises, betrayed all of them. Middle East in flames. ~ Getty
---
ISIS axis: Shifting power in the Middle East?


The players: The leaders, population and religions of Isis, Syria, Lebanon, Israel, Palestinian territories,
Saudi Arabia, Iran and Iraq. ~ Irish Times
---
Montreal: Police capture 3 inmates who escaped in helicopter jailbreak
---
ISIS crisis: Militants seize Iraq border post, kill 30 troops
---
ISIS crisis: Obama: U.S. is ready to take 'targeted military action'
"if and when the situation on the ground requires it"
---
updated ~ No arrest made: Air Canada Toronto-to-Brazil
flight turned back on security breach; but "no criminality involved"
---
Icon: Creator of Cadillac Ranch, made famous by Springsteen song, dies


Cadillac Ranch, American roadside attraction just west of Amarillo, Texas, was created in 1974 by
Stanley Marsh III. Eccentric businessman-turned-artist died Tuesday. ~ Robyn Beck AFP/Getty
---
Pilger: Rare dual killer tornadoes slam tiny rural Nebraska town


Framegrab taken from video provided by StormChasingVideo.com shows two tornados approaching
Pilger, Nebraska, Monday June 16, 2014. ~ AP
---
ISIS crisis: UN says 'cold-blooded executions' carried out in Iraq
---
ISIS crisis: U.S. sends troops to Baghdad
---
North Waziristan: Pakistan jets strike insurgents in full-scale offensive
---
ISIS crisis: U.S. considers air strikes, action with Iran to halt Iraq rebels
---
ISIS crisis: Militants say they have executed hundreds of Iraqi soldiers
---
Iraq: Hundreds of volunteers answer plea by Iraqi cleric
to join fight against ISIS jihadists as army soldiers desert


Iraqi men board military trucks to join the army at the main recruiting center in Baghdad. ~ AP
---
Luhansk: 49 killed as Ukrainian transport plane shot down by rebels


An armed pro-Russian separatist stands guard at the site of the crash of the Il-76 Ukrainian army transport plane in Luhansk June 14, 2014. Pro-Russian separatists shot down a Ukrainian army transport plane with an anti-aircraft missile as it came in to land early on Saturday in the eastern city of Luhansk, killing all 49 military personnel on board. ~ Reuters
---
Ontario Election 2014: How Liberals pulled off majority win despite
years of scandal—bald lies to a gullible, pre-bought electorate


Ontario Liberal Leader Kathleen Wynne acknowledges supporters at the Liberal's election night
headquarters in Toronto Thursday. ~ Darren Calabrese The Canadian Press
---
Liberal staffers mock loss of a billion dollars in cancelling gas plants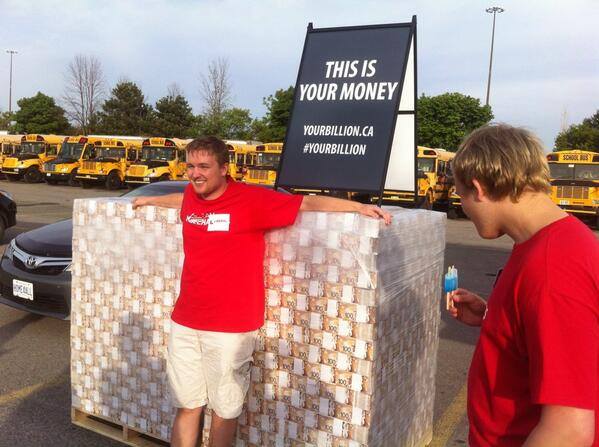 Liberal staffers on hand for a rally mocked the display of what a billion dollars looks like, used by concerned citizens to illustrate the colossal waste of the Liberal governments of Dalton McGuinty and Kathleen Wynne. It was the Liberal campaign chiefs' worst nightmare, along with OPSEU leader Warren 'Smokey' Thomas coming out and bluntly saying Kathleen Wynne was lying, as he cited a Bloomberg article that Liberal cuts were coming.
---
Ontario Election 2014: John Ivison: Hudak's calm and steady campaign could ultimately be what makes the difference


Ontario PC Leader Tim Hudak (left) stands with local candidate Larry Scott at a campaign rally in Oakville, Ont. on Tuesday June 10, 2014, as he continues his election campaign. ~ Chris Young The Canadian Press
---
Ottawa: Australia PM Tony Abbot says he hopes to get a few tips from
Stephen Harper on financial management when they meet today
---
---
Links formerly right here, now at http://www.newswatchcanada.ca/oldnews2014-1.html
---
For full news link archives since December 7, 2009
follow page links from
NWC Old News
Welcome to Worldwide Visitors
Send news tips to
Editor@NewsWatchCanada.ca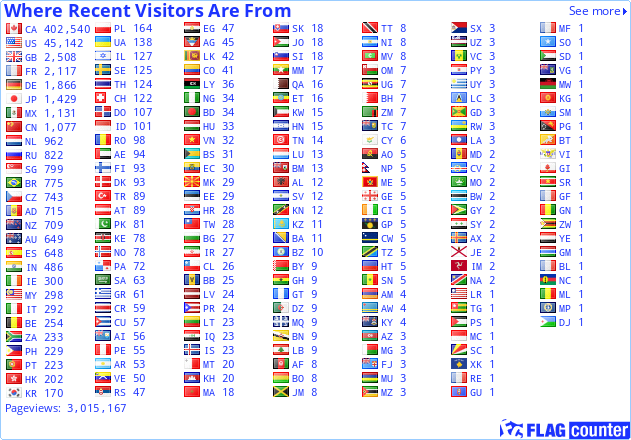 ---
Ottawa: Disclosure of Canadian First Nations salaries raises eyebrows; Chief of community of 200 natives earns $129,398
---
Ottawa: Canada to impose more sanctions on Russia in addition to those announced last week
---
Beijing: Baird raises cyberattack with Chinese Minister
---
Terence Corcoran: Charities that don't flout rules have nothing to fear from CRA audit
---
Ottawa: Delegation of Canadian Conservative and Liberal MPs head to Israel
---
Toronto: Man charged after online post urged people to throw food at Mayor Ford in return for free beer
---
2012 tragedy: Ex-engineer loses bid to keep parts of Elliot Lake mall collapse report secret
---
Montreal: Mayor says union must pay overtime costs after 100 police call in sick to protest pension changes
---
George Jonas: The moral illiteracy of Israel's critics
---
Air Algerie: Gatineau resident believes wife and 2 sons also on doomed flight
---
Air Algerie: Five Canadians, including father and his children, on board plane that crashes in Mali
---
Michael Den Tandt: In debate over Israel's war with Hamas, Baird has facts on his side
---
John Ivison: Tom Mulcair brings NDP a new maturity over Israel
---
Alberta: TransCanada's 'Northern Courier' pipeline approved
---
Forum Research poll: Chow, Ford and Tory now tied for lead in Toronto mayoral race
---
Margaret Wente: Why Australia's carbon tax bombed
---
Jane Wilson: Bill Ackman: have we got a deal for you...
---
Granatstein and Kaplan: Harper saw through Putin from the start
---
Toronto: Mayor Ford opposes bargain basement sale of four subway tunnelling machines when more tunnels await
---
Toronto: Air Canada and other airlines cancel flights to Tel Aviv after FAA warning
---
Ottawa: Gang of Ancaster human traffickers named, deported to Hungary
---
James Garner: Maverick, Rockford, movie star, dead at 86
---
Time for change: Toronto's $600,000 washrooms? Something smells
---
Ottawa: Foreign Minister Baird calls for "credible and unimpeded" investigation into downed MH17
---
Lorrie Goldstein: Kathleen Wynne's shell games
---
BC: West Kelowna wildfire grows to 400 hectares; evacuation order in effect for 2,500 residents
---
Crux of the Matter: Andrew Mitrovica's ad hominem attack on Rex Murphy's views re: climate alarmism
---
Ottawa: Mike Duffy faces 31 charges laid by RCMP; four categories, including fraud and breach of trust
---
Whitehorse: M6.0 earthquake near Yukon-Alaska border
---
London: Another former Liberal Cabinet Minister convicted of fraud; but ex-MP and ex-Mayor Joe Fontana gets no jail time for stealing public money
---
Queen's Park guessing game: Which Liberal cronies will profit most from Ontario Government asset sales? Shades of ORNGE
---
Martin Regg Cohn: Ontario's big bad budget news gets bigger, badder; with spring budget reincarnated as a summer spending plan, storm clouds loom over the Liberal government's debt horizon
---
Toronto: Ontario budget threatens youth employment
---
Toronto: Study finds Ontario budget will drive jobs, consumers and dollars out of the province
---
Toronto: Airlines to fight 'unbelievably punitive' Ontario fuel tax; will cost airport jobs
---
Ontario Liberal legacy: Ontario is number ONE! In high auto insurance rates and electricity bills, that is
---
Toronto: Balancing Ontario's budget will mean tax hikes or job cuts
---
Ottawa: PM Harper urges world leaders to side with Israel against terrorists next door
---
Paul Wells: Maybe Harper has slain the separatists
---
Toronto: Ontario loses 34,000 jobs, raises national unemployment to 7.1%; rest of country gained 24,000 jobs; foolish Ontario voters reaping what Liberals sowed
---
Ontario: FinMin Sousa says province holding panic garage sale to pay for decade of Liberal over-spending; will sell off or 'sweat' profits from Hydro One, Ontario Power Generation, LCBO, GM shares and Toronto property sales, all moves the Liberals opposed in the past
---
Ottawa: Conservatives gain 3% in latest national poll, cut Liberal lead in half
---
Ontario: Energy multinational headed by former Liberal Party President Mike Crawley appealing Transport Canada order to remove illegal 410-foot wind turbines placed too close to Chatham airport
---
Bill Tufts: Quebec cannot afford its public sector pension plans
---
Andrew Coyne: Soak the rich! Abolish the corporate income tax
---
Toronto Mayor race: John Tory ahead in mayoral race: Nanos poll
---
Ottawa: Army suicide stats tell a different story; half didn't serve in Afghanistan
---
Kelly McParland: Joe Oliver channels Jim Flaherty in telling Ontario to quit whining and solve its own budget problems
---
Toronto: Liberal Throne Speech details left-leaning agenda for Ontario
---
Toronto: Wynne Liberals remain in denial over their debt monster that's consuming Ontario
---
Toronto: As predicted during election, Ontario debt rating outlook cut to negative by Moody's
---
Toronto: Canadian dollar hits 7-month high amid strong U.S., Chinese manufacturing data
---
Ontario: Hudak steps down, Jim Wilson takes over as PC interim leader
---
Gilles Duceppe: Former Bloc leader says Canada is 'a great country'
---
West floods: Trans-Canada Highway re-opens, Manitoba, Saskatchewan weather forecast improves for Canada Day
---
Federal by-elections: Conservatives hold on to two in Alberta, Liberals take Chow's former seat, keep former Karygiannis riding
---
Edmonton: Alberta turns forecasted $1.97B deficit into surplus
---
West floods: States of local emergency remain in 24 Manitoba communities and some in Saskatchewan
---
Toronto: Canadian dollar falls amid lower than expected GDP data, commodities mixed
---
Moosomin: 'Our town looks like a lake': Saskatchewan communities under state of emergency after torrential rain
---
Mike Filey: A sightseeing tour of Toronto's historic Confederation-era past
---
Ipsos poll: Canadians proud of their history (but they don't know it well)
---
Alberta PC leadership: Prentice holds solid lead in race: Leger poll
---
Ottawa: Elizabeth Dowdeswell named Ontario's new Lieutenant-Governor
---
British Columbia: Landmark land title ruling: What it means and what comes next
---
British Columbia: Tsilhqot'in First Nation granted B.C. title claim in Supreme Court ruling
---
Ontario: Wynne extends balance budget deadline by year, keeps jokers in deck as cabinet shuffled & expanded
---
Ontario: Major demotion for spendthrift Sousa as Finance Minister loses authority over spending and pension plan as cabinet bloats; how many govt jobs will Wynne chop?
---
Rex Murphy: In Justin Trudeau's world, Christians need not apply
---
Alzheimer's: Tips for exercise as a form of prevention; older adults don't get enough physical activity, but it can be important for memory
---
Macleans: Don't do that again: Paul Wells on the Ontario election fallout
---
Ottawa: TFW program effectively getting heave ho
---
Ottawa: Loonie rises amid higher-than-expected inflation data, strong retail sales
---
Ottawa: Collusion at the CBC? [video]
---
Victoria: B.C. teachers' strike: 'Not even close' to deal, says Education Minister; union wants more, more, more like Ontario teachers
---
Ottawa: TSB investigates ORNGE mid-election close call at Ottawa airport not revealed until this week
---
Toronto: Ontario election 2014 saw the highest number of declined ballots since 1975; let their names be published so all can see the stupids among us
---
Kelly McParland: Ontario's new budget mantra: fun fun fun 'til Daddy takes the T-bird away
---
Toronto: Ontario Public Service Employees Union says other unions so afraid of PCs they sold their souls to Liberals; OPSEU President Smokey Thomas says PC Leader Tim Hudak was "honest" about his plan to cut 100,000 public sector jobs "and he paid a price" by losing last week's election
---
Waterloo: BlackBerry posts surprise profit
---
Toronto: Tim Hudak to step down as Ontario PC leader on July 2; told the truth, felled by lies
---
Andrew Coyne: No, Mr. Mulcair, it's not Northern Gateway that is a threat to our social order
---
Ontario: Angus hit by tornado, 20 homes damaged, 200 homeless
---
Toronto: Tornado warnings, watches extended in southern Ontario
---
Ottawa: Northern Gateway pipeline from Alberta to B.C. coast approved with 209 conditions
---
Toronto: Lightning injures 4 on golf course as left 18th green
---
Christie Blatchford: Justice at last for developers victimized in 2006 Caledonia native occupation
---
Ontario: New leader soon for PCs, but how 'soon'
---
Former Liberal cabinet minister: Joe Fontana to step down as mayor of London, Ontario, after fraud conviction
---
Old Maids versus new cats: A fight on the water at Niagara Falls
---
Trust: Ontario election reversal: Thornhill goes PC, not Liberal, after 'data entry error'
---
Billion dollar gas plants scandal: We kept few records, McGuinty tells OPP; Court documents reveal details of former Ontario premier's talk with investigators
---
Montreal: Canada's Amaya Gaming Group Inc. buys owner of online PokerStars for US$4.9B
---
Windsor Star: The Liberals had to answer to the deficit, the gas plant scandal, an OPP raid, a multimillion-dollar green energy lawsuit, Ornge and eHealth — but in the end, reducing 100,000 public sector jobs through retirement and attrition frightened voters
---
Ontario election 2014: 'Smokey' Thomas: Kathleen Wynne is lying about public sector cuts
---
Ontario election 2014: Bloomberg: Wynne/Sousa budget foretells biggest Ontario cuts in decades; Wynne lies about it for weeks
---
Ontario election 2014: Matt Gurney: Throw the Liberals out
---
Ontario election 2014: Media union weighs in on election; Liberal media bias on display?
---
June 9: 'Tax Freedom Day' is later than last year: Fraser Institute
---
F-35: Only the best jet fighter is good enough for RCAF
---
Ontario election 2014: Proof builds on Liberals' cozy relationship with unions
---
Ontario election 2014: McGuinty government changed green energy rules to benefit Liberal-linked firms, court filing charges; being sued for $653 million by T. Boone Pickens
---
Ontario election 2014: Lorrie Goldstein: Politically corrupt choices caused gas plants scandal
---
Ontario election 2014: Latest scandal: New MaRS lab adds $86M to taxpayers' bill; cost of a state-of-the-art infectious disease laboratory in troubled building in addition to $477M Ontarians already on hook for: Toronto Star
---
Ontario election 2014: Christina Blizzard: End the scandals and vote PC
---
Ontario election 2014: Liberal Party links to Metrolinx perks becomes latest election controversy
---
Ontario election 2014: Toronto Sun editorial: We endorse Tim Hudak, for Ontario
---
Brampton: Ten-year-old boy dies in sleepover, 300 left homeless as major fire consumes townhouse complex
---
Ontario election 2014: Election is a 'referendum on corruption'—Horwath and Hudak attack Liberals over gas plants
---
Ontario election 2014: Toronto Star editorial: Police—including OPP union—should stay out of elections
---
Ontario election 2014: Daniel Dickin: No matter who won the Ontario debate, Wynne lost
---
Ontario election 2014: Christina Blizzard: Why do Ontarians keep electing corrupt Liberals?
---
Ontario election 2014: National Post editorial board: A Conservative government for Ontario
---
Ontario election 2014: Labour's $4B election fund: Unions free to spend compulsory dues on political activities
---
Ontario election 2014: EKOS: Dramatic shift in poll results toward Hudak PCs
---
Moncton: RCMP release names of 3 slain officers
---
Toronto: Canadian team finds root causes for 146 rare childhood diseases
---
D-Day + 70: A short chronology of 1944 D-Day landings in Normandy by Canadian forces
---
---
Links formerly right here, now at http://www.newswatchcanada.ca/oldnews2014-1.html
---
---
---