---

---
Real Climate Science: Fakest year on record at NASA and NOAA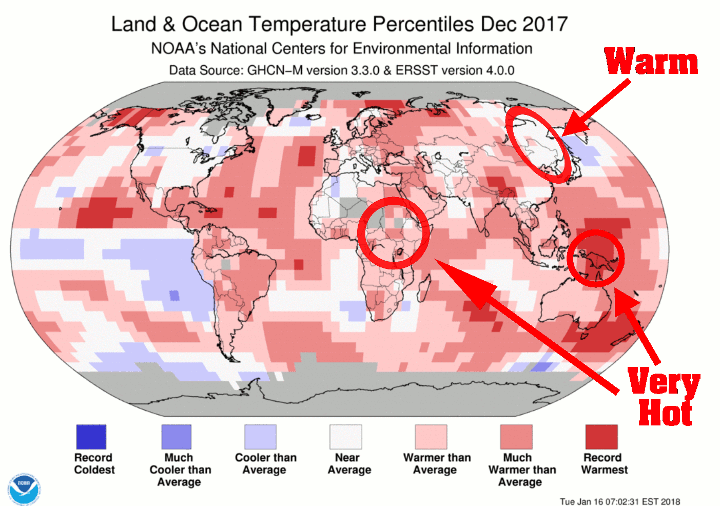 What was actually measured versus what was reported shows the high-level climate fraud at play to sustain the false narrative of anthropogenic global warming. NOAA turns very cold regions to warm, and areas of no data to record hot. The magic of data tampering and fake data.
---
LA Times: Flu death count in California jumps


A military-grade medical tent is used for overflow flu patients outside the emergency room at Loma Linda Medical Center. ~ Gina Ferazzi Los Angeles Times
---
Driving: Montrealer makes fake car out of snow to confuse police


Officers left a ticket – not for a fine, but with a note that read "You made our night hahahahaha :)"
---
Financial Post: Bank of Canada raises rate to 1.25%, but cautions on NAFTA
---
Korea Herald: Agreement on joint Olympic hockey team unprecedented for Koreas
---
CNBC: Bitcoin drops below $10,000 with $30B of value
wiped off in a day as cryptocurrency sell-off deepens
---
Roger Kimball - American Greatness: Friedrich Hayek's enduring legacy
---
Nile Gardiner - Telegraph: It's time to admit Trump's foreign policy has been a triumph
---
Principia Scientific: Solar cycle to cause a 'Mini Ice Age' as early as 2020: Study


A bombshell study, led by professor Valentina Zharkova of Northumbria University, suggests that in the next few years Earth will enter into a cooling phase that will set off a series of events leading to a mini ice age. Researchers came to the somewhat alarming conclusions by creating a mathematical model of the sun's magnetic fields. According to the models, there will be a "huge reduction" in solar activity for 33 years between 2020 and 2053. This will cause global temperatures to decrease—drastically. The temperatures will plummet to levels not seen since the 17th century. As IFL Science reports, the future predicted activity of the Sun has been likened to the Maunder Minimum. This was a period when the Sun entered an especially inactive period, producing fewer sunspots than usual. This minimum happened at the same time that conditions in Northern America and Europe went unusually icy and cold, a period of time known as the "little ice age."
---
AP: Intel underfoot: Floor sensors rise as retail data source
---
RCMP link Ontario man to website LeakedSource.com, home of 3 billion hacked accounts
---
Global News: Should charges be laid against Toronto girl for hijab cutting lie to police?
---
Toronto Star: Hijab scissor attack against 11-year-old did not occur: Toronto Police;
"events described" by alleged victim were fake news
---
CBC: Thousands in Philippines flee, brace for 'hazardous eruption' of volcano
---
Globe and Mail: Internal CSIS document details 'mega trends'
set to alter economy, society, security
---
LA Times: Urgent alerts about deadly mudslides came too late for Montecito victims
---
StudyFinds: Breakthrough Study: Virus injected into
blood attacks brain cancer, stimulates immune system
---
CBC: Shallow, massive M7.6 quake off Honduras; tsunami warning for Caribbean
---
Korea JoongAng Daily: Two Koreas plan military talks, another hotline restored
---
CTV News: North Korea to send delegation to Winter Olympics


South Korean Unification Minister Cho Myoung-gyon, third from right, and head of North Korean delegation Ri Son Gwon, third from left, with their delegations meet at the Joint Security Area or Panmunjom in the Demilitarized Zone in Paju, South Korea, Tuesday, January 9th, 2018. Korea Pool
---
Financial Post: Winter brings out the best and worst of life on the farm
---
CBC: Liberals re-launch family reunification lottery despite angry backlash around 'immigration fiasco'; flood of emails, letters show outrage over random selection process
---
CBC: Astronaut John Young, who walked on moon and flew 1st space shuttle, dead at 87;
Young was in space 6 times in the Gemini, Apollo and space shuttle programs


In this April 1972, John Young salutes the U.S. flag at the Descartes landing site on the moon during the first Apollo 16 extravehicular activity. NASA says the astronaut, who walked on the moon and later commanded the first space shuttle flight, died on Friday at 87. ~ Charles M. Duke Jr. NASA
---
Robert Fulford - National Post: Social media no more a nemesis to democracy than books
---
Rex Murphy - National Post: Too frigid for global warming?
This is why they rebranded it 'climate change'


Mist, caused by very cold weather above Lake Ontario, as seen from Toronto. ~ Ernest Doroszuk Postmedia Network
---
The Street: Dow finish above 25,000 for 1st time; S&P 500, NASDAQ also hit new highs
---
CNBC: Powerful blizzard hammers U.S. Northeast, snarling travel
---
C-c-c-cold: Live chill map shows desperate, deadly cold blanketing U.S. and Canada

---
CTV News: Who's affected by computer chip security mega-flaws — you & everyone else
---
CBC: Security flaws in virtually all phone and computer chips
'one of the worst CPU bugs ever found'
---
Hardware fail: Meltdown and Spectre flaws in modern CPU
architectures allow access to passwords and sensitive data
---
CTV News: Newfoundland snowmobilers rescue moose buried in deep snow


"We knew the moose was stuck really good," Jonathan Anstey said in an interview on Wednesday. "He tried several times to get himself out of the hole, but he wasn't getting anywhere." Anstey said the moose appeared to have gotten stuck in a bog hole and was trying to climb out, but its hind legs seemed to be firmly planted in the snow. He said some members of his group grabbed shovels and walked around to the rear of the moose, where they figured they would be safe from the animal's thrashing. After a few minutes of digging, Anstey said they had carved out a path behind the moose, and one of the snowmobilers rode up to the animal to coax it to turn around. "The moose actually realized it had footing on solid ground and managed to pull himself out of the hole."
---
NBC: At least 48 dead after bus plunges off cliff in Peru


Rescue workers at the scene after a bus careened off a cliff in Peru on Tuesday. ~ Guadalupe Pardo Reuters
---
Terry Glavin - Macleans: The uprising in Iran: 'This is what revolution looks like'
The ongoing protests are more than an economic revolt.
Could the darkness that descended upon Iran in 1979 soon be lifted?
---
Fox News: Kim Jong Un orders biggest-ever ICBM to be launched
on North Korea's 70th anniversary, defector claims
---
CTV News: 99 inmates on the loose after prison riot in Brazil
---
Dartmouth - CTV News: Crowd rescues stranded whale at Rainbow Haven beach
---
Konrad Yakabuski - Globe and Mail: Justin Trudeau: A disengaged Prime Minister
---
CBC: Demonstrations held in Toronto in support of Iranian protests
---
Ottawa Citizen: It's so cold, even parts of Niagara Falls are freezing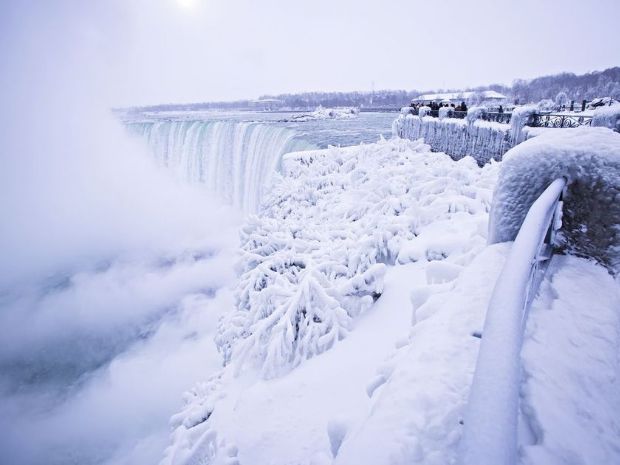 Visitors take photographs at the brink of the Horseshoe Falls in Niagara Falls, Ontario, on Friday, December 29, 2017. ~ Aaron Lynett The Canadian Press
---
NBC: With brutal cold here to stay, Trump shows empathy and extols
the virtues of global warming; fake news brigade strikes back as people suffer
---
NY Times: Even sharks are freezing to death: Winter rages and the nation reels
---
CBC: Passenger saves Ontario Northland bus after driver passes out on Hwy 401
---
Climate Change Dispatch: 7 new papers forecast global cooling, another mini Ice Age soon
---
BBC: The U.S. land lost in Canada; the Northwest Angle
is the northernmost point of the continental U.S.
---
blogTO: Extreme Toronto cold spell breaks 57-year-old record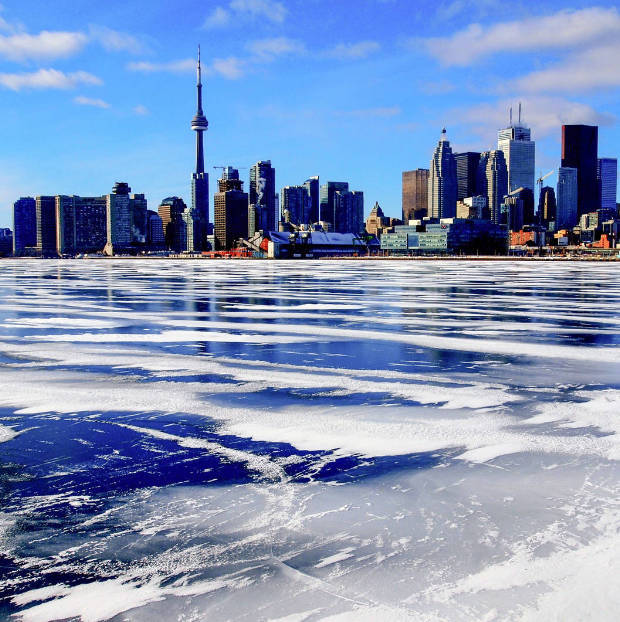 Toronto harbour, hard frozen earlier than usual.
---
---
Links formerly right here, now at http://www.newswatchcanada.ca/oldnews2017-2.html
---
For full news link archives since December 7, 2009
follow page links from
NWC Old News
Welcome to Worldwide Visitors
Send news tips to
Editor@NewsWatchCanada.ca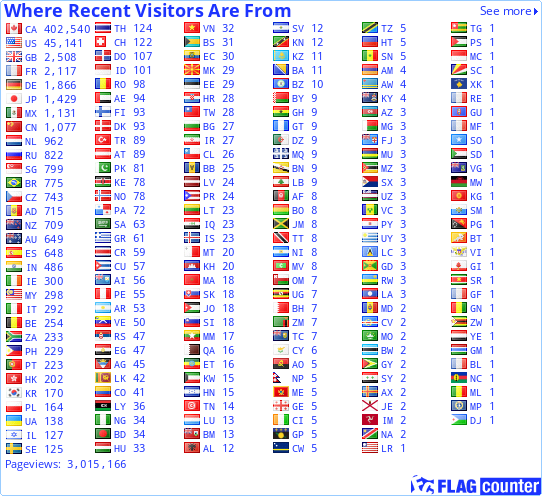 ---

---

For full news link archives since December 7, 2009
follow page links from
NWC Old News
---