---
TOP LINK
Steve Denning: Why does U.S. lose more manufacturing jobs than Germany?
---
"German law takes precedence over sharia": Angela Merkel calls for burka ban in Germany
---
Sharyl Attkisson: Newsgate 2016; 'inside documents and leaks have exposed serious lapses constituting the most far-reaching scandal our industry has known'
---
Inconvenient truth: Report buried Trump-related 'hate crimes' against white kids, front group misled public
---
New York: New pro-Trump group takes form, with Kellyanne Conway possibly at the helm
---
It's getting colder fast: All global temperature data sets confirm global temperature has fallen rapidly in recent months as recent El Niño ended
---
Washington: Canadian lumber duties would hurt U.S. consumers: housing groups
---
No projecting power: Putin shows off Russia's single embarrassing aircraft carrier, but functional ejector seats and tugboats
---
ZeroHedge: 'Naked Capitalism' website sues Washington Post for defamation after being labelled a 'fake news' site; is WaPo owner, billionaire Jeff Bezos, trying to stifle competition, or is it just practice of sloppy journalism? will WaPo publish the demanded retraction?
---
Hawaii: Japanese Prime Minister Abe plans landmark visit to Pearl Harbor
---
Rex Murphy: Sing along with Fidel, sensitive souls, and you won't hear the Cubans' screams
---
The New Yorker: The propaganda about Russian propaganda
---
LA Times: Some of new California Congressional crop get that it's about work to be done, others still push propaganda
---
Politico: Democrat Senators threaten more swamp tactics; want cabinet confirmations to be "slow slog"; in contrast, Republicans fast-tracked Obama cabinet picks in 2009
---
Cupertino: Apple pushes U.S. Govt to work with it on fast-tracking "autonomous vehicles"; finally admits involvement in self-driving cars
---
Beijing: Global shares mixed after Italy rejects constitution changes
---
Acclaimed neurosurgeon grew up poor: Trump nominates Detroit native Dr. Ben Carson for HUD secretary; tasked with urban agenda that includes fixing broken inner cities
---
Standing Rock: Obama's mishandling of $3.8B pipeline blockade symptomatic of incompetent Presidency; misguided protesters vow to stay on, even after fed govt flip-flop
---
Costing American jobs: Obama Administration withdraws granted easement for Dakota Access pipeline with only 1100 feet of 1200-mile pipeline incomplete
---
Dana Rohrabacher: Profile of latest rumoured candidate for Secretary of State
---
Michael Goodwin: Trump is mapping out his plan to put 'America first'
---
Facts differ: The 'Father of global warming', James Hansen, dials back alarm; oops, climate not so sensitive to CO2 as he so loudly claimed
---
Andrew Ferguson: Trump's chumps
---
Loss leader: Governments crazily force companies to sell electric cars if they want to sell at all; GM will lose $9,000 per Chevy Bolt
---
Dorothy Kilgallen: The reporter who knew too much? New book opens file on famous columnist Dorothy Kilgallen, murdered in 1965 while researching JFK assassination
---
National Review: The Left's double-standard on attacking a President's children
---
Long Island: Trump finally takes night off, attends private 'Heroes and Villains' costume party as himself; campaign manager Kellyanne Conway appropriately shows in Superwoman costume
---
Reuters: U.S. Navy, shipbuilders ready for Trump's expansion plan
---
Vienna: Austrians reject far right in presidential election; burst bubble (again) of media pundits
---
Washington Post: Trump warns of 'retribution' for companies that offshore jobs, threatening 35% tariff
---
LA Times: Oakland warehouse was a cluttered 'death trap' filled with pianos, RVs, but no fire sprinklers, former residents say
---
Texas congressman: 'Yes, we will build a wall, put Mexico on a payment plan and enforce the law'
---
Mike Cernovich: Two games (Scott Adams Says and Donald Trump)
---
Will use built-in powers to dismantle it: Seven ways Tom Price could quickly change Obamacare
---
Obama legacy: Defense Secretary Ash Carter says U.S., partners need to stay in Iraq after ISIS defeat
---
Chris Cillizza: Maybe Donald Trump knows exactly what he's doing with these Cabinet picks
---
Buzz Aldrin: Altitude sickness forced South Pole evacuation
---
Scott Adams: Trump and the Taiwan call; Relax. Adults are in charge.
---
Holman W. Jenkins, Jr.: Trump's charm of not being Obama; "the new White House won't fail to embrace the jobs that fracking and pipelines can bring"
---
Standing Rock: Reuters warmly profiles illegal demonstrators blocking pipeline and their suicidal, quixotic goal of riding out North Dakota winter
---
CNBC: Top Mexican official says Trump 'telling truth' about saving jobs
---
Roger Pielke Jr: My unhappy life as a climate heretic; "My research was attacked by thought police in journalism, activist groups funded by billionaires and even the White House"
---
Julie Kelly: Kellyanne Conway would be a feminist hero if she were a Democrat; "a super mom who rose to the top of her field and is now, unquestionably, the most influential woman in Washington"
---
John Kass: Will Obama pardon Clinton and cement his legacy?
---
Very low: The New York Times shows how low and snivelling it can go with attack profile on Ivanka Trump
---
National referendum Sunday: Italy may be stumbling into its own 'Brexit' moment
---
Salena Zito: Indianapolis gives Trump a second look after the Carrier deal
---
Brooklyn: Mexicans fear Trump will make good on his money transfer block
---
Beware: How hackers can guess your credit card information in just 6 seconds
---
Common sense and pragmatism: What a Trump insider says will be the hallmarks of new U.S. administration
---
updated Cincinnati: Trump announces retired Marine General James 'Mad Dog' Mattis for Secretary of Defense at celebratory 'Thank You' rally
---
Flashback: General James 'Mad Dog' Mattis email about being 'too busy to read' is a must-read
---
Tennessee: Are Gatlinburg fires the start of a new terrorist threat in U.S. like ones last week in Israel?
---
They get it: Many Muslim-Americans suggest Trump Presidency could help anti-terror fight
---
New York: Trump transition ahead of the game
---
Standing Rock: North Dakota protesters refuse to bow to frigid weather; live in makeshift tents, naively want authorities to provide snowplows for their illegal encampment
---
Antarctic: 'Ailing' Buzz Aldrin, second man on the moon, evacuated from the South Pole after becoming ill
---
Michael Goodwin: Trump already winning — and he's not even president yet
---
Medellín: Pilot of plane that crashed carrying Brazilian soccer team warned he was out of fuel moments before crash
---
Tokyo: Paper made from limestone tempts Japan's top printer to invest
---
Piers Morgan: The only thing Hillary is going to achieve by backing Jill Stein's shameless recount stunt is to make herself a two-time loser and drag America's reputation as a democracy through the mud. How very Clinton of her!
---
Mark Milke: No, Fidel Castro did not deliver a better Cuba
---
NY Times: Challenging the boss in public? For Kellyanne Conway, it's part of the job
---
Columbus: Ohio State attacker was a Somali refugee following recent exhortation from ISIS to duplicate Nice killing by vehicle
---
updated Columbus: Ohio State car and stabbing attack: 9 transported to hospitals, suspect killed
---
End of warm El Niño: Global average temperatures over land have plummeted by more than 1C
---
Washington Post: 'After the beating': Moroccan TV airs makeup tips for hiding domestic violence
---
Michael Cieply: Stunned by Trump, The New York Times finds time for some soul-searching
---
Kimberly Atkins: Time for Jill Stein, Hillary Clinton to call it quits; dragging election on does no good
---
Carlos Eire: Farewell to Cuba's brutal Big Brother
---
Cruel dictator is dead: 'I'm celebrating hope': Cubans flood Miami streets after Fidel Castro's death
---
Sen. Ted Cruz: The Truth about Fidel and Raul
---
Paris: French terror suspects took orders directly from ISIS
---
Trump effect: U.S. consumer confidence suddenly rises
---
But she promised... Lena Dunham whines and makes excuses for why she's not moving to Canada after Trump elected; she lied?
---
Jerusalem: Israel arrests 12 on suspicion of arson after mass wildfires
---
Making America great again: America's trade advantage
---
New York: Macy's 90th Thanksgiving parade goes off safely under tight security
---
Tegucigalpa: Border-hopping Central Americans surge north, hoping to reach U.S. before Trump inauguration
---
U-Earth Biotechnologies: These innovative devices eat smog from burning coal, clean dirty air without filters
---
Detroit: The numbers are in: Trump wins Michigan by 10,704
---
Jerusalem: Police questioning numerous suspects for arson, 75,000 evacuate Haifa as thousands of firefighters battle blazes across Israel
---
New York: Trump expected to pick turnaround expert Wilbur Ross for Secretary of Commerce job
---
updated Hilla: 73 now confirmed dead in Iraq suicide truck bomb blast, including 40 Iranian Shi'ite pilgrims
---
End of warm El Niño: Tokyo hit by 1st November snowfall in 54 years
---
Socialism spiral: Venezuela's currency just had the biggest monthly collapse ever
---
Cassino: Trump is a 'game changer' for auto industry, Fiat CEO says
---
Paris: Thwarted French attack was slated for December 1st at key Paris sites
---
Anna Lehmann: Angela Merkel's time is up. She shouldn't stand for a fourth term
---
Palm Beach: Trump appoints charter school advocate Betsy DeVos as Secretary of Education; leader of American Federation for Children
---
New York: Dalai Lama says he will visit Donald Trump
---
New York: South Carolina Gov. Nikki Haley accepts Trump offer to be U.S. Ambassador to United Nations
---
New York: Donald Trump's New York Times interview: full transcript
---
Trump at the NY Times: As the tweets turn
---
CNN/ORC Poll: Trump scoring higher than previous Presidents in pre-Inauguration public expectations for economy
---
Tehran: More than 1,000 Iranian fighters killed in Syrian conflict so far
---
Terror averted: Yemen native residing in New York arrested for plotting an ISIS Times Square truck attack similar to one in Nice, France
---
Beijing: 17 dead after 56-car pileup in China
---
New York: 6 policy plans Trump outlined in his YouTube address
---
New York: Trump says will quit Pacific trade deal on day one of Presidency
---
POLITICO/Morning Consult poll: Trump's popularity soars after election
---
National Review: Jeff Sessions, a fitting selection for Attorney General
---
San Antonio: Amid 4 police shootings, suspect arrested in Texas officer's death
---
Bloomberg: $100B Chinese-made city near Singapore 'scares the hell out of everybody'; planeloads of buyers fly in as condos rise from the sea
---
updated Tennessee: Driver charged with vehicular manslaughter after six students killed in Chattanooga school bus crash
---
Five Thirty Eight: Trump is naming his cabinet ahead of schedule
---
London: IBM invests in UK data centers as tech sector defies Brexit worries
---
Cannon Ball: Police fire water cannon at rock-throwing Dakota pipeline protesters in freezing weather
---
George F. Will: College kids are proving Trump's point
---
Afghanistan: Suicide bombing at mosque kills at least 27 in Kabul
---
Laura Ingraham vs. Juan Williams: Using term 'radical' for patriots like Flynn exactly why people despise Washington
---
New York: Steven Van Zandt calls on 'Hamilton' to apologize to Mike Pence
---
Washington: Obama tears up drilling permits to stop gigantic energy boom in Colorado
---
Michael Smerconish: Helping to deliver Pennsylvania for Trump
---
Reuters: Fed up with EU, Erdogan says Turkey could join Shanghai bloc
---
San Antonio: Donald Trump's mock assassination draws ire at Texas high school
---
NY Times: The wreckage of Obama's legacy
---
Tom Shattuck: Cast in a bad light, Dems' theatrics wearing thin
---
Telegraph: The Queen 'set to invite Donald Trump to Britain'
---
MSM delusion/collusion: 'Good times never seemed so good!' Flashback to Democratic/media campaign high
---
Obama's never-ending lecture tour: President Obama, who has done less for Europe than any American President since Calvin Coolidge, cannot stop telling Europeans what to do
---
Neoliberalism's epic fail: The reaction to Hillary Clinton's loss exposed the impotent elitism of liberalism
---
The real expert: Trump digital director Brad Parscale explains data that led to victory on 'Kelly File'
---
Peggy Noonan: What to tell your children about Trump
---
Bloomberg: Mexico seeks Trump talks to modernize NAFTA, Pena Nieto says
---
New York: Selfie tower: Trump's home becomes NYC's hottest backdrop
---
New York: Debate over 'Hamilton' Pence diss exposes post-election cracks
---
Mexico City: Mexico arrests alleged cartel assassin leader in Acapulco
---
Elko: Nevada medical flight with four on board crashes, burns in Barrick Gold mine parking lot
---
Sean Hannity: Fanning flames instead of calling for calm is classic Obama
---
New York: Trump continues fast pace of cabinet-building; Sen. Jeff Sessions to be Attorney-General, Rep. Mike Pompeo to be head of CIA, Lt. Gen. Michael Flynn to be National Security Adviser in White House
---
Mozambique: 73 killed, scores injured as oil tank truck explodes
---
Trump Tower: The home of a reality show, a campaign and now a transition
---
Pasture-ized: Weary Hillary Clinton admits she wanted to 'curl up and never leave house again' after election defeat
---
New York: Trump push to combat drug trade may mean starting with China, not Mexico; huge fentanyl flow traced to China
---
Manila: Philippines' Duterte says may follow Russia's withdrawal from 'useless' ICC
---
Telegraph: Support crumbles for the International Criminal Court
---
New York: Trump to bar his Administration officials from lobbying for 5 years after they leave
---
Ann Coulter: Literally shaking; "Trump's election is the Doomsday Scenario for Democrats because they were just on the verge of turning the whole country into California"
---
New York: Workaholic Trump largely unseen during first week of transition as he builds cabinet, selects staff
---
New York: The needy U.S. media whines again after Trump and family go out for a private family dinner without them tagging along
---
NY Times: Should President Obama pardon Hillary Clinton?
---
The late Andrew Breitbart: A major force in 2016 election, 4 years after his death
---
Andrew Breitbart backgrounder: NY Times: The Provocateur
---
Contrary to media attack dogs: Breitbart executive and Renaissance Man Stephen K. Bannon: Friend of the Jewish people, defender of Israel
---
Will Rahn: The unbearable smugness of the press; "Trump knew what he was doing when he invited his crowds to jeer and hiss the reporters covering him. They hate us, and have for some time"
---
Bloomberg: Trump's data team saw a different America — and they were right
---
Washington Post continues to stir mischief: A 75-mile-wide gap in Trump's wall? A tribe says it won't let it divide its land
---
Washington Post: Hopeful and relieved, evangelicals see Trump's win as their own
---
Baghdad: ISIS claims suicide attacks as Mosul campaign makes slow progress
---
Reuters: Europeans agree to new defense plan after campaign swipes by Trump
---
John Fund: Sidney Blumenthal, birtherism, and the law of unintended consequences
---
A dollar a year: 9 key takeaways from Trump's '60 Minutes' interview
---
Fr. Raymond J. de Souza: Scrubbing itself clean of the Clintons is good for U.S. political hygiene
---
Non-stop waste: Hillary spent nearly twice as much per vote as Trump... for nothing; $40M on 'consultants'
---
CNN: TPP defeat, future of US-Asian alliances sour Obama's final trip
---
Miami Herald: Trump says he'll immediately deport or jail illegal immigrants — those with "criminal records, gang members, drug dealers"
---
Malmo: Swedish chef and TV star is attacked by a gang of 'Muslim men' in fast food restaurant for looking like Donald Trump
---
Turns down $400,000: Trump: 'I'll take $1 a year' as Presidential salary
---
Possible? Twitter users call on Donald Trump to pardon Wikileaks' Julian Assange
---
Democrat Disaster: Former Bill Clinton Labor Secretary Robert Reich threatens creation of third party
---
Sean Trende: It wasn't the polls that missed, it was the pundits
---
Bernie Sanders: Democrats lost elections because they focused on 'liberal elite,' not working class
---
Glenn Reynolds: 'Tolerant' educators exile Trump voters from campus
---
Paul Mulshine: New Jersey statistician was polls apart from the others on Donald Trump victory
---
Naomi Schaefer Riley: Killing the 'sisterhood': why identity politics didn't work for Clinton
---
Montreal Gazette: Sorry, but there's no quick escape to Canada for Americans
---
Margaret Wente: Trump voters deserve respect. Here's why
---
While Hillary rested: Trump out-campaigned Clinton by 50% in key battleground states in final stretch
---
NY Times: From Bataclan to street cafes, Paris is quiet but resolute as it mourns on anniversary of attacks
---
New York: President-elect Trump names Steve Bannon and Reince Priebus to his senior White House leadership team
---
NY Post: Why celebrity endorsements didn't help Hillary at all
---
TIME: Frank Luntz: What the polls were never going to reveal
---
Michael Goodwin: Donald Trump's win means the biased media needs to change
---
NY Times: Michigan voters say Trump could see their problems 'right off the bat'
---
Dana Schuster: Kellyanne Conway tells The Post she feels 'blessed' over White House gig
---
NY Times: Obama's policies and broader vision face reckoning with history
---
Sen. Ben Sasse: Everyone's duty is to hope for Trump, work for America
---
Conrad Black: The free press failed and the Clintons, Bushes and Obamas are finally finished
---
Nazareth: Why 53% of America's white females voted for Donald Trump, even if they were offended by him
---
Rex Murphy: It wasn't misogyny that caused Clinton's downfall, it was all the baggage she dragged around
---
Arrogance: How the Clinton victory party went from coronation to despair
---
Quetta: Death toll rises to 50 in ISIS-claimed blast in Pakistan
---
Breitbart: Peter Thiel wants to serve Trump Administration as technology adviser
---
Nigel Farage: Unlike Obama and Clinton who both sneered at us, Donald Trump actually likes the UK
---
Mike Gonzalez: Obama's 'legacy' drive lost Florida for Clinton
---
Michael Goodwin: New York Times: We blew it on Trump
---
Charles Hurt: Trump outsmarts media as he sets sights on Obama's divisive, racialist policies
---
Joanna Slater: Democratic Party faces struggle to regroup after Trump win; Granholm frets, Palmieri blames
---
New York: Dow posts best week since 2011 after Donald Trump election win
---
From 2015: Donald Trump on refusing Presidential salary: "I won't take even $1"
---
Canadian view: Waaaahhhh!!!! Trump won the election; Democrats become 'crybabies', call for assassination after Republican's victory
---
Insider alerts: Iraqi troops listen in on ISIS walkie-talkies in Mosul
---
Daily Mail: Putin about to quit due to ill health, hints Kremlin expert
---
WSJ: Donald Trump, in exclusive interview, tells WSJ he is willing to keep parts of Obama health law
---
Scott Adams: I answer your questions about predicting President Trump
---
WSJ: Donald Trump shuffles transition team, making Mike Pence chairman
---
'Dirty Jobs': Mike Rowe nails why Trump won
---
Paul Mulshine: Both the politicians and the pundits were caught off base by the Donald; "I guess I was the only journalist in attendance Monday night in Philadelphia who noticed that Bruce (Springsteen) was singing about a working class that was going to vote for Trump"
---
Kirsten Powers: Trumping the liberal elite;
---
Michael Barone: Donald Trump's astounding victory: How and why
---
Robert Reich: Democrats once represented the working class. Not any more
---
Charles Krauthammer: How Trump can keep winning: Let Reaganism and populism meet each other halfway
---
Detroit News: Trump flipped 12 counties to win Michigan; Trump also wins Arizona
---
Tibet: China tries to conquer Everest
---
Mexico City: Mexico says ready to 'modernize' NAFTA with Trump
---
WSJ: Donald Trump's campaign manager says she has been offered White House job
---
Timothy Carney: Obama, the Democratic disaster
---
Berlin: German politicians fret populism may harm trade, global economy
---
Trenton: New Jersey Governor Christie running transition and believed in line for a serious role in Trump Administration
---
New York: Markets rise as investors buy into Trump; Europe follows U.S. and Asia higher after initial negative reaction to presidential election
---
No rest for the winners: Transition to Trump Presidency means quickly filling top jobs so new Administration hits the job running long before January inauguration
---
Shares vision of problems: Bernie Sanders is 'prepared to work with' Donald Trump
---
Mass pout: Dozens arrested as thousands protest Trump in New York City
---
Detroit: One day after election, GM cuts 2,000 jobs, including 1200 in Ohio
---
Trump effect: Dow Jones closes near all-time high after initial drop
---
A resentful, angry Washington Post: How Donald Trump broke the old rules of politics — and won the White House
---
USA Today: How Clinton lost 'blue wall' states of Michigan, Pennsylvania, Wisconsin
---
Paul Mulshine: Donald Trump stole the Democratic Party's base from right under their noses
---
Crooked Hillary: White House open to a Clinton pardon
---
NY Post: Anti-democracy Democrats take to the streets in mass pout
---
Laura Ingraham: Congratulations, America; In rejection of failed elite agenda, our nation has elected a President who can represent our whole nation
---
The New Yorker: Trump's America, hiding in plain sight
---
Tom Kuntz: Disrupters were journalism's winners in the 2016 election
---
Mexico City: Mexico says it won't pay for Trump's wall as peso plummets
---
WSJ: Trump victory draws parallels with Brexit referendum; his victory, like Britain's vote to leave the EU, comes as a shock to the Western political establishment
---
Washington Post: Trump promised Brexit 'times five.' He delivered.
---
The 'Deplorables' got the last laugh: Let's face it: Liberals helped stoke the rage that elected Donald Trump
---
Michael Goodwin: Trump victory is a win for the little guy over the elite
---
Piers Morgan: The more the privileged elite sucked up to Clinton, the more determined it made Mr. and Mrs. Ordinary American to trigger Millennial Armageddon
---
The Math: Trump 2016 would've beaten Obama 2012
---
Back opinion — October 2016: Michael Moore: 5 reasons why Trump will win
---
Back news — October 13, 2016: Latest Wikileaks releases boost case for DNC class action lawsuit; Democratic leaders subverted democracy to ensure Clinton was their nominee
---
Her best speech of long career: Clinton urges supporters to accept Trump victory, give him 'chance to lead'
---
Trump campaign: 'Undercover' supporters helped deliver upset victory
---
TIME: Paul Ryan: Donald Trump's election is 'Most incredible political feat I have seen in my lifetime'
---
Robert Tracinski: 5 ways Donald Trump's victory is Barack Obama's legacy
---
Robby Soave: Trump won because leftist political correctness inspired a terrifying backlash; what every liberal who didn't see this coming needs to understand
---
John Podhoretz: Trump's huge election night changes U.S. politics forever
---
Swamp being drained: Trump takes Florida, Ohio, North Carolina in battle for White House
---
The Hill: Carl Bernstein: Trump wins if 'alternate universe' of Drudge is right
---
Reuters/Ipsos poll: U.S. voters want leader to end advantage of rich and powerful
---
Las Vegas: Nevada judge rejects Trump request for order over early voting
---
Nevada: Trump sues to set aside Nevada ballots he says were filed late; polls closed 3 hours after scheduled
---
TIME: City of Orlando to buy Pulse nightclub for $2.25M and turn it into a memorial
---
NY Times: In Rolling Stone defamation case, magazine and reporter ordered to pay $3M
---
Devious Democrat: Brazile sent even more debate questions from CNN to Clinton
---
New Hampshire: Trump endorsed by Tom Brady and Bill Belichick
---
Washington: How Clinton's foreign policy has de-stabilized nearly every corner of the globe
---
Grand Rapids: Two-mile-long line entering final Trump rally; Trump arrived on stage at 12:30 a.m.
---
CNN: Clinton, Trump make final pitches
---
Crime family? The apple doesn't fall far: as Chelsea Clinton campaigns, her personal financial life is exposed on WikiLeaks
---
NY Daily News: Philippines' President Rodrigo Duterte cancels U.S. weapon deal — threatens to turn to Russia, China instead
---
Financial Times: China tries chequebook diplomacy in Southeast Asia
---
Beijing: China unveils three major decisions within three minutes
---
Barbarians: Iraqi military finds 100 decapitated skeletons east of Mosul
---
Denver: Republicans hold lead in Colorado early voting entering Election Day
---
NY Post: Hillary Clinton's big ideas for tanking the U.S. economy
---
Howie Carr: Nation fails its moral exam
---
CNN: Early voting data suggests Clinton lags in North Carolina compared to Obama in 2012
---
McClatchy: They're young. They're women. They're college-educated. And they're voting for Trump
---
Daily Mail: DNC staffers prepared CNN anchors Wolf Blitzer and Jake Tapper for interviews with Trump, new batch of 8,000 WikiLeaks emails reveals
---
---
Links formerly right here, now at http://www.newswatchcanada.ca/oldnews2016-2.html
---
---
---
---

---
Suspected Ottawa terrorist charged in threat to bomb police station
---
Oakland: Now 36 dead; 'People want answers:' criminal probe launched
---
Rome: Renzi resigns after losing reforms referendum with neck on line
---
updated Italy: PM Renzi suffers heavy defeat in 'resignation referendum'
---
Elin McCoy: Decade's best new world Chardonnays are from ... Ontario?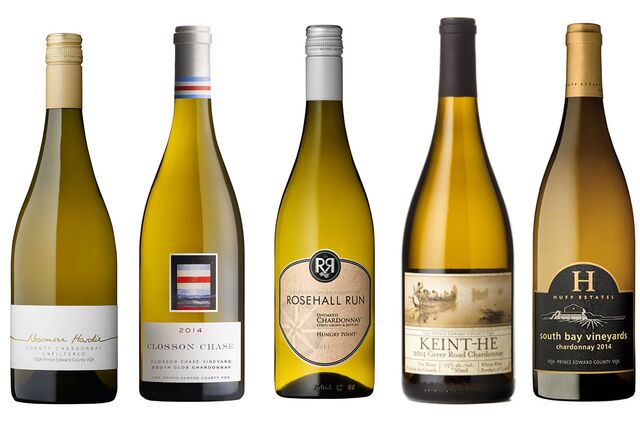 "I was the lone American on the judging panel, but like the Canadian judges, I ranked Ontario chardonnays as No. 1 and No. 2, ahead of the oakier Napa examples. They were brilliant: light and crisp, with spiky acidity, succulent layers of lemon-lime and stony flavors, and a flinty elegance missing from the California wines. The two winners, Rosehall Run JCR Vineyard (No. 1) and Closson Chase South Clos (No. 2) reminded me of premiers crus white Burgundies—at a much cheaper price." Prince Edward County wines making their mark.
---
Rio's recovery: Tiny therapy horse heals from B.C. cougar mauling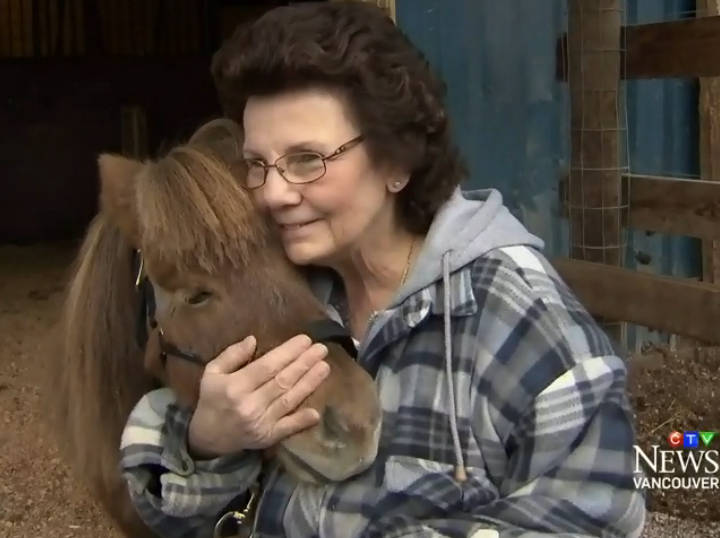 Rio the miniature therapy horse is recovering from a major mauling by a huge, dark-coloured cougar in the Webster's Corners area of Maple Ridge, British Columbia. "It was large, probably seven feet long. It was nearly as long as the 10-foot (three-metre fence)." Donations have come from near and far to pay the vet bills.
- text and bottom photo from http://www.mapleridgenews.com/news/400420211.html
---
Hawaii: Remembering the vile onslaught of Pearl Harbor 75 years later


The battleships U.S.S. West Virginia (foreground) and U.S.S. Tennessee sat low in the water, burning after Japan's surprise attack on Pearl Harbor. ~ Bettmann Archive
---
updated Oakland: 30 now confirmed dead; police fear as many as
40 killed in 'Ghost Ship' warehouse party fire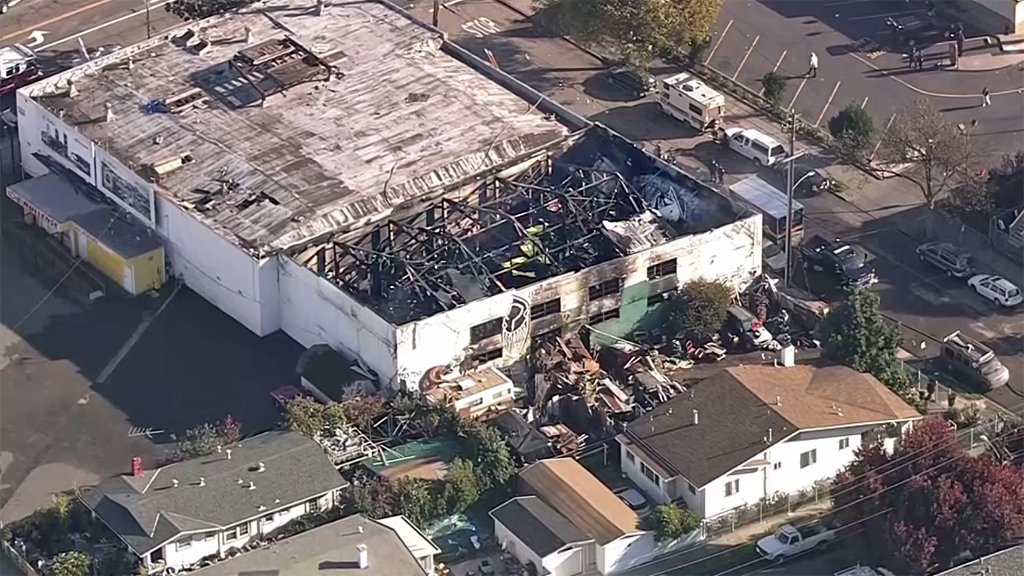 Alameda County Sheriff's Office spokesman Sgt. Ray Kelly said authorities were prepared to deal with 30 to 40 deaths. Between 50 and 100 people were believed to have been at the party when the fire started. It was not immediately clear what started the fire, but there did not appear to be sprinklers in the building.
---
Cincinnati: Donald Trump extends campaign season
to transition with raucous thank-you rally in Ohio


President-elect Donald Trump at 'Thank You' rally in Cincinnati. ~ Mark Lyons European Pressphoto Agency
---
Angus Reid Institute: 75% of Canadians support a referendum


The Liberal Party's refusal to commit to holding a referendum is at odds with the desires of most Canadians. Asked whether they would prefer to keep the current FPTP system or change to a different system, more than one-in-five Canadians (21%) say they are undecided on the question. Similarly, fully two-thirds (66%) say changing the way the country votes is a "low priority". Somewhat lost amid the debate over the committee's recommendations on proportionality and holding a referendum are some of the committee's other recommendations – specifically on mandatory voting and lowering the voting age to 16. The committee recommended against both considerations, though it did recommend creating a framework that would allow people to begin registering with the National Register of Electors up to two years before reaching age 18.
---
Toronto: Auditor General slams Wynne government; says sketchy cap and trade scheme will cost $2B, totally fail to hit emission targets


Ontario Auditor General Bonnie Lysyk slammed the Liberal government in her new annual report released Wednesday. Lysyk reveals that the province's expensive cap and trade program, due to take effect on January 1st, 2017, is projected to make only one-fifth of its targeted greenhouse gas reductions in Ontario. The remainder, says Lysyk, are expected to happen in California and Quebec, as Ontario companies purchase carbon-emission permits from firms in that state and province that have already gone green. ~ Mike Crawley CBC
---
500% increase: Thousands of fugitives nabbed
at Canadian borders in wake of CBC investigation
---
Liberals called on revisionist claims about always wanting "broad support"
---
"Rushed and radical": Liberal members on electoral reform
committee warn "the timeline on electoral reform as proposed … is
unnecessarily hasty and runs the risk of undermining the legitimacy
of the process by racing toward a predetermined deadline"
---
Ottawa: Liberals pout after all-party electoral reform committee recommends national referendum before changing electoral system
---
World waits: OPEC agrees to first oil output cuts since 2008: source
---
Jobs on line: Oil jumps 8% on prospects for big OPEC output cut
---
One more: Businessman paid for access to Trudeau
prior to canola deal with China
---
updated Medellín: 71 dead, 6 survivors, as plane carrying
Brazilian soccer team crashes in Colombia


Brazilian soccer player Alan Ruschel arriving at a hospital in La Ceja, Colombia, on Tuesday, after surviving deadly plane crash. ~ Luis Eduardo Noriega A. European Pressphoto Agency
---
Terry Glavin: Trudeau's turn from cool to laughing stock
---
David Akin: Fidel Castro dies. Justin Trudeau issues statement.
Much hilarity ensues. #TrudeauEulogies
---
Fidel Castro: Dead at 90; dictator, communist, egotist
---
'Ring-grazing': Cassini begins Saturn ring dives, kicks off mission finale
---
Scam proof... How Capt. Scott's log book from Antarctica expedition
100+ years ago raises troubling new doubts about global warming


Capt. Laurence Oates, Capt. Robert Scott, Petty Officer Edgar Evans (standing, left to right), Lt. Henry Bowers, Dr. Edward Wilson (sitting, left to right). Polar explorers remembered as 'heroic failures' have provided crucial proof that sea ice around Antarctica has barely changed in size - 100 years after their expeditions. ~ Daily Mail
---
Bluefields: Hurricane Otto batters Costa Rica and Nicaragua
as shallow M7.0 quake shakes Central America off El Salvador
---
Toronto: Lawren Harris painting shatters record at Heffel auction


Lawren Harris's 1926 painting Mountain Forms sold for $11.21 million at a Heffel auction of Fine Canadian art Wednesday in Toronto, shattering the record price for a Canadian work of art.
---
updated Fengcheng: 74 dead after scaffolding collapse
at China coal power plant under construction
---
End of warm El Niño: Coming Eastern Canada
winter back to heavy snow and deep cold
---
North Dakota: How Obama's waffling bid to buy time on
Standing Rock let anger brew on both sides in pipeline fight


Armed, threatening protesters against the Dakota Access oil pipeline stand on a burned-out truck near Cannon Ball, North Dakota, on November 21, 2016, that they removed from a long-closed bridge on Sunday on a state highway near their camp in southern North Dakota. Opponents skirmished with law officers late Sunday and early Monday.
---
Trump transition: President-elect bypasses media to update public

If your browser doesn't play above video, use this link instead.
---
Trump Strikes Back: Uses new media to dress down old media
---
Fukushima: Japan quake was an aftershock from 2011 quake: officials
---
Japan: Shallow M7.3 quake hits off Fukushima; tsunami warning issued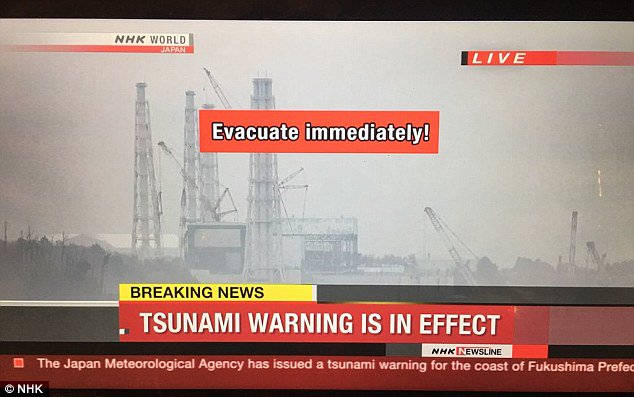 The Japan Meteorological Organization has issued an urgent tsunami alert. Seek higher ground if nearby.
---
updated Kanpur: 145 killed, more than 200 injured,
as 14 coaches of the Indore-Patna Express derail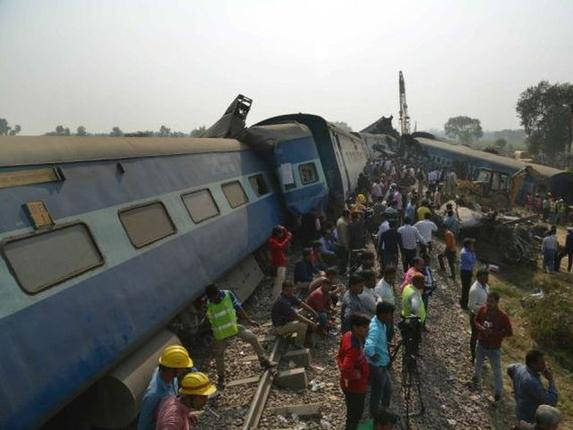 Four sleeper coaches of the Indore-Patna Express were badly damaged in the accident. Indian Prime Minister Narendra Modi condoled the loss of lives in the train tragedy. "Anguished beyond words on the loss of lives due to the derailing of the Patna-Indore express. My thoughts are with the bereaved families," he said in a tweet. ~ Rajeev Bhatt The Hindu
---
Alaska: 2 moose found frozen mid-fight near remote village


Two moose were recently discovered frozen in battle and encased in ice near a remote village on Alaska's unforgiving western coast. It was the end of moose rutting season, and the animals were likely fighting over a female moose. Speculation is that one of the animals was wounded by the other animal's antlers, and perhaps died as their antlers were caught together, dragging the rival down with it.
---
Jordan: Canadian soldier Maj. Scott Foote found dead in military gym
---
Step aside, loon: Royal Canadian Geographic Society
vote plucks Gray Jay as Canada's national bird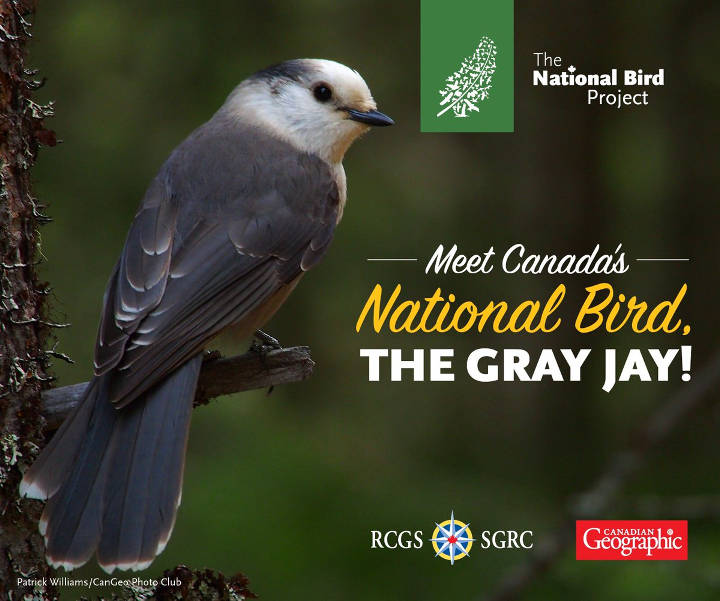 The Royal Canadian Geographical Society has hatched its decision for the bird best suited to represent Canada after a two-year search and 50,000 votes from across the country. The Gray Jay, also known as the Whiskey Jack, was awarded the society's official recommendation for Canada's national bird on Wednesday. The Gray Jay, which is widely considered one of the most intrepid birds native to North America, can be found in every province and territory. The species is known for being feisty, friendly, and curious. Gray Jays are also known for their ability to take advantage of whatever food sources they can find.
---
Berlin: Germany launches anti-Islamist raids across 60 cities,
bans radical group 'True Religion' for ISIS recruiting
---
NZ quake and afterquakes: 'Like living on a waking dragon'
---
New Zealand: Tsunami warning sirens in South Island coastal towns
---
updated 91 km NE of Christchurch: Shallow M7.8 shakes New Zealand;
Preliminary quake reports show at least two dead, much damage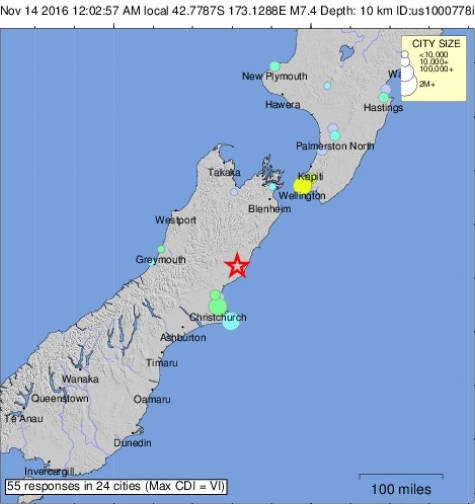 An earthquake with a magnitude of 7.8 struck 91 km north-northeast of the city of Christchurch, New Zealand just after 6 a.m. ET. Christchurch is the biggest city on New Zealand's South Island. An M6.3 quake there in February 2011 killed 185 people and caused widespread damage. The U.S. Pacific Tsunami Warning Center said there was no tsunami threat from Monday's quake, but the New Zealand Ministry of Civil Defence stated on Twitter that a tsunami was possible and recommended people near the east coast of the South Island move to higher ground.
---
Bogotá: Colombia, FARC rebel group announce new peace accord
---
Leonard Cohen recites 'In Flanders Fields'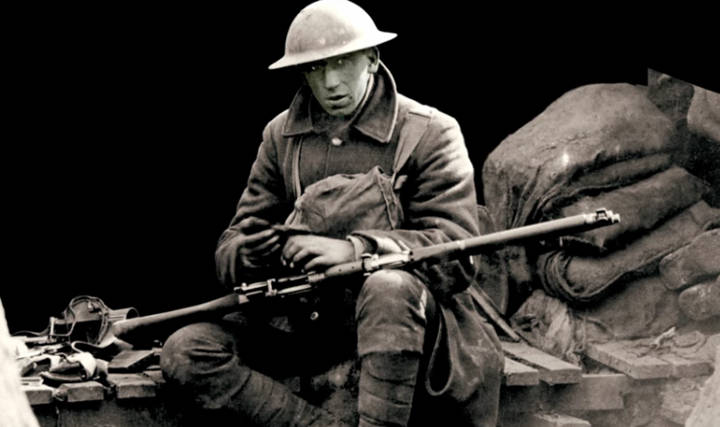 Rest in Peace Leonard Cohen. Just last fall, Legion Magazine and Leonard Cohen released this video to commemorate the 100th anniversary of the poem "In Flanders Fields" by Lieutenant-Colonel John McCrae. In a poignant tribute to McCrae, Canadian songwriter, painter and poet Leonard Cohen recites that stirring poem. His voice is accompanied by images from the brutal First World War.
---
November 11th: Fallen soldiers honoured in Remembrance Day
services in Ottawa, across Canada; some 1,400 communities to
hold ceremonies across Canada remembering those who served
---
Leonard Cohen: Too soon gone at 82 — A timeline of his life and career
---
Washington: Trump makes first White House visit as President-elect


U.S. President Barack Obama greeted President-elect Donald Trump at the White House on Thursday to coordinate a smooth transfer of power after the New York real estate developer scored a stunning election victory. The meeting, which Trump said was scheduled for 10 to 15 minutes, lasted 90 minutes and covered a broad range of issues.
---
Fred Barnes: Trump didn't split the GOP — he strengthened it
"Donald Trump has done what Ronald Reagan did. He beat back a hostile
press, smears by his opponent, outrage by foreign leaders, vast campaign
spending by Wall Street and the wealthy one percent, and vows by actors
and rock stars to leave the country if he was elected president"
---
IBD editorial: Bias: The real reason the media got this election all wrong
---
Donald Trump: Victory speech, full transcript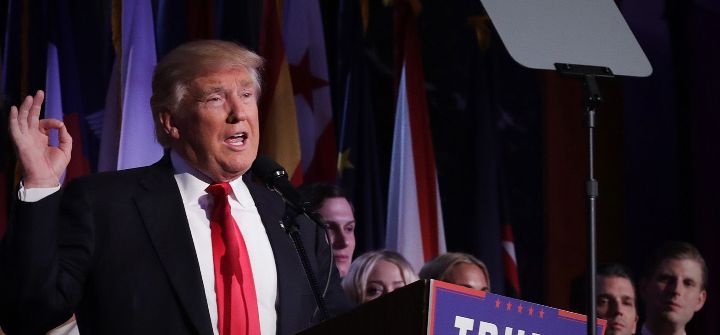 "It is time. I pledge to every citizen of our land that I will be President for all of Americans, and this is so important to me. For those who have chosen not to support me in the past, of which there were a few people, I'm reaching out to you for your guidance and your help so that we can work together and unify our great country. As I've said from the beginning, ours was not a campaign but rather an incredible and great movement, made up of millions of hard-working men and women who love their country and want a better, brighter future for themselves and for their family."
---
Donald Trump wins the Presidency
in stunning upset over Clinton

When the state of Pennsylvania was called for Trump it put him over the 270 electoral vote threshold and he travelled to his campaign headquarters to speak to his supporters. Trump announced that he had received a concession call from Hillary Clinton. He called for national unity and said he would be President of all Americans. Commentators said his remarks were "almost lyrical", filled with grace and humility, in a moment of triumph.
---
NY Times: Donald Trump nears victory, but
at 2 am Hillary Clinton still refused to concede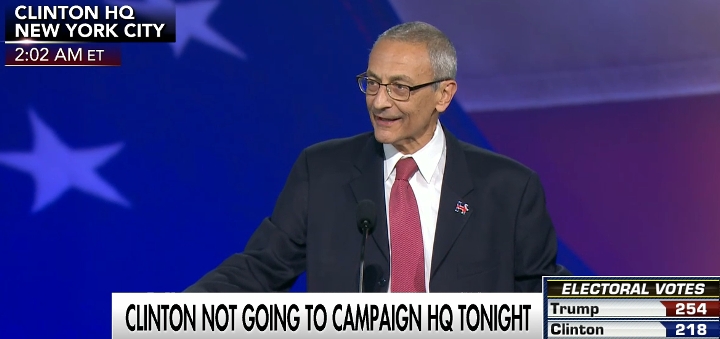 Clinton Campaign Chair John Podesta announces Hillary Clinton will not yet concede the election to Donald Trump. Hypocritically, Clinton had attacked Trump when he said in the third debate that he'd wait for the results.
---
Trump on the brink: NY Times says 95% likely to win Presidency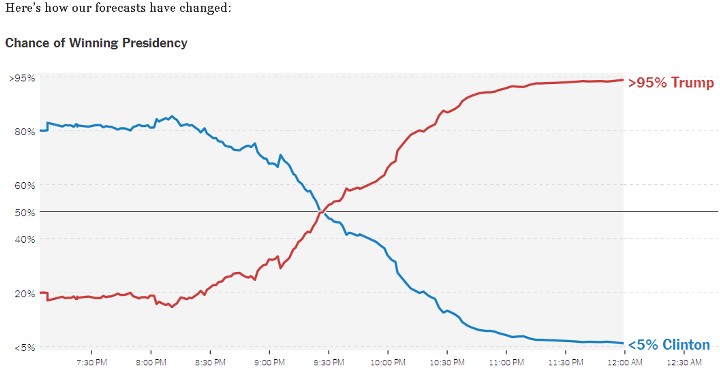 ---
Grand Rapids: Trump "was coming here when the pollsters and pundits said there
was no chance to win that state ... because he cares about the people of Michigan"
---
Final USC Dornsife/LA Times poll: Trump 46.8%; Clinton 43.6%
---
Final IBD/TIPP poll: Trump 45%, Clinton 43%

---
Patrick Caddell: Real election surprise is uprising of American people
"Neither Sanders nor Trump created this uprising. They were chosen vehicles —
they did not create these movements, these movements created them"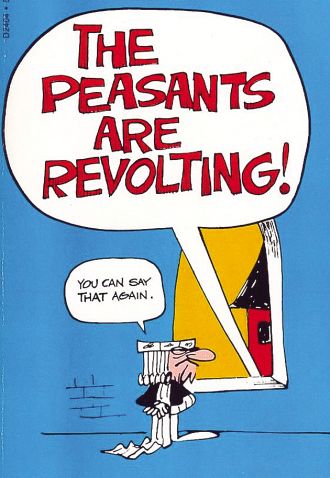 ---
IBD/TIPP poll: Trump lead widens to 2, his biggest yet
---
updated - Nov 6th USC Dornsife/LA Times tracking poll:
Trump 48.2%; Clinton 42.6%; Trump surge continues
---
updated Reno: Trump rushed off stage by 2 Secret Service agents;
no gun found after man in front of podium grabbed by police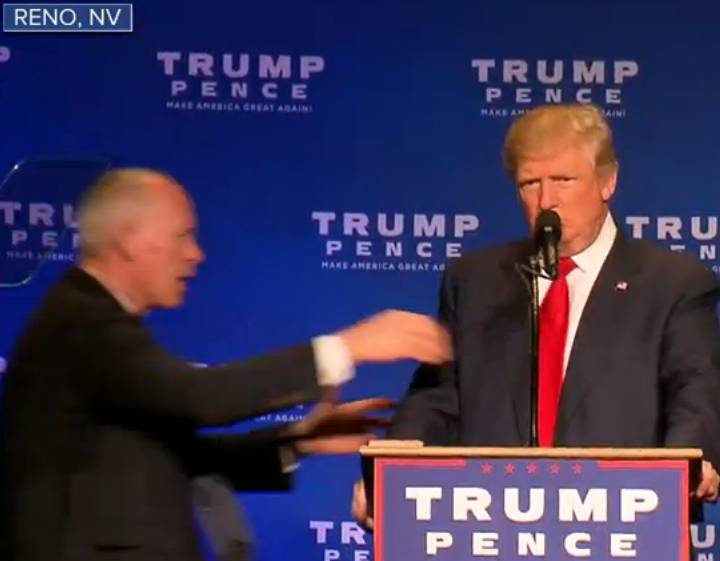 Trump was hustled off stage as commotion started in front of podium. He resumed speech after alleged gunman was removed by a phalanx of police, and said "No one said it was going to be easy for us. But we will never be stopped." He thanked the agents and finished his speech to cheers from the crowd, estimated at 10,000. Man arrested and later released was a Hillary Clinton supporter and campaigner.
---
NY Daily News: The case against Hillary Clinton


Liar, liar with a pantsuit on fire: "Clinton's public persona is a façade, though a well designed one, held up by her staff, masters of television illusion and a collaborating national media. With the release of WikiLeaks emails, it has become clear that her senior staff questions that image among themselves."
---
NY Post editorial: Endless scandal is a given if Hillary wins White House
---
Nunavut: Canadian military investigates pinging
sounds coming from Arctic seabed
---
Assange: Wikileaks' Clinton emails didn't come from Russia government
---
Bret Baier: FBI sources believe Clinton Foundation
case moving towards "likely an indictment"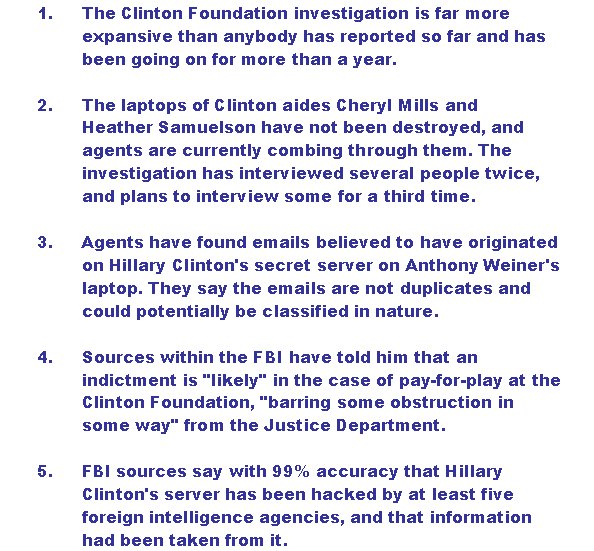 ---
Garth Manning: The untold Ontario green-energy scandal
is that it's devastating our rural areas


Large wind and solar factories give the finger to rural economies, heritage, and property and business values and landscapes — and nobody's talking about that. ~ Postmedia News
---
updated - Nov 2nd USC Dornsife/LA Times tracking poll:
Trump 47.8%; Clinton 42.4%; Trump matches campaign high


---
Washington Post-ABC News tracking poll: Trump now ahead
after dramatic 13-point shift towards Trump in 10 days
---
New York: FBI agents investigated pay for play Clinton Foundation,
but probe was stymied by bosses, Obama Justice Dept. officials
---
---
Links formerly right here, now at http://www.newswatchcanada.ca/oldnews2016-2.html
---
For full news link archives since December 7, 2009
follow page links from
NWC Old News
Welcome to Worldwide Visitors
Send news tips to
Editor@NewsWatchCanada.ca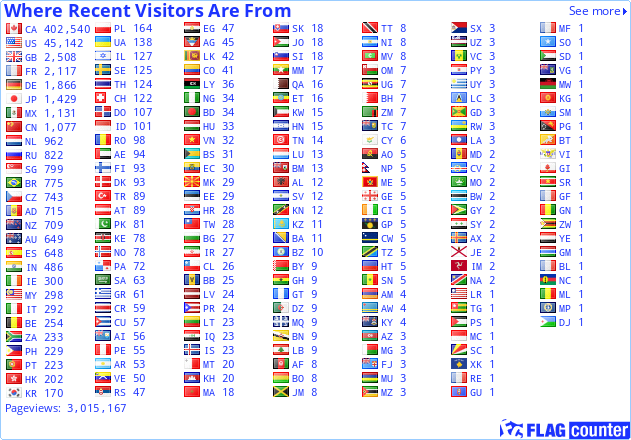 ---

---

For full news link archives since December 7, 2009
follow page links from
NWC Old News
---
---
TOP LINK
Ottawa: Trudeau Honeymoon 'is certainly over': political scientist Hamish Telford
---
Hamilton: Hydro One reluctantly launches review of more than 1,400 power disconnections after media report detailing hardships; more than half a million Ontarians can't afford to pay their electricity bills
---
Scott Thompson: How do we know Wynne cap andtrade plan isn't a "mistake", too? "Of course the Liberals want to keep you in the dark cold on the cost of their cap and trade tax, the more you don't understand, the better for them"
---
Survey sparks online backlash: "Through this process, they hope to get a bunch of results which they can then manipulate as they want to get the result that they want:" Professor
---
Poorly conceived and vague: 'A dating website designed by Fidel Castro': Opposition blasts insulting Liberal electoral reform survey
---
Toronto Star: Dark skies dim Trudeau's sunny ways: analysis; "the past few weeks have seen the shine wear off the Liberal government"
---
Ottawa: Opposition parties urge federal watchdogs to probe Liberal cash-for-access fundraisers
---
Blame game: Ideology-shaded study says dropping Canadian dollar, new Canadian carbon taxes, and deporting of illegal immigrants in U.S. add up to $420 more for food for average Canadian in 2017; blames Trump not Trudeau
---
Québec City: PQ retain 2 seats, and Liberals and Coalition Avenir Québec each take one in Monday by-elections
---
#RejectedERQs: Liberals' electoral reform online survey mocked online, in House Of Commons
---
Transition official Scaramucci: Trump will not rip up NAFTA; but will use "the review process" created under NAFTA to ensure fair compliance
---
Anthony Furey: Liberals' online democracy survey is an insult
---
Ottawa: Liberal Minister says she knows more about fighter aircraft than the head of the RCAF
---
John Ivison: Liberals face revolt if health tax used to cover their over-spending
---
Trumpenomics to avoid: Get out of any Canadian company that needs U.S. markets to succeed; "Canada, to remain competitive in the era of Trumpenomics, has only one choice: cut taxes and emulate U.S. policy to the extent that it offsets as much as possible the financial hit to exported Canadian goods"
---
Colby Cosh: I'm with Leitch — give women pepper spray (but keep it from the men)
---
$20 per hour for rapid-charging: Electric vehicle charging stations coming to 25 Ontario Canadian Tire locations, incl along Hwy 401
---
Ridiculous: Durham police officer faces disciplinary hearing for taking 'cowering' kitten from alleged crystal meth user (and warm-heartedly taking it to a vet)
---
Instead of referendum? Liberals suddenly roll out flawed, limited choice, stall-prone online survey as 'innovative' way to manipulate public on voting reform
---
Montreal: Quebec voters head to polls as four ridings hold provincial by-elections
---
Calgary: Canadian study identifies factors, safety measures to reduce SIDS risk
---
Off the beaten (human) trail: How a $34M dinosaur museum in northern Alberta went from big awards to bailouts
---
Globe and Mail: OxyContin creator expands into Canadian pot industry
---
Washington Post: Trudeau appears to accept outdated Cuban government spin as current fact; awarded three Pinocchios; many other Latin American countries made far more dramatic strides in the past six decades, without the need for a communist dictatorship
---
Jonah Goldberg: Fidel Castro died as he lived — praised by useful idiots
---
Ross Ayotte: Latest 'Wynnedoggle' — spending more good money after bad
---
Halifax: Nova Scotia to close public schools as teachers take job action
---
Edmonton: Alberta unemployment soars to 9% — the highest since 1994 — as people struggle to find work
---
Kleinburg: Toronto neurosurgeon charged with murder of doctor wife
---
Paul Wells: Liberals failed to explain stand on holding referendum (then Wells offers limp rationalizations based on selective history)
---
Chantal Hébert: Liberal failures abounded; parties failed to rise above self-interest in electoral reform debate
---
Alan Freeman: Electoral reform was probably doomed anyway; Yes, the Liberals drove the process into a ditch. At least we saved $300M
---
Gary Mason: Sorry, Vancouver: The rest of Canada needs pipelines
---
Found near home: Canadian couple among 13 killed in Tennessee wildfire
---
Globe and Mail editorial: On electoral reform, the Liberals are laying a beating on the Liberals
---
Patience gone? Non-peaceful pipeline protests will be met by police and military, Liberal federal minister tells Edmonton business leaders
---
David Akin: VIDEO: Maryam Monsef vs everyone in Question Period as she attacks MPs from all parties who worked on electoral reform
---
Monsef sullen, misleading: "She was either lying or she didn't understand what the committee was doing," Nathan Cullen, the NDP's democratic reform critic, told reporters. Monsef "didn't understand (the committee's) mandate . . . . Then somehow the fact that we fulfilled that mandate and gave the government some options, she chose that as a point of attack"
---
Kingston: Chinese baby formula company announces major plant that will tap into local agriculture production
---
Fredericton: Thousands remain without power in New Brunswick following winter storms
---
aka South Block: Federal Government's Wellington Building officially re-opens after $425M restoration
---
Regina: Saskatchewan Roughriders player Joe McKnight shot dead in New Orleans traffic argument
---
David Akin: Tory leadership hopeful Kellie Leitch wants to legalize pepper spray to help reduce violence against women
---
Queen's Park: Ontario's election finance reform legislation passes unanimously; corporate & union donations banned after Dec 31st
---
Kelly McParland: AG reveals Ontario's Curly, Larry and Moe school of government stoogery
---
Another Ontario crisis: Attorney General to hire more judges, lawyers to shorten lengthy trial wait times
---
Propaganda prop up: Auditor-General: Wynne Liberals wasting millions more on "self-congratulatory" ads
---
Chris Selley: Ontario Auditor General reveals astonishing details of the Ontario Liberals' infrastructure incompetence
---
Overdose crisis: Victoria police seize 'major' fentanyl shipment from China
---
Overdose crisis: Ottawa to regulate 6 chemicals used to make fentanyl
---
Terry Glavin: Grow some spine, Liberals. Democracy needs champions, not apologists
---
Hamilton: U.S. Steel Canada changing its name back to Stelco, as sale proceeds
---
Philippines: Relatives were kept in the dark as Canadian hostages held, then killed
---
Toronto: Pearson Airport wants to be a mega-hub, but high costs and congestion stand in the way
---
Colby Cosh: Ed Broadbent accidentally reveals the naked self-interest of the left's electoral crusaders
---
Hamilton: Fisherville mourns 'hero' CF-18 pilot who was Santa's escort
---
Bye bye halogen: Niagara Falls gets $4M LED lighting makeover
---
Bow wow wow man: Cannabis for canines? Medicinal pot products a growing trend for Toronto pet owners
---
Kitimat: Northern Gateway pipeline blocked; thousands of high-paying jobs lost
---
Times Colonist: QuickFacts: What you need to know about Enbridge's Northern Gateway project
---
Sooner the better? Elizabeth May: 'I'll go to jail' to stop Trans Mountain pipeline
---
$6.8B project: Kinder Morgan Trans Mountain pipeline expansion approved
---
Calgary: Trump campaign guru Kellyanne Conway to tour Alberta oilsands, speak to local business leaders
---
Latest Liberal scandal: Bill Blair, Trudeau's lead on legalizing marijuana, lobbied during cash-for-access fundraiser
---
Incompetents in Ottawa: New Liberal policy forcing need for new jets: RCAF head
---
Alberta: Pilot dead after CF-18 fighter jet crashes near Cold Lake
---
Injury lawsuits waiting to happen: Three self-driving vehicles to take to Ontario streets under pilot project
---
Konrad Yakabuski: The CBC has lost its way
---
John Ivison: Liberal cash-for-access events aren't just ugly, they may be illegal
---
Back to the trough: CBC/Radio Canada asks for $400M in increased government funding to go ad-free
---
Ottawa: Trudeau to skip Castro funeral after backlash; asks Gov-Gen Johnston to attend Havana commemoration instead
---
Kingsville: Veteran local greenhouse operators expanding in Ohio because Ontario power costs three times higher
---
Nanos Research poll: Hydro rates the most important issue for Ontarians
---
Ottawa: Number of terrorist travellers to Syria, Iraq may be levelling off: CSIS
---
Abuse of Justice System? 'Vexatious litigant' continues to have her days in court
---
Margaret Wente: Justin Trudeau's man crush on Fidel
---
Fortune: Justin Trudeau's brand sinks on Castro comments
---
John Sikkema: Ontario's new law will put children second to parenthood
---
Michael Den Tandt: Earth to Trudeau — Fidel Castro was a brutal dictator, not a benevolent, grizzled uncle
---
Tom Flanagan: Alliances are key to the Conservative Party crown
---
Toronto: Group says buying Quebec hydro is path to cheaper electricity; ignores faster path of shutting down industrial wind turbine rip-off
---
John Miner: High hydro costs sending Ontarians to food banks, report says
---
Campbell Clark: We're about to see just how ruthless Trudeau can be
---
Vancouver: 911 overdose calls break B.C. records, users 'going down everywhere'
---
Policy change? No electoral reform until enough Canadians want it, Monsef says
---
CTV: Trudeau widely criticized for Castro statement
---
Liberals have 'hidden agenda' to buy unneeded Super Hornets? Canada's CF-18 fighter jets can all fly past 2025, RCAF commander says
---
Forum Research poll: Ontario Premier Kathleen Wynne's approval is so low the provincial Tories are in supermajority territory
---
Spring Bay: Premier Wynne's mea culpa on high electricity prices too little, too late
---
updated Huge economic impact either way: Liberals delay announcement on fate of $7.9B Northern Gateway pipeline
---
Toronto: NDP private member's bill seeks to close Election Act bribery 'loophole'
---
Youtube dare stupidity: Police lay trespassing charges over '24-hour challenge' videos in Ottawa
---
Ottawa: Former fighter pilot turned MP criticizes federal decision to buy Super Hornets
---
Terence Corcoran: Toll roads are nothing but a tax grab to most of us
---
Pantry stocking is a-changing: Vancouver's online food-order market taking off as key players scale up
---
Ottawa: Trudeau Liberals wasting taxpayer dollars on Super Hornet fighter jet deal: military procurement experts
---
Ottawa: Kellie Leitch vows to 'dismantle' CBC, level the playing field for hurting Canadian broadcasters
---
Really an Iranian: Maryam Monsef says immigration officials haven't told her she's being investigated; says dealing with case of misinformation 'just like any other Canadian', but hasn't been deported or removed from Cabinet
---
Ottawa: Canadians open to ending door-to-door delivery, government-commissioned poll finds; over half of Canadians say do not feel need to check for mail every day
---
Eyebrows up: Proposed renovations to 24 Sussex Drive could cost four times assessed value of $9.67M; hydro bill while empty is $10,000 a month
---
John Ivison: How quickly the federal Liberals have slipped from 'Real Change' to 'They did it too'
---
Ottawa: Electoral reform committee reportedly to call for referendum
---
Ottawa: More than 200 officials forced by Liberals to sign unusual lifetime gag order on fighter jets
---
Christie Blatchford: UBC prof who denounced U of T colleague in gender debate has skeletons in her own classroom
---
Ottawa: Ex-MP Chuck Strahl resigns from Trudeau Foundation
---
updated Toronto: Mayor John Tory calls for road tolls on Don Valley Parkway, Gardiner Expressway
---
Andrew Saxton: Trudeau's carbon tax is all about ideology, not the climate or Canadian interests
---
Ottawa: Liberal-linked Canada 2020, seeks insulation against cash-for-access inferno
---
Ottawa: Amid fear over Trump, Mexico could lose Canada as an ally
---
Growing pains: Metro Vancouver mayors approve $2B transit improvement plan; includes property tax increase and fare hike
---
Andrew Coyne: Cracks start to show in Trudeau Liberals; "an unmistakable odour of hypocrisy and deceit, made more sickly-sweet by the sanctimony in which both are in the habit of expressing themselves"
---
Ottawa sloth: Five-year search for Canada's new fighter jets 'ridiculous': analyst
---
Fraser Institute: Waiting your turn: wait times for health care in Canada, 2016 report
---
Liberals' willfull neglect: How costly Ontario hydro bills are making some households take drastic measures: 'It's just killing us'
---
Paul Wells: Trudeau appears to be breaking his own rules
---
Nova Scotia: Man sentenced to a decade in jail for role in mass killing plot at Halifax mall
---
Toronto: Ontario court sides with Bell in dispute over VMedia streaming service
---
"Cash-for-access" continued: Trudeau fundraiser with Chinese billionaires 'does not pass the smell test,' Tories say
---
Ethics gap: Trudeau defends fundraiser with Chinese businessmen who later donated $1M to Trudeau Foundation
---
Nova Scotia: Massive tidal turbine in Bay of Fundy starts generating electricity
---
Old tech: Liberals buying 18 Boeing Super Hornets as interim measure to 'top up' RCAF fleet; new tech fleet could be delayed by five years
---
Guelph: Ontario has a $16B tourism gap that requires a dedicated government strategy says Chamber of Commerce report
---
Obvious pay to play? Trudeau attended cash-for-access fundraiser with Chinese billionaires in Toronto
---
Ottawa: Police re-open hate graffiti case from earlier this year after Ottawa man reports similarities to latest vandalism
---
Ottawa: 17-yr-old arrested in six racist graffiti attacks faces 20 charges
---
Toronto: Some of the reasons power bills are so high in Ontario
---
Misled Canadians? New fighter jets could cost much more than Liberals claimed in election
---
Althia Raj: Liberals are misleading Canadians on electoral reform
---
Toronto: Inflammatory bowel diseases surge among Canadian kids
---
Toronto: Police arrest third man in slaying of American visitor
---
Phasing out coal: Allegedly good for the environment, but definitely bad for your wallet
---
Ultra vires? Ottawa requires provinces to phase out coal by 2030, expected to hammer taxpayers
---
Sudbury: Crown alleges Thibeault 'sought certain benefits' to defect to Ontario Liberals
---
What warming? Winter weather having big impact in Ontario and Quebec
---
Sarnia: Blue Water Bridge workers begin strike, traffic keeps flowing across border
---
Crux of the Matter: Hamilton cast insult to VP Elect Pence why voters fed up with 'diversity'
---
Letter to Editor: Time to 'drain the swamp' at Queen's Park?
---
Hundreds of thousands don't march: Thousands march through Vancouver to protest Kinder Morgan pipeline expansion
---
Mea culpa: Wynne finally admits she's been out of touch with impact of high power rates on citizens, calls economic destruction of province "my mistake"
---
Opioid crisis: Medical experts push Alberta and Canada to declare health emergencies
---
Marrakech: Canada borrows, spends nearly $1.8B abroad to spur clean innovation in developing countries
---
Québec: Cree nation leaders allege "cultural bias", renew call for Provincial Judicial Inquiry
---
Michael Den Tandt: Time for Canada to talk straight about Iraq fight
---
Montreal: Bain to serve 20 years in prison before parole eligibility
---
Rex Murphy: Curb your climate change enthusiasm
---
Ottawa: Canada announces $54M for disaster relief and long-term aid in Haiti
---
Fraser Institute: Trudeau Government's fiscal plan doesn't match its rhetoric
---
Edmonton: Alberta strongly opposed to privatizing Canada's airports, minister says
---
Niagara: PC Sam Oosterhoff wins by-election, becomes youngest MPP in Ontario history
---
Don Braid: Jansen jumps to NDP, Alberta's culture war starts in earnest
---
Lorne Gunter: Sandra Jansen's floor-crossing to NDP a realignment of political battlefield
---
David Akin: Trudeau unwise to signal intention to re-write NAFTA, Trump insider Rick Santorum says; "When Trump talks about ripping up NAFTA, Trump is not thinking of Canada, he's thinking of Mexico. Canada is not out there unfairly competing against us."
---
Michael Campbell: On the brink of a massive change
---
Jack Mintz: Canada can prosper in the Trump era — but not if we cling to soak-the-rich taxes and carbon pricing
---
British Columbia: Vancouver city council passes 1% tax on empty homes
---
Ottawa: Canada fights for international court after African, Russian departures
---
Toronto: TD Bank joins Royal Bank of Canada in increasing fixed mortgage rates
---
Michael Campbell: A slick way to fight carbon emissions
---
Ottawa: BoC won't move in lockstep with U.S. Fed rate moves, deputy governor Timothy Lane says
---
Edmonton: Labatt retirees will no longer get free beer until they die, says company
---
Ottawa: NDP now say open to referendum on electoral reform
---
John Ivison: Liberals borrowing to keep the lights on
---
Ottawa: Canada expects Britain to be part of EU trade deal: Morneau
---
Ottawa: Trump team flags Canadian livestock and lumber as targets in NAFTA reset
---
Calgary: Harper urges support for Kenney in fundraising letter
---
Havana: Justin Trudeau meets with Cuban President Raul Castro, affirms links
---
Premier Notley had cancelled waterbomber contracts: Fort McMurray wildfires to cost governments and insurers more than $5B
---
Stephen Gordon: Like it or not, Ottawa has to prepare for the impact of Trumpian economics
---
Lies are lies: Liberal MP apologizes for incorrectly calling himself an engineer: 'I did not intend to mislead anyone'
---
David Reevely: Ontario Liberals can't stop handing out money even while struggling to balance the budget
---
John Ivison: Trudeau shows Trump Canada's cards before he sits down
---
Toronto: Ontario police union lawyer has law licence suspended as he fights money laundering and fraud charges
---
Terence Corcoran: The Liberals' new 'infrastructure bank' is pure central planning at its worst
---
Crux of the Matter: Leitch's screening for Canadian values not racist
---
'Hate' or free speech? 'Hey, white person': Toronto staff tear down anti-multiculturalism signs
---
Investigation underway: 2 injured after near 'mid-air collision' involving Toronto Porter flight, possible drone
---
Montreal: 'I realized … Michael Applebaum was open to corruption,' former aide testifies
---
Conservative Leadship: Kellie Leitch is upgrading her home security after threats
---
Out of ideas: Ottawa to make 'unprecedented' appeal for private investment in infrastructure
---
BBC: The towns that will pay you to move there
---
Calgary: Jason Kenney says both he and his supporters were victims of bullying at Alberta Conservative convention
---
Westmount: Leonard Cohen laid to rest with family in Montreal
---
Steven Chase: TPP seen as doomed after Trump victory
---
Mitch McConnell: Senate Majority Leader pushing to move on Keystone XL with Trump Administration
---
Vancouver: 82-year-old held hostage at knifepoint during attempted Canadian Tire robbery; perp fatally shot after stabbing a police officer and store employee
---
Crux of the Matter: Trudeau Liberals and CPC leadership candidates misread Trump win at their peril
---
Ottawa: Canada PM says ready to renegotiate NAFTA with Trump
---
Stay out of Canada: Don Cherry to America's "left-wing kooks"
---
Ottawa: PM Justin Trudeau speaks to President-elect Donald Trump, invites him to visit Canada
---
Saskatoon: 'He may have a yoga body, I've got a dad body': Five things to know on the first Conservative leadership debate
---
More news on this soon: Arrests made in beating death of American man outside Toronto nightclub
---
Toronto: Homeless veterans face Remembrance Day on the street
---
Calgary: Prominent Muslim leader urges calm after Donald Trump's surprise election win
---
Joe Warmington: Harper gets what Trudeau doesn't in wake of Trump win
---
Telegraph: Hope for the paralyzed as researchers prove brain implant bypass can get nerve impulses past broken necks and spines
---
Saskatoon debate: Conservative candidates split over carbon tax, immigration policy
---
Michael Campbell: Trump's success: "Trump is just the latest chapter in the rise of the anti-establishment movement around the world. Think of it, every major newspaper opposed Trump, and zillions of dollars were spent to oppose him. Yet he still won convincingly"
---
Vancouver: Sticking with Trump 'pretty stressful' but right move, says developer of Vancouver's Trump Hotel and Tower
---
Christie Blatchford: In a Bizarro World kind of way, I think I actually wanted Donald Trump to win
---
Washington Post: Meet the surgeon who hopes to be Canada's Donald Trump
---
Laura Stone: Trump's message must come to Canada, Kellie Leitch says in Tory leadership bid
---
Saskatoon: 'Throwing out the elites': Why Donald Trump's victory could upend the Conservative leadership race
---
Saskatoon: Federal Conservative leadership hopefuls ready for first official debate
---
Oakville: Missing brothers found dead in Mississauga pond, father confirms
---
"Our American cousins threw out the elites": Kellie Leitch embraces Trump victory
---
Morning after: Lapdog media starts spinning why they were so wrong, while some media — including NewsWatchCanada — saw what was happening and got it right
---
Eating crow: Justin Trudeau congratulates president-elect Donald Trump; PM says Canada-U.S. relationship 'a model for the world'
---
Kevin Libin: Cheer up, Canada — President Donald Trump just might be good for you
---
John Ivison: Inexplicable Trump victory caught Trudeau Liberals off guard, but Canadians must accept it
---
Toronto: Ontario to overhaul financial agencies, create new regulator
---
National Microbiology Lab: Employee at disease lab in Winnipeg may have been exposed to Ebola
---
Toronto: American ex-pat loves Canada; a registered Democrat, she has already voted, but not for Clinton: "I don't trust Hillary"
---
Vancouver: Canadian army interested in old U.S. nuke that may have been found off Haida Gwaii
---
Squamish: Tesla to end free use of supercharging stations
---
Saskatoon: Conservative leadership candidates to take the stage Wednesday
---
Montreal: Mayor Denis Coderre's phone call about suspected leaks led to police spying on reporter
---
Vancouver: Trudeau announces $1.5B ocean protection plan
---
National Post: 58% of Ontarians think Kathleen Wynne should resign
---
Mainstreet/Postmedia poll: Grim outlook for Premier Kathleen Wynne, Ontario Liberals in 2018 election
---
St. John's: Newfoundland and Labrador Premier confirms flooding at Muskrat Falls hydro-electric site has begun
---
6.8 and 7.0 litre engines: Ford workers approve new deal that pledges $600M investment in Windsor engine plants
---
Canadian connections: Trump family good fortunes began with Yukon Gold Rush hotel
---
Canadian connections: Hillary Clinton distantly related to Celine Dion, Madonna and Angelina Jolie through her French-Canadian lineage
---
Don Braid: Kenney driving the merger bus for Alberta's Progressive Conservatives
---
Red Deer: Jason Kenney campaign delivers show of organizational strength at Alberta PC meeting
---
Lorrie Goldstein: This is why the Monsef case is significant, Prime Minister
---
Toronto: American man in 20s dies in hospital after downtown street beating
---
Rome: Canadian among 3 hostages freed in Libya
---
Clinton Cash: The explosive movie based on the best-seller by Peter Schweizer
---
From 'broke' to super-wealthy in just a few years: How the Clintons are tied to Canada's corporate elite
---
Financial Post: Canada adds 67,100 part-time positions, loses 23,100 full-time jobs
---
Ottawa: Only 36% of Canadians support Liberals on economy
---
Study: Smoking a pack a day causes 150 DNA mutations a year
---
FATCA: The sleeper issue for 9 million Americans that the media will not cover
---
Candice Malcom: Liberals in denial about Monsef's fraud
---
Ottawa: Maryam Monsef's critics are 'spreading misinformation,' Trudeau says
---
Milton: 'I'm in your corner': Lisa Raitt launches Conservative leadership bid
---
Toronto Star editorial: Premier Kathleen Wynne should have asked aide to step down much earlier
---
Ingrid Peritz: More Quebec journalists confirmed as targets of police surveillance
---
Andrew Coyne: A Liberal spending spree because they want to
---
Study: Could loneliness be an early sign of Alzheimer's?
---
Legend lost: Dave Broadfoot, Royal Canadian Air Farce comedian, dead at 90
---
Kingston: In wake of sudden deaths and alleged sex assaults, officials order review of Royal Military College of Canada
---
Abbotsford: Female student dead, one injured after stabbing at high school
---
Montreal: Liberal insider Jacques Corriveau found guilty of charges in connection with Chretien-Martin-era federal sponsorship program
---
Christie Blatchford: New Senate appointments just more of the same
---
Vancouver: Trinity Western wins victory in fight to open Christian law school, limits on accrediting called 'unreasonable'
---
No timetable to balance books, just tax and spend: Federal government expects $32B more in red ink as it creates new bank to invest $81B in infrastructure
---
Lorrie Goldstein: Wynne wears byelection scandal as OPP charges two Liberals with bribery
---
Ottawa: Fraudster who tried to sponsor more than 500 refugees sentenced to prison
---
Ottawa: Under Trudeau, Canada's economy marginally grows but 'little underlying momentum'
---
Toronto: Wynne: Liberal party CEO will step aside if charged under Elections Act
---
Toronto: Thomson Reuters to cut 2,000 jobs worldwide, take fourth-quarter charge; "about taking out layers and taking out bureaucracy and making us faster to market"
---
Ottawa: What to expect from Bill Morneau's fall economic update
---
Ottawa: Two national cancer charities announce plans to merge
---
Toronto: Sperm banks not needed in Kathleen Wynne's Ontario
---
Ottawa: Legal marijuana could be federal cash cow - but not right away, PBO says
---
Ottawa: All cars made after May 2018 must have rear-view camera systems to be sold in Canada
---
Ottawa: Trudeau names top cop, prisoners' advocate as new Senators
---
Ottawa: John McCallum sets new base immigration target at 300,000 a year; economic category climbs by 7% and family class up by 4%
---
Ottawa: Net neutrality is up for debate at CRTC hearings; treating all internet data equally is important for consumers and startups, advocates argue
---
Ottawa: Man who sued local police over racial profiling faces human trafficking charges
---
Ottawa: Donation stats indicate federal Liberal fundraisers are exclusive events
---
Ottawa: New anti-terrorism bill abandons Liberal call for real-time parliamentary 'oversight' into CSIS
---
Toronto: Extremism 'motivated by jihadist beliefs' top source of Canadian terrorism since 2010, study says
---
'A great day': Trudeau signs European Union trade deal in Brussels
---
Ottawa: McKenna gives in to pressure and unmuzzles Ed Fast but opposition critic still isn't going to COP22 climate change conference
---
Portrait of five Ontario hydro bills: How a rural couple pays $500 a month, and Toronto brothers pay $100
---
Lawrence Solomon: Ontario is headed for a fatal future and only ending the renewable deals can prevent it
---
Ashley Csanady: How competency-challenged Chrystia Freeland got caught in the outrage bubble
---
Selfie alert: Trudeau heading to Brussels to sign Stephen Harper's CETA trade agreement Sunday
---
Gordie Howe Bridge: Clock ticking on the new Windsor-Detroit crossing
---
Globe and Mail editorial: The Trudeau Liberals trade access to power for cash. Here's how to stop them
---
Kingston: Canada-wide murder warrants issued for 3 people after man kidnapped, stabbed in Windsor
---
Langley: Mounties arrest local man after he illegally jumped U.S.-Canada border at Aldergrove crossing
---
Michael Den Tandt: CETA critics have distorted vision of Canadian economy
---
Ottawa: How the CETA trade agreement with the EU can benefit Canada
---
Brussels: Belgium reaches deal to back EU-Canada trade agreement
---
Ottawa: Canadians now spending more on Internet access than on television
---
Candice Malcolm: Monsef said she wanted to keep Iran trip 'hush-hush'
---
Andrew Coyne: Wide open Tory leadership race offers party a chance to remake itself
---
David Akin: 'Isn't that insulting?': From celebration to 'shame feast' Liberals losing favour with First Nations
---
Ottawa: Tory leadership hopeful Andrew Scheer top spender among candidates to lead party: database
---
Windsor: Local company makes rings for NBA champs: 'It was our Oscar moment'
---
Ottawa: CETA's troubles come with a silver lining for Canada
---
Brussels: Belgian leaders near consensus for EU-Canada trade deal
---
Charged with 8 deaths: CAMH staff alerted police about former nurse charged with Woodstock killings
---
Toronto: Ontario Liberals nix ban on chiefs-of-staff attending fundraisers despite blocking elected officials
---
Whither freedom of assembly? Wynne government to ban politicians, candidates from attending fundraisers
---
Brussels: EU chief says trade deal with Canada still possible
---
Hamilton Spectator editorial: Like it or not, Canada needs trade deals
---
Ontario economic meltdown: High cost of hydro 'touches everybody'
---
Ottawa: Trudeau 'confident' CETA crisis is nearly over
---
CETA bust: It's up to Europe to make Canada-EU trade deal work, says Charest
---
Ottawa: Failure of EU trade deal would leave Canada in tough position
---
$2.2B surplus: Quebec to inject $135M more into health and education
---
Some delegates turn backs as he speaks: Trudeau heckled, booed at youth labour forum in Ottawa
---
Michael Campbell: Over-simplifying the issues
---
Ottawa: 99 naive pipeline protesters arrested on Parliament Hill
---
British Airways: 25 treated for smoke inhalation after emergency landing in Vancouver
---
U.S. economic boost would cross border: Trump win would benefit Canadian economy: Royal Bank of Canada
---
---
Links formerly right here, now at http://www.newswatchcanada.ca/oldnews2016-2.html
---
---