---
Dhaka: Nine Islamist gumen storm Bangladesh restaurant, take 35 hostages, including 20 foreigners
---
Washington: Lynch regrets secret tarmac meet-up with Bill Clinton, vows to follow FBI recommendation on Hillary Clinton email probe
---
Philippines: In promisesd clean-up mode, President Rodrigo Duterte urges citizens to kill drug pushers and adddicts
---
Manila: Philippines' new President Rodrigo Duterte said Friday he "will go to the extreme" in his battle to end crime and cleanse the police force of wrongdoers within six months, but pledged he won't become a dictator
---
Turkish official: Mastermind of February terror attack in Ankara has been killed by security forces
---
Big Brother: Apple patents technology for deactivating iPhone cameras at live concerts; fears it could also be used by oppressive regimes to block documentation of atrocities
---
Lawrence Solomon: Forget xenophobia, Brexit was a vote for diversity
---
Terence Corcoran: 'Some crash, some crisis': It was a great media ride, but Brexit is no market killer
---
Future Shock: Alvin Toffler, influential pop futurologist, dead at 87
---
Rex Murphy: Those who voted to leave the EU weren't stupid. They were just angry. And with cause
---
James Delingpole: Michael Gove — the next Margaret Thatcher
---
Rasmussen Reports national poll: Trump now in front of Clinton by 4 points, 43% to 39%, as he rises and she drops
---
Florida: Man who claims he invented iPhone in 1992 sues Apple for $10B
---
San Jose: Google launches giant, 9,000-km trans-Pacific undersea internet cable
---
Tesla S: First self-driving car fatality recorded in U.S.
---
Cairo: EgyptAir black box data suggests fire on board
---
Baghdad: U.S.-led airstrikes pound ISIS in Iraq, kill 250 fighters
---
New Hampshire Union Leader editorial: Clinton exposed: Benghazi report highlights ineptitude
---
London: Boris Johnson announces he's not running for Conservative Party leadership; surprises all
---
Payback: Iraqi strikes destroy 260 ISIL vehicles fleeing Fallujah
---
Anthony Watts: Study: Record cold and snowy North American winters not due to climate change – within normal variation; Obama White House dinged by judge for 'bad faith' in how it handled global warming records request
---
Sweden: Ikea recalls 29 million dressers after 6 children killed
---
Post-Brexit: MEP and UKIP leader Nigel Farage calls out the EU hyenas to their faces in Brussels; UK will "not be the last member state to leave the European Union"
---
updated San Francisco: Volkswagen to spend up to US$15.3B to settle emissions-cheating cases
---
Cameron: Britain seeks 'strongest possible economic links' with European neighbours
---
Trump cards: Simple request brought Trump campaign $3M last week, in small donations, showing power of a broad-based movement to fund its campaign needs
---
Baghdad: Iraq coping with 85,000 displaced persons — many more than expected — after liberating Fallujah from ISIS
---
Secret Service book revelations: Clinton White House was den of coke, mistresses
---
Stayed away in droves: Young people – if you're so upset by the outcome of the EU referendum, then why didn't you get out and vote?
---
Stephen F. Hayes: Ignoring reality
---
Ying Ma: Trump's temporary Muslim ban shows he's serious about defeating radical Islam
---
The Week: Democrats' strategic fiasco on gun control
---
NY Post editorial: Only thing transparent about Hillary is her dishonesty
---
Washington Times: Benghazi survivor fights radical Islam, counters Obama's 'lies' on terrorist threat
---
Ramsgate: In port and factory towns gone quiet, the Brexit uprising was born; not in xenophobia
---
Post-Brexit shrug: Nikkei leads gains among major Asian bourses, closing up 2.4%
---
The Hill: Clinton lives up to LyingCrookedHillary.com website
---
Wilbur Ross: I bought pounds after the Brexit vote; I may buy more today
---
Charles Gasparino: Brexit won because common sense prevailed
---
CNBC: It's official — Brexit's 'Black Friday' sell-off was the worst ever at $2 Trillion
---
London: Spain's borrowing costs slide as hopes for new government override Brexit fears
---
Madrid: Spain's conservatives win general election, vote rises from December election: official data
---
Beirut: Group of suicide bombers kill 5 in eastern Lebanon
---
London: Distorted Brexit 'analysis' from elite, naive, uninformed CBC reporter who is sad; and real value to be read in the comments section
---
London: Britain can cope with EU exit turmoil, finance chief says
---
Beijing: 35 killed in China bus fire
---
Labour meltdown: Jeremy Corbyn warned he faces leadership election battle if he does not quit
---
London: British political turmoil deepens after EU referendum; sore losers think they can block will of the people
---
NY Times: 'Brexit' revolt casts a shadow over Hillary Clinton's cautious path
---
Berlin: Merkel signals sober separation from EU 'partner' Britain; disagrees with EU foreign ministers there's a need to rush
---
Trump: Debt will affect America more than #Brexit [video]
---
Jessica Morrison: USGS finds data fraud from 2008 to 2014, closes environmental chemistry lab; "Some data were manipulated" ... "lab customers, some collaborators, and relevant journals" all notified
---
Brookings analysts: Brexit a sign of same anti-elite revolt supporting Trump and sweeping Europe
---
Larry Elliott: Brexit is the rejection of globalization
---
Lessons learned? Infatuated killer of singer Grimmie had twice been in trouble with the law for violent incidents but not arrested
---
Scientific American: List of possible Zika birth defects grows longer
---
Mogadishu: At least 14 killed after Islamist gunmen storm Somalia hotel
---
London: Behind the support for #Brexit and Trump: economic apartheid; elites comfortable while those in hinterlands suffer
---
Conrad Black: A fresh start for Europe
---
Kelly McParland: The numbers tell the tale of a disgruntled country divided against its own
---
Marni Soupcoff: Brexit is about autonomy and overbearing bureaucracy, not chauvinism or bigotry
---
Eric Worrall: Naomi Klein tries to link climate and racism, but in constructing her fallacious arguments embraces ugly colonial paternalism
---
Paladino: Trump doesn't need as much funding to run his non-traditional campaign
---
TIME: Hillary Clinton failed to hand over key email to State Department
---
Kern County: 2 dead in California fire that torched 19,000 acres; still out-of-control
---
Charleston: Now 23 dead in devastating West Virginia flooding
---
Vernon Coleman: Was Britain taken into the EU illegally? (yes, and here's why)
---
Montreal: World doping watchdog shuts down Rio Olympic laboratory
---
Flashback: Divided they joined in 1973 (without a public vote), and divided they leave, but democratically
---
Brexit losers: Britain's richest pummelled, 15 wealthiest lose as $5.5B shaved off fortunes
---
Bloomberg: Brexit domino effect means tourism losses, trade questions and the need for EU and UK to disentangle with mutual respect
---
Illegal immigrants still illegal: Judicial Watch hails Supreme Court tie that stops "Barack Obama's lawless power grab" that would have allowed him to grant "legal status and, potentially, citizenship to millions of illegal aliens"
---
Lake Isabella: Flames roar through central California homes; thousands flee
---
Crooked Hillary? Detailed review by Associated Press finds hundreds of names scrubbed from Clinton's calendar as Secretary of State; who got what for their donations to Clinton Foundation?
---
London: Second big loss this week for Obama; how many votes did his inappropriate hectoring cost 'remain' side?
---
Scotland: British radio reporter intentionally distorts Trump Brexit comments in tweet; bad journalism not native to just North America
---
Breitbart: CNN's Clinton cash 'fact-check' ends in embarrassment for its non-fact-checkers
---
Scotland: Trump promises that as President he would 'strengthen our ties with a free and independent Britain, deepening our bonds in commerce, culture and mutual defense'
---
Ayrshire: Trump hails #Brexit vote, saying voters "took back their country" and said American voters would do the same
---
Brexit: Britain votes with Trump, against Hillary, Obama
---
London: #Brexit spreads across Europe: Italy, France, Holland and Denmark ALL call for referendums
---
Baltimore: Trial of van driver in Freddie Gray case reveals prosecutor violations; failed to turn over several pieces of key evidence to defence
---
Feeling Berned: Nearly half of Sanders supporters won't support Clinton
---
#Brexit vote: British pound plummets over uncertainty of results
---
Benghazi link, too: Ex-Clinton official got Boeing bucks while pushing Iran nuke pact – before $25B jet deal
---
Orlando Sentinel: Federal officials: No evidence gunman used gay apps, looked at gay porn, had boyfriends
---
Jury unanimous: Led Zeppelin did not steal age-old opening riff for 'Stairway to Heaven' from California band Spirit
---
Orlando: After account from first responding officer, question remains, why did police withdraw from Pulse club and let killer kill and the dying die
---
Hacker open house: Emails reveal how Hillary Clinton's 'homebrew' server had a technical problem so serious its security systems were shut off
---
Nahlah Ayed: #Brexit could unravel the Prime Minister, his Party — and the EU
---
Bloomberg: Political power slipping from unpopular Mexican leader's grasp
---
Mara Liasson - NPR: Trump just gave the speech Republicans have been waiting 20 years to hear
---
Miami: Man who worshipped at same mosque as Orlando killer had reported him to FBI for radical comments
---
Pith, and on point: Trump: "We got here because we switched from a policy of Americanism to a policy of globalism"
---
Tim Hains: NBC's Steve Kornacki: Amazing how thin Clinton/Trump margin is, despite Trump's recent problems
---
New York: Trump speech: "For amount Hillary would spend on refugees, we could re-build every inner city"
---
Larry Edelson: Will Britain go or will it stay? #Brexit is right choice and here's why
---
She's a 'world-class liar': Major Trump speech throws down gauntlet, lays out case against Clinton forked tongue globalism; invites Bernie Sanders' supporters to join his effort against her
---
Ironic language, serious failure: "This should trump all other activities", State Dept tech email showed seriousness of issues with rogue Hillary Clinton email server; temporary disabling of security features on government systems to speed email traffic to Clinton opened them to illegal access
---
---
Links formerly right here, now at http://www.newswatchcanada.ca/oldnews2016-1.html
---
---
---
---

---
Happy Canada Day!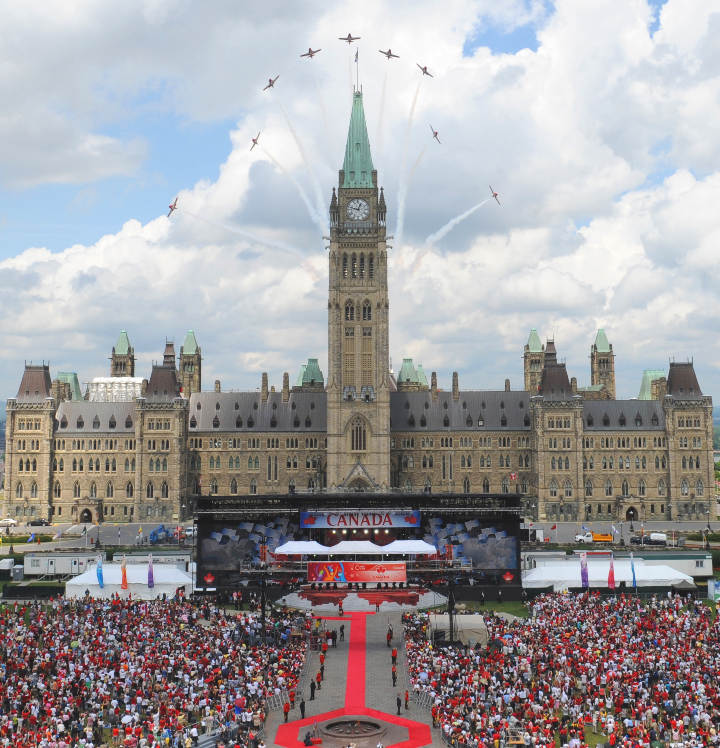 The RCAF Snowbirds will again perform over Parliament Hill, part of the annual celebratory extravaganza.
---
---
Clinton collapse: Quinnipiac national poll: Clinton, Trump in dead heat
---
Kabul: Taliban suicide bombing kills 30 Afghan trainee police
---
Stephen F. Hayes: Benghazi Lie in black & white; Obama Admin
public and private timelines of what happened are very different
---
Chicago Tribune editorial: On Clinton Benghazi failures: "the Secretary of State failed a crucial chance to show decisive, principled leadership" — "during and well after the chaos of the attacks... Clinton and the Obama Administration promoted a false narrative for public consumption"
---
updated Turkey: Death toll now 42 after Tuesday attack by
3 back-clad ISIS suicide bombers on Istanbul airport; 160 wounded
---
Mississauga: Massive explosion destroys home;
1 person dead, 25 houses damaged


Debris litters a street after a house explosion in Mississauga, Ontario, Tuesday, June 28, 2016. Police are evacuating homes as they investigate. ~ Global News
---
Quebec City: In Canada, Mexican President calls
for 'economic integration' of North America


Mexico's President Enrique Pena Nieto shakes the hand of Canada's Governor General David Johnston (L) at the Citadelle in Quebec City, Canada June 27, 2016. ~ Mathieu Belanger Reuters
---
In-depth — Lead: The real criminal element? From gasoline
to windows to pipes, the links make the argument compelling
---
Boris Johnson: Britain is part of Europe – and always will be
---
Nigeria: 5,000 trapped in 10 Boko Haram-controlled villages freed
in NE Borno state; at least 10 of Islamist group's fighters killed
---
Baghdad: Iraqi army declares Fallujah 'fully liberated' from ISIS


A member of the Iraqi government forces flashes the sign for victory as they hunt down remaining jihadists in the city on June 18, 2016. ~ AFP
---
Brexit do-over? Petition for 2nd referendum crashes Commons' website
---
Who needs sailors? Rolls Royce says remote-controlled 'roboships' will take to the sea by 2020; the single operator will oversee ships from a land-based holographic control room


Rolls Royce says it has already begun testing the technology needed to make the ships a reality, and expects them to take to the sea by the end of the decade.
---
London: Yes, David Cameron lost the #Brexit referendum,
but he showed his commitment to democracy by calling it
---
London: Brexit wins, Cameron to be replaced "by October";
EU disentanglement may take 2 years; Farage calls it "victory for ordinary people against the big banks, big business and big politics"
---
BBC on #Brexit: Historic referendum sees UK leave European Union



The BBC's website showed results as they came in, with only one major shift from 'leave' to 'remain' before the counts shifted permanently to favour the 'leave' side and the tally grew for the final tense hours as the world watched democracy change the world again. NewsWatchCanada used this source as it tweeted incremental tallies last night -- those tweets can be re-visited by scrolling down this page to the NWC twitter display.
---
updated Telegraph: Brexit most likely outcome says pollster as votes shift
---
#Brexit: Make tomorrow Britain's 'Independence Day' says Nigel Farage
---
Las Vegas: Donald Trump assassination attempt foiled as British man
grabs police officer's gun; illegal immigrant, had practiced at gun range


Michael Steven Sandford was arrested and taken out of the Trump campaign rally at the Treasure Island Hotel and Casino in Las Vegas on Saturday, after trying to take a police officer's gun with the intention of killing GOP Presidential candidate Donald Trump. ~ Polaris
---
Afghanistan: Bombing kills 14 Nepalese guards en route
to their work at Canadian Embassy in Kabul


Afghan police soldiers inspect the site of the suicide attack in Kabul, Afghanistan, on June 20, 2016. ~ Rahmat Gul AP
---
London: Russian drug whistleblower may be allowed
to compete in Rio as 'independent athlete'
---
Dopers: Russia ban from Rio Olympics by IAAF upheld
---
Ottawa: Urging Canada to join NATO forces in Baltics,
Latvia says it would send 'very strong message' to Russia
---
---
Links formerly right here, now at http://www.newswatchcanada.ca/oldnews2016-1.html
---
For full news link archives since December 7, 2009
follow page links from
NWC Old News
Welcome to Worldwide Visitors
Send news tips to
Editor@NewsWatchCanada.ca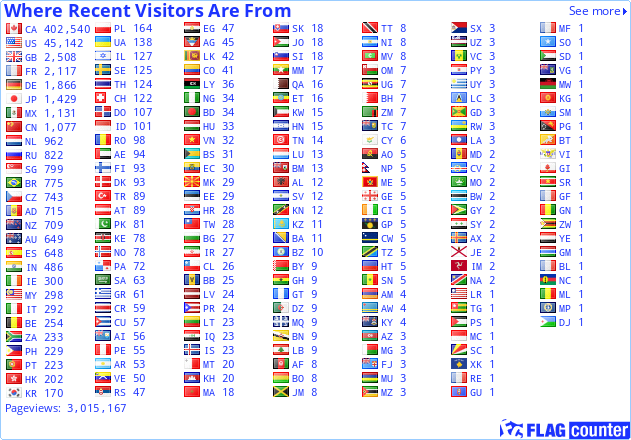 ---
Justice: Sikh organization hails sentencing of Quebec City attacker
---
Neighbourhood destroyed: Second body found at site of Mississauga house explosion as first victim identified
---
Robyn Urback: Canada is living large today while dumping the costs on future generations
---
Ian Mulgrew: Liberal pot legalization plan like a Cheech and Chong skit
---
Stand-up guy: P.K. Subban reassures Montreal he's committed to children's hospital pledge of $10 million he made in 2015 despite being traded to Nashville
---
Ottawa: Canada set to lead new NATO battle group against Russia, says Sajjan
---
Andrew Coyne: Brexit no model for Quexit
---
Chris Selley: Trinity Western court decision raises philosophical questions (if not legal ones)
---
Ottawa: Federal Court of Appeal stops Enbridge Northern Gateway pipeline in confused 2-1 decision likely to go to Supreme Court
---
Cochrane: Kenney to PC-Wildrose merger resisters: grow up
---
Ottawa embarrassment: Canadian lawmakers chant 'Four More Years' to Obama after speech in House of Commons
---
Former Chief of Staff: Another high-ranking Chretien-era Liberal charged; alleged illegal payments from SNC-Lavalin
---
John Ivison: Three Amigos talk trade talk but don't walk the walk
---
Germany: Bypassing parliaments on EU-Canada deal 'foolish'; Brexit logic made clear again
---
Montreal: Air Canada finalizes $3.8B order for 45 Bombardier CSeries jets
---
Montreal: Quebec lost 600K residents to other provinces since 1971
---
Ottawa: As expected, Canada lifts visa for Mexican visitors; will expensive refugee claims soar once more?
---
Soda, Arson, James-Taylor and Harper: A deep dive into the 2015 Alberta baby name list
---
Toronto: Limitations in assisted-dying legislation faces constitutional challenge from B.C. woman, 25, and the B.C. Civil Liberties Association; issue was raised by Senate, too
---
Ottawa: Mexican President, Trudeau aim to renew 'bilateral relationship'
---
Toronto: For Hockey Night In Canada employees, the party is over; focus is back on the hockey, with a leaner workforce, as Strombo, Healey, Stock and others out the door
---
Mexican President visits Ottawa: Canada pushing Mexico to fully re-open beef market
---
Windsor Star: Building bee hotels helps pollinators and humans
---
Edmonton: Battered local economy leaves Alberta towns struggling with viability
---
Manila: 'You're next': Freed hostage says extremists were happy beheading her Canadian fiance, Robert Hall
---
Toronto: Ontario considers mandatory work experience programs for all students
---
Ottawa: Greens draw outrage, 'anti-Israel' accusations, over proposal to add BDS to party policies
---
Michael Den Tandt: Two crucial Brexit lessons for Liberals; focus on the economy, listen to the people who need jobs, not just ensconced elites
---
Using NAFTA protections: TransCanada seeks $15B compensation for Keystone XL pipeline
---
Ottawa: UK wants free trade deal with Canada, British High Commissioner says
---
Colby Cosh: Britain voted for Brexit because it wants to be Canada — and we hate the idea
---
Rex Murphy: Results of the Brexit referendum is a rebuke to Western elites
---
Ottawa: Nepal seeks answers from Canada for deaths of 13 guards killed in Kabul while riding uprotected minibus
---
Ottawa: Canadian politicians weigh in on Brexit: 'A magnificent exercise in democracy'
---
Greens more than tone-deaf: B'nai Brith calls for action in response to Elizabeth May's email
---
Toronto: Canadian dollar declines 2% after Brexit vote; most in 6 years
---
Post-Brexit: As Toronto Star writer admits he's dazed and confused, Jason Kenney calls on Canada to "immediately demonstrate respect for the choice made by the British people and prioritize negotiation of Canada-UK free trade"
---
Ottawa: New sonar device could help bicyclists catch cars that drive too close to them
---
Andrew Scheer: A strong Britain is an independent Britain
---
Kady O'Malley: Mike Duffy challenges Senate committee over new repayment demands
---
Ottawa: Senate demands Mike Duffy re-pay $16,995 in 'ineligible expenses'
---
Toronto Sun/Forum Research poll: Premier Wynne's personal 'popularity' hits all-time rock bottom at 18%
---
Evidence-based decision-making? Civil servants warn Trudeau against lifting Mexico visa requirement; say crime, drugs, security problems will result
---
Andrew Coyne: Employees and employers alike may live to regret 'historic' CPP agreement
---
Alberta: Buzz around Jason Kenney's political ambitions highlights his political power
---
Ottawa: Mexican activists call on Trudeau to push Mexican President on poor human rights record
---
Waste, continued... Taxpayers spent close to $20M on Ontario pension plan that never started and is now winding down
---
Ottawa: Trudeau refuses to commit to open competition to replace Canada's aging CF-18 fighter jets; puts politics ahead of pilots, national security
---
John Ivison: Trudeau 2.0 takes the stage, and does so very quietly
---
updated Sept-Îles: Hostage situation over at jail; courthouse had been evacuated, and security perimeter set up
---
Chantal Hébert: Stephen Harper has left the building
---
Waukesha: Wisconsin city approved to draw tap water from Great Lakes amid extra-basin concerns; commits to return treated water to Lake Michigan
---
Largest in world? Massive innovation complex coming to Kitchener-Waterloo
---
Stephen Saideman: Why Canada should join NATO's Eastern Europe mission
---
What transparency? Ottawa keeps under wraps plan to foster ties with Arab Gulf states
---
John Ivison: Trudeau's grand design glosses over inconvenient details as it fills Liberal pockets
---
Ottawa: U.S. Navy pilots report oxygen shortage while flying Super Hornet jets being considered by Liberals
---
Vancouver: CPP changes help relatively well-off; give huge boost to pensioners formerly limited to max pension of $54,900
---
Vancouver: Federal government, provinces agree to new deal on CPP reform
---
Jen Gerson: Jason Kenney still considering a federal Tory leadership run but his focus is on stopping Alberta's NDP
---
Michael Campbell: The gaping hole in our public school system [video]
---
Stephen Gordon: When it comes to pension reform, don't try to fix what isn't broken
---
Andrew Coyne: A successful Brexit could reignite moribund Quebec sovereignty movement; or is this apples and oranges?
---
Smiths Falls: 'Green cremation' growing in Canada; bodies are dissolved and discharged into sewer system
---
Apartheid justice: Woman convicted in torture killing can go to native healing ceremony, though she's not aboriginal
---
Matthew Fisher: Canada owes debt to fearless Nepalese warriors
---
Oslo: Norway politician calls Canada's handling of 94-year-old veteran's case 'disrespectful'
---
---
Links formerly right here, now at http://www.newswatchcanada.ca/oldnews2016-1.html
---
---