---
Incitement: New York Times publishes Officer Darren Wilson's home address; how badly does media want mayhem?
---
Ferguson: Officer Wilson's testimony to grand jury on exchanges with thug Michael Brown which led to his death
---
Ferguson: Why many 'eyewitnesses' in the Darren Wilson investigation were wrong; "The most common element in all wrongful convictions later overturned by DNA evidence has been eyewitness misidentification"
---
ABC News interview: Officer Wilson feared for his life as thug Michael Brown punched him; "I just felt the immense power that he had. And then the way I've described it is it was like a 5-year-old holding onto Hulk Hogan. That's just how big this man was."
---
Ferguson: Officer Wilson heard on police radio about 'cigarillos' being stolen in store robbery and then saw 'cigarillos' in Michael Brown's hand; he immediately called for back-up
---
Ferguson: DNA, injuries, other crucial physical evidence all fit officer's version of Brown's assault and the shots fired, and fit eyewitness testimony: "The cop just stood there. Dang if that kid didn't start running right at the cop like a football player. Head down. I heard three bangs, but the big kid wouldn't stop."
---
Raqqa: At least 60 dead after Syrian Govt air strikes on ISIS 'capital'
---
John Ivison: Putin will be out of power within two years if West continues hard line, former Russian PM predicts
---
updated ~ Maiduguri: Islamist teenage female suicide bombers kill at least 30 in crowded market in Nigeria's northeast
---
Paris: France officially suspends delivery of Mistral warship to Russia
---
Ferguson: Thugs incited by professional protesters running amok, looting, burning
---
Ferguson: No indictment on any of 5 possible charges in Brown shooting; link to autopsy which disproved allegations
---
Ferguson: Rioters ready to riot as Grand Jury reaches decision, announcement awaited
---
Buffalo: Cuomo continues foot-in-mouth grandstanding; Al Roker and National Weather Service counter-attack, say snow was "well forecast" and "nobody should have been caught by surprise"; but Cuomo's state govt dropped the ball
---
Washington: Sen. Cruz floats Joe Lieberman to replace Hagel at Defense
---
Washington: Hagel resigns as Defense chief amid White House tensions
---
Beating cable and broadcast competitors: New level of Fox News dominance demands analysis, not dismissal
---
Ho Chi Minh City: Reforms enable Vietnam farmers to prosper as efficient export pepper producers
---
China: Beef the new Red Bull as burger craze takes off in Hong Kong
---
Vienna: Iran atom talks expected to adjourn, resume next month: source
---
Tunis: Tunisians vote for first freely elected president of post-Ben Ali era
---
Buffalo: Aerial views give sense of challenge facing the snowbound
---
Buffalo: Cuomo under-reacts, over-credits himself as rain and huge snow melt puts roofs, lives and basements on flood watch
---
Los Angeles: Long-lost letter found that inspired French-Canadian father of beat generation Jack Kerouac
---
Brussels: European Parliament may propose Google break-up in draft resolution
---
Buffalo: Region faces new round of weather threats from warm temperatures, rain and winds
---
Washington: U.S. plans to arm Iraq's Sunni tribesmen with AK-47s, RPGs, mortars
---
Beijing: China arrests man for spying on aircraft carrier base
---
Mandera: 28 dead after Somali Islamists stop Kenya bus, separate Muslims and non-Muslims, slaughter non-Muslims
---
Washington Post fact-checker: Three Pinocchios for Obama's claim that Keystone XL crude would go 'everywhere else' but U.S.
---
Robin Shepherd: Time for the exceptional superpower to act like it
---
updated ~ Nagano: Shallow M6.2 earthquake jolts central Japan; some buildings damaged
---
Peggy Noonan: The nihilist in the White House; this administration doesn't build, it divides and tears down
---
St. Louis: FBI sends 100 agents to Ferguson ahead of grand jury decision
---
Washington: Lockheed, Pentagon ink $4.7B deal for eighth batch of F-35 fighters; includes jets for Israel, Japan, Norway, Britain and Italy; price per unit drops again
---
Washington: Obama signs secret order expanding U.S. Afghanistan role
---
Lots of excess, but... Most binge drinkers not alcoholics
---
AP fact-checks: The amnesty lies Obama told
---
Pattern: Florida woman latest to accuse Cosby of forced sex
---
Iraq: Senior ISIS figure killed in Mosul
---
The Week: Three major publications have acknowledged plagiarism by Fareed Zakaria. Does CNN have no shame?
---
Hyped: Only 11% of Americans plan to shop over Thanksgiving
---
A 'pure fabrication': TransCanada CEO fires back at Obama Keystone comments
---
Paul Knappenberger and Patrick Michaels: 100% of scientists say global warming has nearly stopped
---
Dr. Tim Ball: Climate perception, projection and propaganda
---
Joanne Nova: Germany gives up on emissions target; Japan emits more CO2 than ever
---
New Twitter tools: How to search through every public tweet sent since 2006
---
Neil Macdonald: How Barack Obama's presidency has come undone; through the jaundiced eye of a media supporter
---
Washington: Republicans promise to quickly resurrect Keystone XL in new Congress
---
Tegucigalpa: Miss Honduras 2014 found dead and buried with sister
---
updated ~ Ebola NOT back in NYC: FDNY arrived in Hazmat suits after woman who had 'recently travelled from Guinea and was being monitored for Ebola dropped dead in hair salon with blood coming from her face, nose and mouth'; heart attack blamed for sudden death
---
Buffalo: Four dead in massive snowstorm in northwestern New York state
---
Cold enough for ya? Coldest November morning in U.S. since 1976
---
Jerusalem: Canadian in a coma after he was struck in head with meat cleaver during Palestinian terrorist attack on synagogue
---
Washington: Keystone pipeline drama playing out in Harper's favour
---
Little Rock: Outgoing Arkansas Democrat Governor pardons son for drug conviction
---
Philae: Comet team detects organic molecules, basis of carbon-based life on Earth
---
New Orleans: Voice finally heard after election risk became apparent, but Louisiana's Sen. Landrieu silent at almost 70% of energy hearings
---
updated ~ Jerusalem: 6 dead, including 2 attackers, after axe and knife-wielding PFLP Palestinian terrorists attack synagogue worshippers; Canadian-Israeli among 8 injured; 4 dead identified as rabbis originally from U.S., UK
---
San Francisco: Fabled Candlestick Park to be demolished; to be replaced by 6,225 homes, 220 hotel rooms & 635,000 sq ft of shops
---
Omaha: American doctor with Ebola dies two days after arriving in Nebraska from Sierra Leone for treatment
---
Cardiff: Man says his son, a British medical student, was among those seen beheading Syrian soldiers in a video released Sunday
---
Kiev: 10 Ukrainian soldiers, police killed in east in last 24 hours
---
Bloomberg: Russia seen as greatest threat in poll as dropping price of oil erodes Putin power
---
Tokyo: Nikkei sees biggest drop in 3 months as recession news hits
---
Tokyo: Japan slips into surprise recession, paves way for tax delay, snap poll
---
Gordon Crovitz: What a tangled web Obama weaves; treating the internet like a utility won't achieve the President's supposed goal, so why pursue it?
---
Rex Murphy: Contest of the liars — Bill Clinton vs Barack Obama
---
Baghdad: Chairman of U.S. Joint Chiefs of Staff Martin Dempsey says fight against ISIS 'starting to turn' in unannounced visit to Iraq
---
Brisbane: From Vlad to worse: Snubbed at the airport, made to sit alone at dinner, shunted to the edge of the family photo and condemned by world leaders… Did vile Putin get the message?
---
Criminal incompetence: Russian forgery of MH17 satellite "photo" bungles location, logos, even model of airliner
---
Kabul: Afghan female MP survives suicide attack, 3 dead
---
La Porte: 4 workers die after chemical leak at Texas DuPont plant
---
Peggy Noonan: The loneliest President since Nixon; isolated and delusional lame duck
---
Kobane: ISIS faces war of attrition as resistance holds and airstrikes take toll
---
Paris: Ottawa university instructor extradited after charged with 1st-degree murder in France; Supreme Court refused to hear extradition appeal; suspect in 1980 bombing of a Paris synagogue by Palestinian extremist group
---
Kota Ternate: Tsunami alert sparks panic in Indonesia after M7.3 undersea quake rocks islands
---
Recovery: Iraqi forces drive ISIS out of key oil refinery town in latest major setback for jihadist group
---
Chibok: Boko Haram capture Nigerian village where they kidnapped more than 200 schoolgirls and declare it part of their 'caliphate'
---
Charles Krauthammer: The Gruber Confession; ultimate vindication of charge Obamacare was sold on a pack of lies
---
Istanbul: ISIS and al-Qaida agree to work together
---
Head-to-head: Wal-Mart formally tells 5,000 store managers to match Amazon's online prices
---
Smoking gun video from 2012: Jonathan Gruber admitted Obama was in room when Cadillac tax lie for Obamacare was created; White House logs confirm
---
Obamacare revelations: Nancy Pelosi on Jonathan Gruber: Then and now
---
New Jersey: Police step up patrols at Bergen County schools following series of bomb threats
---
Brussels: NATO sees 'significant buildup' of Russian forces in Ukraine
---
More adventurism? Canberra monitoring Russian warships 'nearing Australia'
---
Bamako: Mali quarantines dozens as second Ebola outbreak spreads in country
---
Joanne Nova: Election over, so U.S. and China agree to make unenforceable long-term commitment with no consequences
---
Washington Post: The comet landing challenge, in words and diagrams
---
WSJ: Obama faces rift with Suu Kyi in Myanmar
---
Beijing: A tale of U.S.-China contrasts: Obama sounds concilatory, Xi sounds competitive
---
Beijing: China agrees to a CO2 peak by "around" 2030, U.S. to cut emissions by 26-28% by then; two nations are world's biggest emitters, neither has real ability to live up to agreement
---
Gov. John Kasich: From Ohio, a different sort of Republicanism
---
Baghdad: Iraqi forces retake most of strategic oil town
---
New York: America marks Veterans Day with parades, solemnity; in Europe it's the 100th anniversary of WWI on Armistice Day
---
Gary Ackerman: The Middle East destroys itself
---
Beijing: Putin trying to evade answering Tony Abbott at APEC Summit over shooting down MH17
---
Beijing: Inaugurating APEC, Xi urges faster talks on China-backed free trade area
---
Jerusalem: Two Israelis die in separate stabbings by Palestinians
---
Jene-Wonde: Liberia village becomes a new Ebola epicenter
---
CNN: Central Command General to ISIS: 'We can hear you'
---
FSB: 'Too big to fail' bank rules unveiled by global regulators
---
Cairo: Egyptian militants pledge allegiance to ISIS
---
Freeport: Lear Executive jet crashes in Bahamas, killing 9 on board
---
Donetsk: Worst east Ukraine shelling for month; ceasefire looks in doubt
---
Darna: How a Libyan city joined ISIS
---
Powerline: American Liberals not giving up on Keystone block which is filling pockets of railway owners and Obama-backers Buffett and Gates
---
Turning point? Did Iraq undertake attack which targeted ISIS leader Abu Bakr al-Baghdadi? Pentagon hints their only airstrike was on armoured column at Mosul; is coyness designed to confuse enemy?
---
Detroit Free Press: How Detroit was reborn; the inside story of Detroit's historic bankruptcy case
---
Indy Star: Why isn't rest of the media investigating how veteran reporter Sharyl Attkisson was treated: by the Obama Administration and by CBS?
---
Politico: Fire Valerie Jarrett; If Obama really wants to shake things up, his closest adviser should be the first to go
---
Celebration: Merkel on fall of Berlin Wall: "Dreams can come true"
---
Higgs Boson NOT found? Another Nobel gaffe or alternate key to the universe, or both?
---
CNN: Dr. Ben Carson leaves Fox News, expected to seek Presidency in 2016
---
Mexico City: Frustration boils over in Mexico amid news missing students are dead
---
Reuters: Coalition airstrikes take out ISIS convoy of armoured vehicles; Mosul morgue says 50 ISIS bodies brought in after strikes
---
Susan Adams: The bad news behind the U.S. unemployment numbers
---
Gorbachev: World on brink of new Cold War
---
Berlin: Border guard's snap decision ensured joyful end to Wall
---
Mexico City: Mexico stuns China in scrapping winning $4.3B rail bid
---
Donetsk: Russia moves more heavy tanks and artillery into Ukraine in violation of Minsk Agreement
---
Washington: Obama authorizes up to 1,500 more military personnel to deploy to Iraq
---
Showdown: Tony Abbott to meet with Vladimir Putin at APEC summit ahead of G20, who he famously promised to "shirtfront" over the downing of MH17
---
Reuters: U.S. labor market tightens, but wages still anemic
---
Donetsk: Ukraine says up to 200 rebels killed in Donetsk fighting
---
Israel: Netanyahu orders destruction of homes of Palestinian attackers in Jerusalem
---
Jerusalem: Death toll rises to two after Wednesday attack at light rail station
---
Kharkiv: More remains found at MH17 site
---
Science Journal: New genome data suggests European genetic profile at least 36,000 years old, much older than previously thought; shows when much older Neanderthals started getting serious competition
---
ISIS or Hamas? Series of blasts strike Fatah targets in Gaza
---
WSJ: Twitter CEO Costolo struggles to define vision; big investors sell shares amid executive departures and changing strategy
---
Wales: Two dead after cannibal attack at Argoed hostel
---
Deutsche Welle: George Bush Sr.: 'United Germany has fulfilled my expectations'; in interview he talks about convincing Soviet leader Mikhail Gorbachev that Germany should be reunited after Fall of the Berlin Wall
---
Damascus: Fearing U.S. air strikes against Assad regime, Syria pushes Russia for S300 anti-aircraft missiles
---
BBC: Jihadists 'using cruise ships' to reach Middle East war zones
---
Beirut: ISIS not coping well with military setbacks, and its psychological edge has been dulled by losses of men, materiel and momentum as coalition airstrikes help resistance
---
Post mid-terms: Boehner hits ground running, has agenda which includes Keystone XL, tax overhaul, Obamacare dismantle
---
Washington: U.S. believes top bomb-maker David Drugeon of radical Khorasan Group killed/injured in flurry of overnight targeted airstrikes in Syria
---
Islamabad: 50 arrested in slaying, burning of Christian Pakistani couple
---
Ann Coulter: A tough night at MSNBC
---
Disney: New Star Wars film titled 'The Force Awakens'
---
New York: CBS introduces ad-supported free streaming news service today at cbsn.cbsnews.com
---
Washington Post fact-checker: Three Pinocchios for Obama's claim "Obamacare has reduced health-care inflation 'every single year' since it was passed"
---
Syracuse: 27 injured, including bus driver, as bus on Toronto-New York City run hits car crashed by drunk driver, then nearby tractor trailer
---
Jerusalem: Israel to buy second batch of US F-35 fighters
---
Tyler Durden: We have just witnessed the last gasp of the global economy
---
Politico: Who else had a bad night? Pollsters
---
Cairo: Bomb kills 5 in Nile Delta train station
---
Christian Science Monitor: Was Republican Party win in Senate a stunning rebuke to Obama? Sure was.
---
Washington: Republican Senate to push for early approval of Keystone XL pipeline
---
Sanaa: Senior al Qaeda operative killed in U.S. strike in Yemen
---
Kidnapped: 'There will be a global Islamic caliphate': How ISIS beat and brainwashed boy hostages
---
Washington: Honda ordered to deliver air bag documents to NHTSA
---
U.S. General: Afghan casualties on battlefield at unsustainably high level
---
Wall Street Journal: A shellacking for Obama
---
Mollie Hemingway: Wendy Davis was the face of the Democrats' cynical 'war on women' politics. How'd that go?
---
Byron York: Voters' verdict explodes Democratic myths
---
Jerusalem: 1 dead, 13 injured after Hamas terrorist rams crowded train platform with car, then attacks with tire iron
---
Washington: Republican gains push U.S. dollar up; oil down, Russian Rouble hits low point
---
Iraq: ISIS beheads four journalists in Mosul
---
Top UK spy: Twitter, Facebook are jihadi 'command and control networks'
---
Riyadh: Four killed by Saudi Arabia as it hunts gunmen who killed 8 Shi'ites in attack
---
Hawaii: Hero saves surfer from tiger shark; grabbed it by dorsal fin and started punching hard; "the shark shuddered, and then headed out to sea"
---
Mexico City: Mayor and wife arrested on suspicion of ordering attacks on missing 43 Mexican students
---
Cairo: Egypt, Gulf Arab allies discuss military alliance to take on Islamist militants in region
---
Tehran: Fracking revolution claims another victim: Iran cites sharp revenue drop
---
Wagah: Pakistan holds border ceremony after 55 killed in Islamist terrorist bombing
---
Turkey: Migrant boat sinking kills 21 off Istanbul
---
Sierra Leone: Fifth local doctor succumbs to Ebola
---
NYT/CBS/YouGov poll: Texas: Wendy Davis is losing women by double digits
---
Singapore imposes new visa requirements for 3 Ebola-affected countries
---
NY Times: Investigators focus on tail booms in crash of SpaceShipTwo
---
Mojave: 'Pilot error' may have contributed to SpaceShipTwo's crash, NTSB says
---
Lots of data: Virgin Galactic crash probe focuses on possible structural failure; SpaceShipTwo's fuel tanks and engine were recovered largely intact; condition and location of various pieces of wreckage suggest there was no propulsion-system explosion before spacecraft disintegration
---
Washington: To salvage Presidency, Obama faces pressure to re-boot - but will he? Favours loyalty over competence
---
Ouagadougou: Army clears 'coup' protesters, fires warning shots in Burkina Faso
---
Washington: Republicans promise to end Democrats' gridlock if they win U.S. Senate; will act on bills passed by House and push for Keystone approval
---
Genocide in Iraq: ISIS kills 322 from single Sunni tribe
---
Sydney: ISIS recruits went shooting with construction boss George Alex before leaving Australia undetected
---
Sydney: Australian police issue nationwide terror warning to teachers
---
Guardian: Virgin Galactic warned about potential instability of new fuel, experts say
---
California: Virgin Galactic's replacement SpaceShipTwo ready next year
---
updated ~ Pakistan: 55 killed in suicide bomb attack at Wagah checkpoint near Lahore
---
ABC News/Washington Post poll: Obama hits career lows in favorability, empathy
---
Columbia: Early snow in South Carolina breaks 100-year record
---
Voice of evil: Nigerian extremist says kidnapped girls married; "If you knew the state your daughters are in today, it might lead some of you ... to die from grief"
---
Baghdad: ISIS executes hundreds of tribesmen in Iraq this week; 300 have been executed since killing began last week
---
LA Times: Kimberly-Clark accused of falsely claiming gowns protect against Ebola
---
New York Post: Now Pakistan cares about ISIS; "We must all, collectively, oppose and defeat its evil ideology of 'hate, murder and destroy'... this "rising tide of primeval barbarism and criminality"
---
Nigeria: Boko Haram says kidnapped schoolgirls 'married off'
---
The Band in Big Pink: Bob Dylan's legendary Basement Tapes coming again, 'Complete' for the first time
---
Kirkuk: Iraqi forces enter town held by ISIS for months
---
London: UK Foreign Office issues worldwide terrorism warning for British tourists
---
Washington: Obama on brink of worst successive mid-term losses of any U.S. President in 64 years
---
Maine: Selfish CDC nurse Kaci Hickox's roommate in Africa developed Ebola
---
Ouagadougou: Military assumes command of West African nation Burkina Faso after demonstrators storm Parliament and force President to 'flee for the border in armed convoy'
---
Washington: Russia, Iran, Venezuela all hurting from dropping price of oil, thanks to fracking
---
Spanish Intel: ISIS plotting online to kill Western civilians with Ebola
---
Washington: CDC admits droplets from a sneeze could spread Ebola
---
Anthony Watts: Magnetism and weather: interconnections?
---
West Africa: Burkina Faso declares state of emergency after protesters storm and burn Parliament
---
Pyongyang: Ebola fears grip North Korea; foreigners to be quarantined
---
updated ~ Wichita: 4 dead, 5 injured as twin-engine Beechcraft plane crashes into flight safety building at airport after losing engine [video]
---
Paris: France says 'conditions not met' for Mistral warship delivery to Russia
---
Tel Aviv: Israel police kill suspect in Yehuda Glick assassination attempt
---
Auburn Hills: Ferrari to be standalone company in Fiat Chrysler spin-off; stock jumps
---
Haaretz: Official who slurred Netanyahu should be 'held to account,' says major U.S. Jewish group
---
New York: Pope Francis and Cpl. Nathan Cirillo get kudos at AIDS benefit from Elton John and Mike Myers, respectively
---
Washington Post: The story behind that '10 hours of walking in NYC' viral street harassment video
---
Washington Post: Viral Video: Woman harassed 108 times as she walks around New York
---
Faster, cheaper, stronger — later: HP dives into 3D printing with Multi Jet Fusion
---
New York: Ebola doctor had lied about his self-quarantine to police; electronic trail gave him away; went to restaurant, bowling alley, travelled by subway, taxi
---
Las Vegas: Half-built 48-storey Harmon hotel casino tower at centre of trial
---
Kobani: Members of Free Syrian Army cross from Turkey to reinforce fight against ISIS
---
Maine: Now selfish nurse says she'll end voluntary Ebola quarantine
---
Washington: U.S. to impose 21-day quarantine on troops returning from West Africa Ebola battle
---
Badulla: Sri Lanka landslide: '100 feared dead'
---
Sydney: Mohammad Ali Baryalei: Australia's most senior ISIS member believed killed in fighting in Iraq or Syria
---
Obama czar MIA: Where's czar? Ebola raises management questions
---
Boston: Friend of bomber Dzhokhar Tsarnaev faces 8 years after found guilty of lying to FBI
---
Ottawa: Kerry pledges U.S. will work with Canada against terrorism
---
Seattle: Local media puts selves ahead of bomber apprehension
---
Monrovia: Australia bans travel from Ebola-hit countries; U.S. isolates troops
---
New York: Black Panther leader hails axe attacker as a 'crusader', says more attacks on police can be expected
---
Self-censorship: CBS buried anti-Obama stories
---
Seattle: Washington school shooter used text message to lure teen victims to cafeteria where he fired at them
---
Kobani: Peshmerga fighters head to Turkey so they can reinforce battle against ISIS
---
Baghdad: 34 killed in Iraq bomb blasts
---
Erik Wemple: Sharyl Attkisson's computer intrusions: 'Worse than anything Nixon ever did'
---
Welcome to Chokepoint, USA: Rail chaos reigns in Chicago
---
Maiduguri: Dozens more girls abducted by Nigerian Boko Haram Islamists
---
Iraq: Suicide bomber kills 27 Shi'ite militiamen in town near Baghdad
---
Donetsk: Heavy shelling in rebel-held Eastern Ukraine after election
---
Washington Post: The not-so-voluntary sex confessions of fired Canadian radio star Jian Ghomeshi
---
Sao Paulo: Leftist Rousseff narrowly wins second term in Brazil; minister says government will seek to lead "a national reconciliation process given how tight the result was"
---
Tunis: Tunisians elect new parliament to consolidate young democracy
---
New York: Selfish nurse to fight her 21-day Ebola quarantine in court, White House wavers, plays politics with health
---
Ndongo: 17 dead, dozens kidnapped in Nigeria attack
---
Tulalip: Tribe reeling in wake of Seattle-area school shooting
---
Mursitpinar: Syrian Kurds repulse ISIS attack on border gate
---
ABC: U.S. journalist says body was 'at war' with Ebola
---
Washington: U.S. Ebola fighters head to Africa, but will the military and civilian effort be enough?
---
Kobani: ISIS launches new offensive after suffering setbacks
---
New York: Ebola-stricken doc described as "brilliant" and "rigorous" but also prone to hugging patients due to language barriers; hygienist: "Since we learned he was infected, we've had low morale"
---
Fewest stations hit 90 degrees: U.S. having its coolest year on record
---
NY Times: The horror before the beheadings; ISIS hostages endured torture and dashed hopes, freed cellmates say
---
Baghdad: Iraqi security forces and Kurds gain ground against ISIS
---
Egypt: Al-Sissi blames 'foreign powers' for Sinai assault; state of emergency declared and curfew imposed after deadliest assault on army in decades
---
London: Cream vocalist and bassist Jack Bruce dies at 71
---
WHO: Ebola cases pass 10,000
---
Ebola: Democrat New York Governor shifts his policy, disagrees with Democrat NYC Mayor de Blasio, and agrees with GOP New Jersey Governor Christie that henceforth medical personnel returning to state after treating Ebola patients in West Africa will be automatically subject to 21-day quarantine
---
Roswell: Google exec Alan Eustace breaks sound barrier, records, in supersonic freefall from near-space
---
CBS: NYC police commissioner confirms: Thursday hatchet attack on cops was a terrorist act
---
Egypt: Co-ordinated Sinai attacks kill at least 30 soldiers
---
Sacramento: Suspect arrested in murders of 2 Northern California deputies [video]
---
New Jersey: Passenger quarantined at Newark Airport after treating Ebola patients in Africa develops fever
---
Washington: Ebola cases in New York and Mali fan travel fears
---
Associated Press-GfK poll: 65% of Americans say threat from ISIS is very or even extremely important, and nearly half think U.S. military response in Iraq and Syria has not gone far enough
---
WHO: Mali case put many at risk for Ebola
---
Marysville: 2 dead, including gunman, in school attack
---
Crisis: New York and New Jersey say they will require Ebola quarantines
---
Telegraph: Internet chiefs told to curb Islamists online; "Britain's most high-profile radical Islamist preacher, Anjem Choudary, had influenced man involved in Ottawa attack"
---
NY Times: Tracing Ebola patient's possible contacts creates host of challenges for New York City
---
New York: Doctor tests positive for Ebola; in isolation at Bellevue; travelled from Manhattan to Brooklyn by subway Wednesday night, went to a bowling alley, then took taxi home
---
Making impacts: At least 500 ISIS militants killed in U.S.-led air strikes in Syria, observer group says
---
New York: Healthcare worker in isolation after displaying Ebola symptoms
---
Washington: FBI warns news outlets that group affiliated with ISIS is targeting journalists
---
New York: Global stocks surge on U.S. corporate results, bonds fall
---
Washington: GOP's Kelly Ayotte thwarting Obama effort to retire A-10 Warthog, the much-lauded ground support workhorse
---
Washington: U.S. senators demand nationwide recall over dangerous Takata auto air bags
---
Ukraine: Charred tanks in Ukraine point to Russian involvement
---
American Thinker: Scientist confesses he made up polar bear population estimates
---
---
Links formerly right here, now at http://www.newswatchcanada.ca/oldnews2014-2.html
---
---
---
---

---
Click this for Kiev/Ukraine video links, videos & screen caps from Feb. 20
---
After early balanced budget: Harper accelerates $5.8B for federal
infrastructure investments in parks, marine conservation, museums,
bridges and govt buildings; includes $500M to upgrade and build new schools on native reserves; jobs created will sustain economic recovery


Prime Minister Stephen Harper makes infrastructure investment announcement at The Collider Centre
at Western University's Advanced Manufacturing Park, in London. ~ Dave Chidley Canadian Press
---
Infrastructure backgrounder: Federal Govt investing coast to coast
---
Gardez: Suicide bomber kills at least 45 at
volleyball match in Afghanistan; 50 wounded
---
Ferguson: Two Black Panthers arrested, planned to set off bombs
---
Buffalo: In storm's bull's-eye, snowbound local writer reflects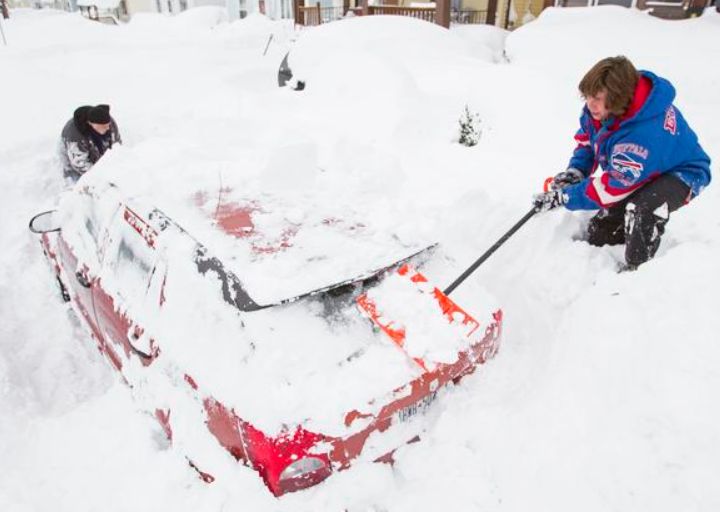 Lori and Bob Weishaar shovel snow from around their vehicle in Buffalo earlier this week. ~ Aaron Lynett Reuters
---
Buffalo: As snow turns to rain, flood threat grows
---
Buffalo: Roofs collapsing as snow clobbering continues
---
Buffalo: "Gov. Cuomo a liar" — say people stranded on I-90 for 30 hrs;
no barriers, warnings or cruisers telling them State Thruway was closed
and no one came to check on them in their snow tombs on wheels
---
Buffalo: Lake-effect roller coaster still on; more big snow, flooding next
---
updated ~ Buffalo: Killer storm gets a name: 'Knife'; at least six dead;
Outside fleet of plows and heavy equipment promised to help recovery;
Cuomo controversially blames victims for getting stuck in historic storm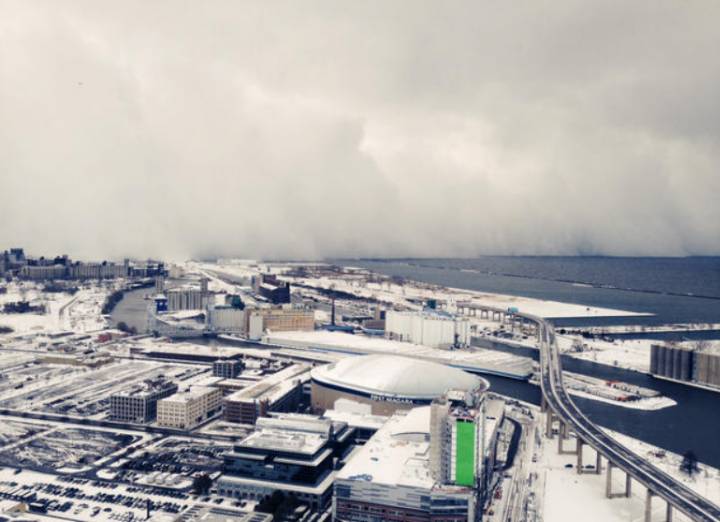 This photo from downtown Buffalo overlooking the Sabres' arena, foreground, shows how the sharp-edged lake-effect storm off Lake Erie dusted the downtown while burying the areas just a mile south. South Cheektowaga measured 65 inches of snow, with more on the way. ~ Gary Wiepert AP Photo
---
Buffalo: NY Gov declares state of emergency, calls out National Guard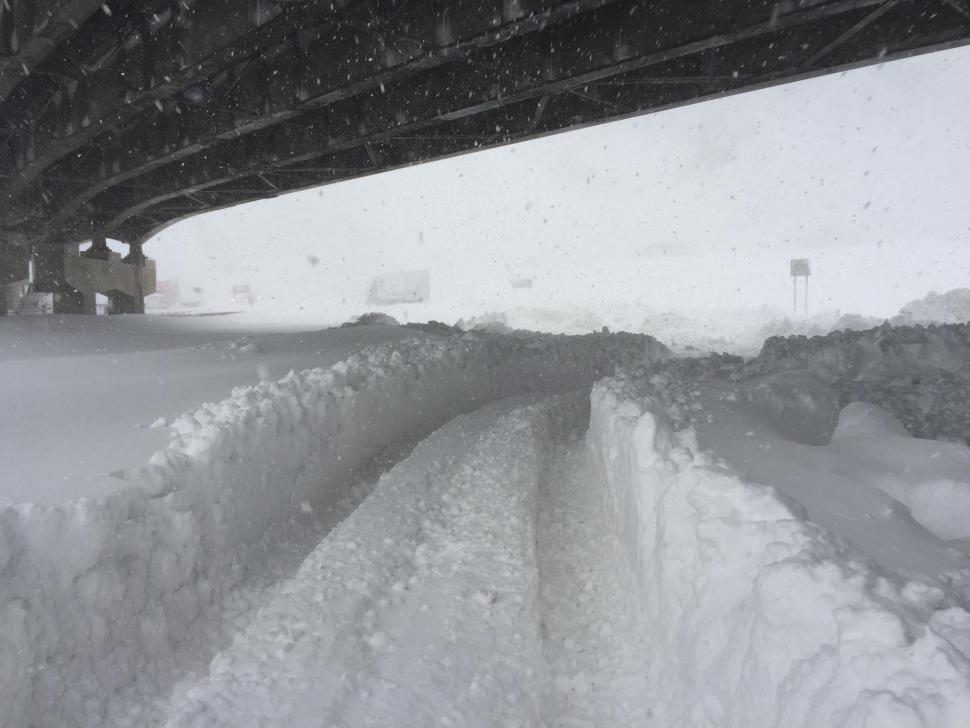 "We are deploying the National Guard to ramp up efforts to keep Western New York residents safe and to assist storm recovery efforts in any way possible," New York Governor Andrew Cuomo said Tuesday as some areas hunkered down for as much as six feet — really — of lake-effect snow. "Travel bans and advisories remain in effect, and I urge drivers to stay off the roads so that our state agencies and the National Guard can assist those that need help." The National Guard is mobilizing 150 soldiers and airmen for storm duty, according to Cuomo's office. Nearly 150 miles of the New York State Thruway (I-90) is shut down from Rochester west to the Pennsylvania border.
---
Buffalo: 'We're looking at a six-footer lake-effect storm'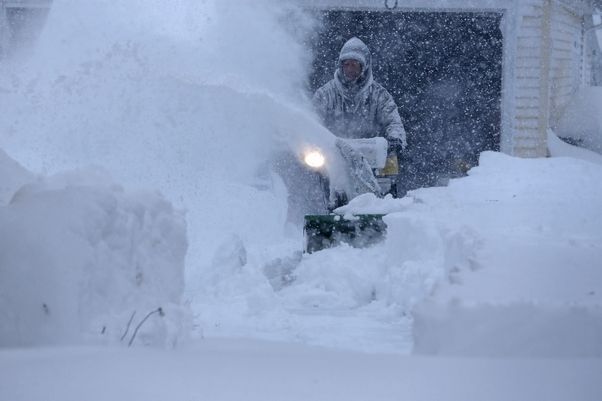 Winter is back, early, and with a vengeance across North America as all 50 U.S. states and 10 Canadian provinces fell below freezing Monday night and lake-effect snow off Lake Erie pummels Buffalo, and lake-effect snow off Lake Ontario is piling up east of Oswego, New York. Here, Jerry Delzer attempts to clear the three-plus feet of snow in his driveway in Buffalo suburb of Depew, Tuesday, November 18, 2014. ~ Derek Gee Buffalo News
---
Merkel: Russia 'will not prevail' in Ukraine
---
Poroshenko: Ukraine now ready for total war with pro-Russian rebels
---
Merkel: Russia's actions threaten Georgia, Moldova and Balkans states
---
Moscow: Putin warns he won't let Ukraine defeat Eastern rebels
---
Full text: G20 final communiqué from Brisbane Summit: jobs, jobs, jobs
---
Brisbane: G20 leaders reveal details of global growth plan
---
Guardian: G20: Canadian Prime Minister 'shirtfronts' Vladimir Putin
---
Brisbane: Cowardly, lying Putin leaves G20 early after Harper, Cameron,
Abbott and other leaders press him on Russian invasion of Ukraine


Putin leaves Australia G20 meeting early, with his tail between his legs as Canadian PM Harper, UK PM Cameron, Australian PM Abbott and others gave him both barrels over Russian invasion of Ukraine and shooting down of Malaysian Airlines flight MH17.
---
Brisbane: Aussies don't mince words for thug Putin at G20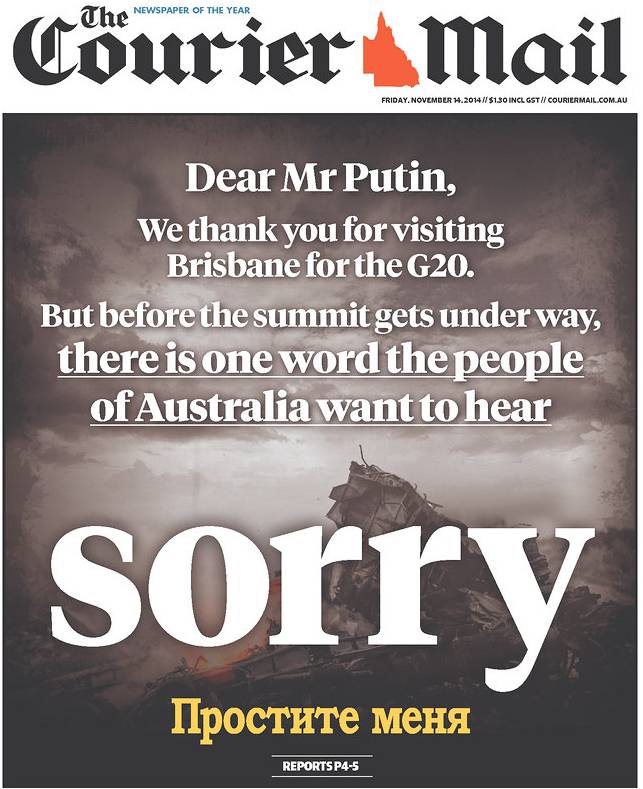 Australian Prime Minister Abbott not only voice Down Under calling out Putin for shooting down MH17 over Ukraine.
---
G20: Australian warships sent to halt Russian flotilla bound for Brisbane
---
Shirtfronting: Putin got his comeuppance from Tony Abbot at APEC;
told ex-KGB weasel to his face to stop trying to 'recreate lost glories'


Australian Prime Minister lays down law to outlaw Russian President Vladimir Putin who has re-begun the beliigerent, deadly adventurism that characterized the former Soviet Union's ratcheting up of Cold War tensions.
---
Philae: After a 10-year voyage, two critical technical failures
and a lucky one km "bunny hop" — success in spite of painful fails
---
Philae and Rosetta: Handwringing by media, problem-solving by ESA
---
Philae fears: Marooned in comet's shadows?
---
Rock and hard place: Philae's tight spot means Rosetta mission
controllers must decide whether to risk making lander hop from
shadow of cliff blocking sunlight to its solar panels
---
Calling interplanetary craft: Philae appears to be in shadow
of comet cliff, limiting communications and power availability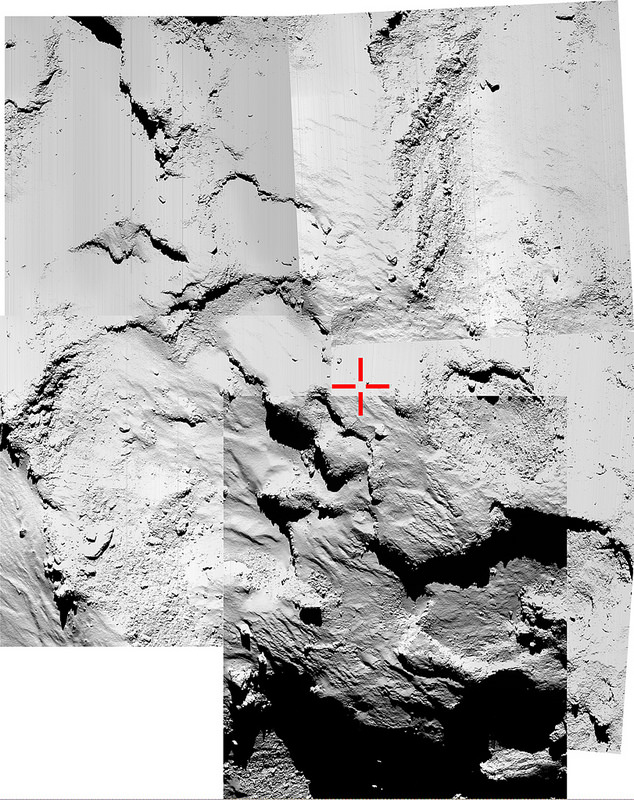 TOP: Rosetta's lander Philae has returned the first panoramic image from the surface of a comet. The view, captured by the CIVA-P imaging system, shows a 360º view around the point of final touchdown. Superimposed on top of the image is a sketch of the Philae lander in the configuration the lander team currently believe it is in. Confirmation of Philae's touchdown on the surface of Comet 67P/Churyumov–Gerasimenko arrived on Earth at 16:03 GMT/17:03 CET on 12 November. BOTTOM: This five-image montage of OSIRIS narrow-angle images is being used by ESA to try to identify final touchdown point of Rosetta's lander Philae. The images were taken around the time of landing on 12 November when Rosetta was about 18 km from the centre of Comet 67P/Churyumov-Gerasimenko (about 16 km from the surface). The signal confirming the first touchdown arrived on Earth at 16:03 GMT (17:03 CET). It is thought that Philae bounced twice before settling on the surface of the comet. The lander has not yet been identified and images are still to be downloaded from the Rosetta spacecraft for further analysis. ~ credit: ESA/Rosetta/MPS for OSIRIS Team MPS/UPD/LAM/IAA/SSO/INTA/UPM/DASP/IDA - accessible from ESA flickr account
---
updated ~ Space Trek: Did Philae 'bounce the land' due to low gravity?
ESA officials say little lander that could may have "landed twice"
---
Pictures from an Expedition: What little Philae "sees"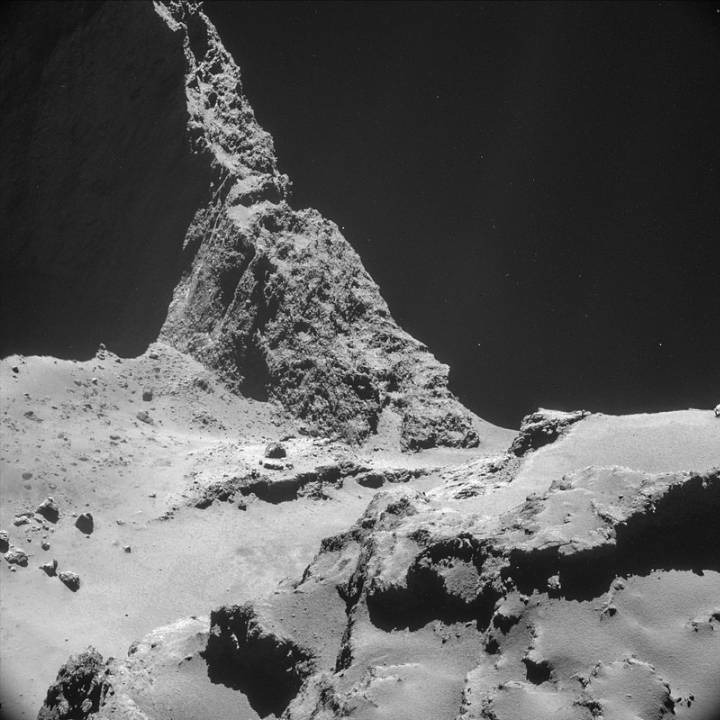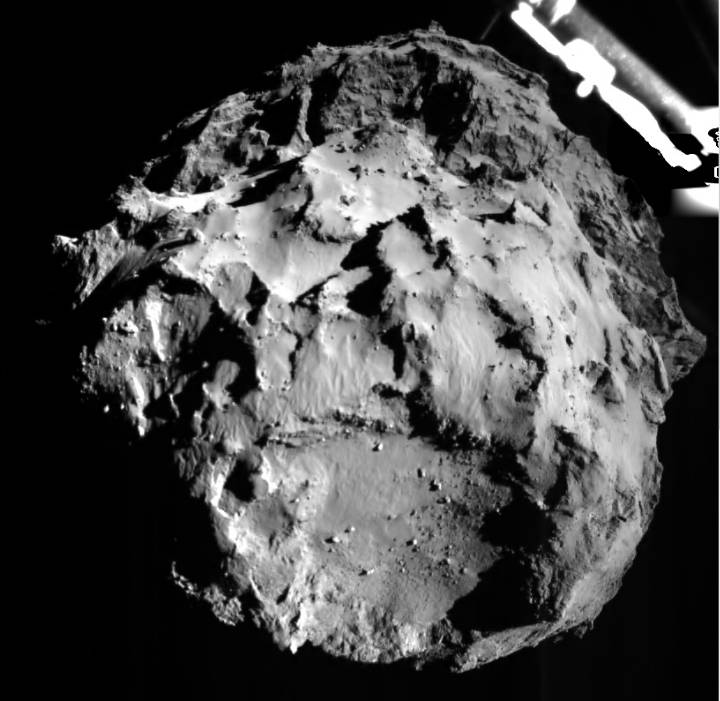 TOP: The surface of a comet does not look unfamiliar; landforms not unlike photos taken from the Moon, Mars or somewhere on Earth. BOTTOM: The landing site as Philae descended. ~ pix from ESA flickr account
---
Space Trek success! Livestream as Rosetta sent Philae lander to comet;
220-pound probe landed successfully on comet travelling 34,000 mph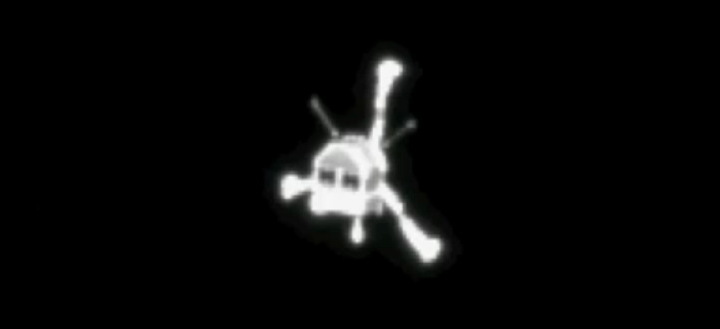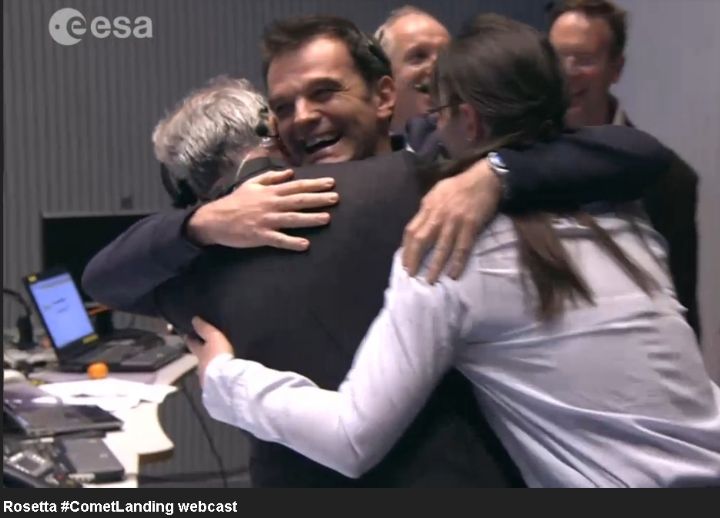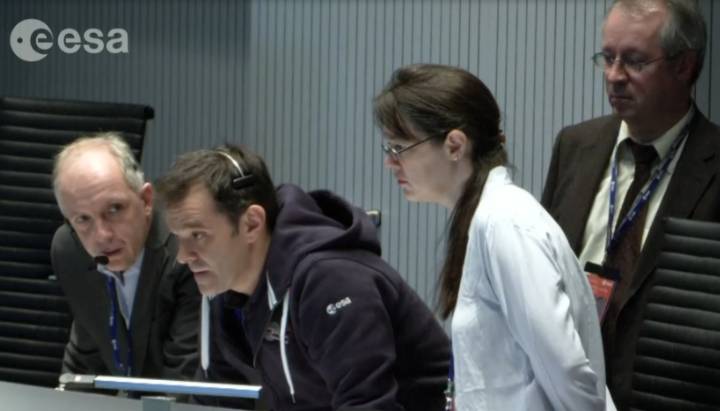 TOP: Last photo of Philae as it headed to comet rendezvous, taken from Rosetta at maximum zoom. MIDDLE: Reaction as word comes from Philae that it has landed on the comet, attached its harpoons and is sending back steady stream of information. BOTTOM: Nerves on edge at European Space Agency as they monitored attempted coment landing 500 million km away.
---
Reasons to land on a comet: What the Rosetta Mission can learn
---
Sydney: Russia rejects Tony Abbott's call for apology
and compensation for shooting down of MH17
---
Replay: Remembrance Day 2014 across Canada


A wreath is laid at the National War Memorial in a ceremony that happened in towns and cities across Canada as we paid tribute to those who gave their lives for peace. This link enables you to watch video of many of these ceremonies.
---
Remembrance Day draws crowd of 50,000 as National War Memorial
re-dedicated; Afghanistan mission, South African War dates added
---
Canada's National War Memorial an enduring
symbol of service, sacrifice and connection


The National War Memorial in Ottawa was unveiled on May 21st, 1939, just 4 months before the start of WWII.
The Tomb of the Unknown Soldier was added in 2000. The memorial is located on the site of the former Central
Post Office which was demolished to make space for it.
---
Potiskum: Suicide bomber kills 48 students in Nigeria
---
Iraq: ISIS confirms leader hit, talks succession & 'speedy recovery'
---
ISIS terror chief 'believed dead': Iraqi military confirm warlord WAS
injured in airstrike as speculation grows he perished in attack
---
Remembrance Sunday: Heads bowed as London falls silent
---
UK Remembrance Day 2014: Queen applauded for braving terror
threat as she leads Sunday commemoration service at the Cenotaph


The 'particularly poignant' 100th service falling on the 100th anniversary of the First World War took place amid fears
of a heightened terror threat.
---
AFP: Iraq investigating ISIS chief's fate after air strikes
---
Al Arabiya: Fate of 'critically wounded' ISIS chief unclear after airstrikes
---
updated ~ Airstrikes hit ISIS leadership during summit meeting in Iraq;
ISIS leader Abu Bark al-Baghdadi said to be 'critically wounded';
town of al-Qaim on Iraq-Syria border scene of attacks, say witnesses;
jihadis emptied hospital and demanded blood donors for wounded
---
25 years: Germans mark re-unification anniversary with joy, white balloons


By the former 'no man's land' which was killingly menaced by East German machine guns for 29 years, people casually
walk alongside balloons of art project 'Lichtgrenze 2014' (lit. 'lightborder 2014') in Berlin, Germany, Friday, Nov. 7,
2014. The light installation featuring 8,000 luminous white balloons along the former route of the Berlin Wall
commemorates the division of Berlin where the 25th anniversary of the fall of the wall is marked with numerous
events on the weekend. ~ Markus Schreiber AP Photo
---
Poppy Plot: Arrested described as 'radicalized' by neighbours;
one of their moms said they'd 'found faith'
---
Poppy Plot: Police remain tight-lipped over Islamist plot to kill Queen;
MI5 and counter-terrorism forces still engaged; linked to ISIS
---
Scotland Yard saves Monarch: Foils Islamist terror plot to kill Queen
Elizabeth this weekend at Royal Albert Hall; 4 arrested in separate raids


Queen Elizabeth was due to attend a military event leading up to Remembrance Day, at Royal Albert Hall, the British paper The Sun reported. Both the Queen and Prime Minister David Cameron were informed of the potential threat, the paper said. Queen Elizabeth will attend the Sunday Remembrance festivities as planned, The Sun said.
---
Ottawa: Canada gains 43,100 jobs, jobless rate drops to 6.5%
---
Paris: French-built Mistral ships for Russia could end up in Canadian hands


The Mistral-class helicopter carrier Vladivostok is seen at the STX Les Chantiers de l'Atlantique shipyard site in Saint-Nazaire, France, Sept. 4, 2014. ~ Stephane Mahe Reuters
---
Sept-Îles: Landslide knocks iron ore train into river, conductor missing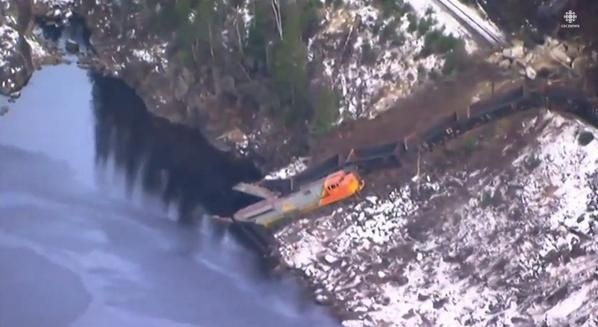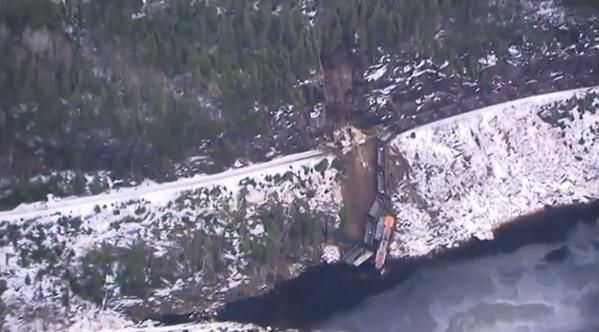 The Iron Ore Company of Canada train was knocked off the tracks and into the remote Moisie River. ~ CBC
---
Canadian bear: 100 years of fame for legendary Winnie the Pooh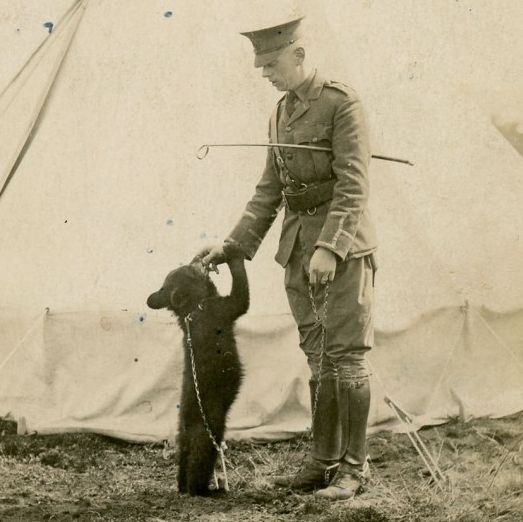 Harry Colebourn and his bear Winnie are shown in 1914. Toronto's Ryerson University will host an exhibition this fall that explores the real-life remarkable bear that inspired the 'Winnie the Pooh' stories. Canadian soldier Harry Colebourn, a Winnipeg veterinarian, bought the tame bear cub from a trapper in White River, Ontario in 1914 and Winnie travelled to England with him and Canadian troops at the onset of World War I.
---
updated ~ Washington Post: A lot of history made as GOP
wave washes over country; How the Senate was won
---
Takeover: Republicans surge to control of U.S. Senate
---
Mid-terms: Republicans winning a lot of close and big races;
picking up seats in House of Representatives and Senate;
win Illinois Governorship, hold Wisconsin, Michigan, Ohio
---
Ottawa: Canada's Sunday attack on ISIS in Iraq destroyed heavy
engineering equipment being used to divert Euphrates River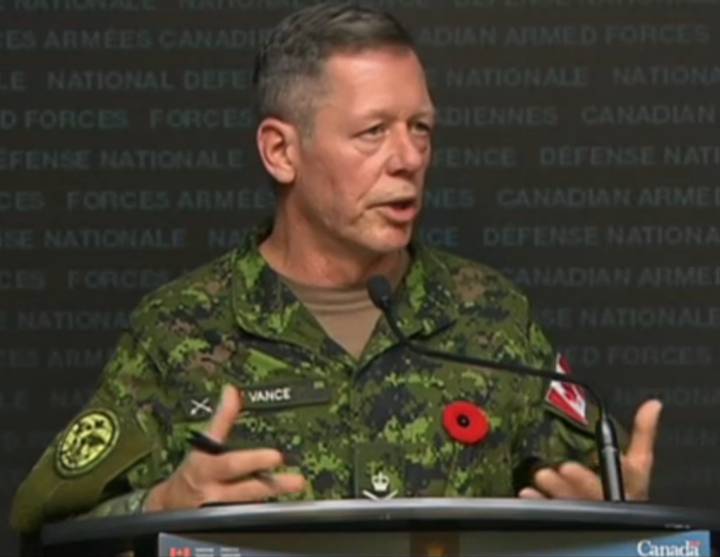 Canadian fighter jets helped to destroy heavy engineering equipment that was being used to divert the Euphrates River to flood areas nearby while denying water to Iraqi civilians further away, Lt.-Gen. Jonathan Vance said Tuesday.
---
Crisis in Winnipeg: Five Manitoba cabinet members resign; Ministers of
Finance, Health, Justice, Municipal Govt, and Jobs and the Economy
---
Singapore joining 33-nation coalition against ISIS with aircraft, expertise
---
Chicago: Wallenda does 2 walks, over Chicago River, then blindfolded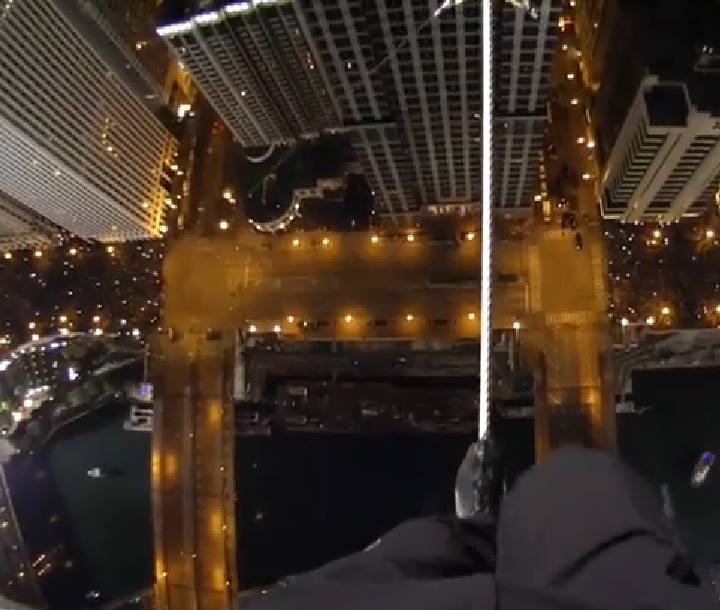 Nik Wallenda made it look easy, despite being 650-feet in the air and going 80 feet up the wire on a 15% grade on a
cold night in the Windy City. He walked between one of Marina City towers and the Leo Burnett Tower. Then he
also did a blindfolded walk for 94 feet between the two Marina City towers.
---
Minister of National Defence announces Canada's first attack on ISIS

---
ISIS: Mass executions of Sunni men, women and children in Iraq continues;
UN Security Council: "deep outrage" at killings, kidnapping, rapes & torture
---
Executive turnover: Branson spaceship explosion: The 'missed' warnings
---
WO Patrice Vincent: 'All of Canada shares your pain' Harper tells family


Friends, family, fellow officers and political leaders paid their last respects Saturday at the private funeral of Warrant Officer Patrice Vincent, who was killed in the first of two violent attacks against Canadian soldiers last month. The 53-year-old soldier is being laid to rest in Longueil, Quebec, following a Roman Catholic ceremony at a local cathedral. "All of Canada shares your pain," Harper told Vincent's family in a speech delivered during the church's funeral service. "Patrice did not deserve to die, and you do not deserve to be going through this ordeal." Harper said Canadians would never forget Vincent or Cirillo. "These men did not perish on a foreign battlefield or during a fierce combat, but they died on the field of honour," he said. ~ CTV
---
SpaceShipTwo: New rocket fuel under the microscope after explosion


Moment that SpaceShipTwo exploded captured by Kenneth Brown. ~ Reuters
---
updated ~ SpaceShipTwo: Co-pilot dead; seriously injured pilot in hospital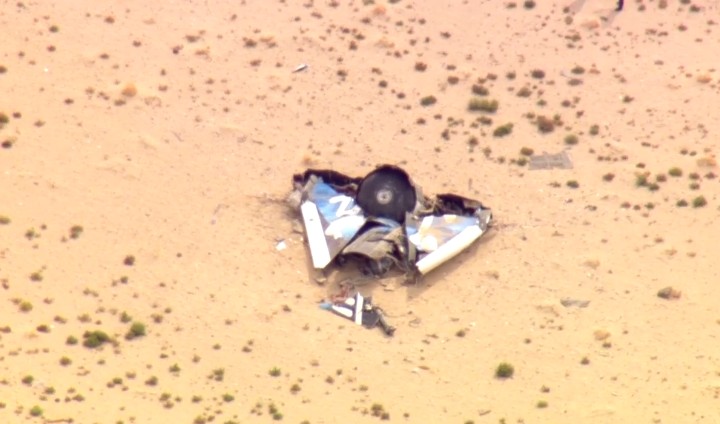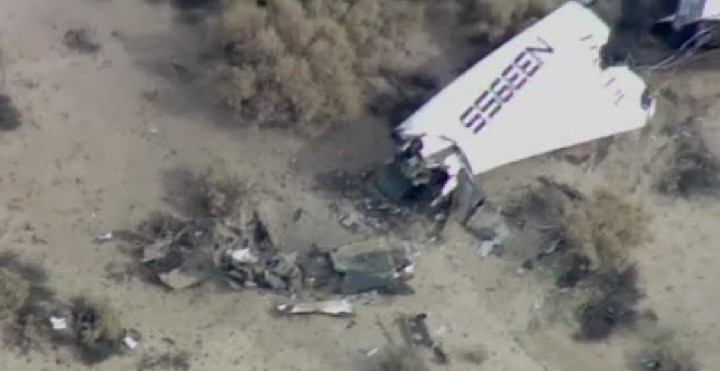 SpaceShipTwo debris shown east of Mojave, California.
---
Mojave: Virgin Galactic SpaceShipTwo crashes on test flight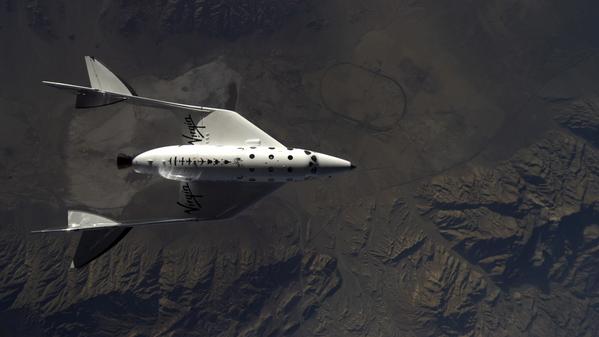 SpaceShipTwo shown over California in previous test flight. ~ Virgin Galactic
---
Stephen Harper: "Our goal has always been to make sure Canada
is the best country in the world in which to raise a family"

---
"Canada's moms and dads deserve all of the help we can give them"
---
Vaughan: Harper announces major tax relief for families, extends
child benefits from age 6 to 17, increases childcare deduction
---
---
Links formerly right here, now at http://www.newswatchcanada.ca/oldnews2014-2.html
---
For full news link archives since December 7, 2009
follow page links from
NWC Old News
Welcome to Worldwide Visitors
Send news tips to
Editor@NewsWatchCanada.ca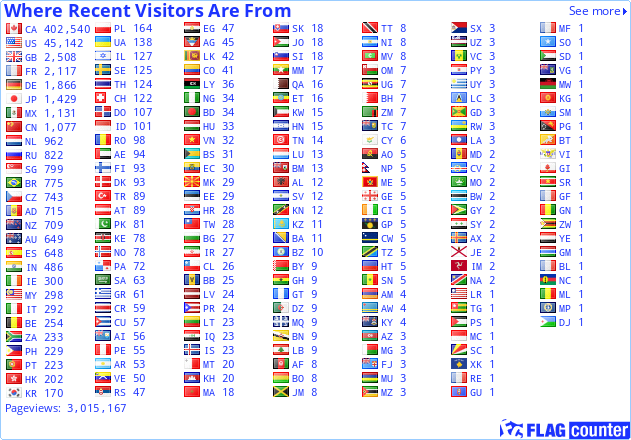 ---
Group convenes expert panel: Wind Concerns Ontario calls on Health Canada to withdraw non-peer-reviewed summary of flawed report on wind turbines which was prematurely released; lacked data, but included people paid by wind companies; numerous other errors
---
Ottawa sex scandal: NDP MP tells second media outlet details of story behind rape allegation against married Liberal MP
---
BOMBSHELL: NDP MP says she was raped by Liberal MP Massimo Pacetti — "sex without explicit consent" — in hotel room and was in pain for days; finally, details emerge on allegations of Liberal MPs' 'sexual misconduct' and they're very serious
---
Montreal: Quebec to cut public sector workforce by 2%, freeze hiring until 2016, as it seeks to balance budget
---
Toronto: Jian Ghomeshi withdraws $55M lawsuit against CBC, pays CBC's $18,000 in court costs
---
Ottawa: First Nations to 'resist' complying with Financial Transparency Act which had been recommended by 1996 Royal Commission; 84 bands have yet to comply with law on eve of final deadline; as a result, federal funds may be withheld
---
Margaret Wente: Renewables are not enough; Google throws in towel on 'green' energy; when will it admit more CO2 is a good thing?
---
Kelly McParland: Stephen Harper steals Trudeau's money and election plan by moving up infrastructure spending
---
Toronto: BlackBerry will pay iPhone users up to $600 to switch phones
---
Sudbury debate: Ontario Tory leadership candidates urge party to broaden support base, end 'cookie-cutter' economic approach
---
Ontario playing obstructionist politics: Saskatchewan Premier Wall concerned about 'unnecessary barriers' to pipeline project
---
Brrrrrrrrrr: 2014 winter to be repeat of 2013 for much of Canada, leading weather watcher forecasts
---
Edmonton: Two Opposition Wildrose members, Towle and Donovan, cross floor to Alberta PCs
---
Totalitarianism? Ontario moves to restrict use of e-cigarettes; bans all flavoured tobacco products, including menthol cigarettes, and mandates calorie counts on restaurant menus with ironically named Making Healthier Choices Act
---
Trees down: Strong winds knock out power to thousands across southern Ontario
---
Gare Joyce: Pat Quinn: A towering life in hockey
---
RIP Pat Quinn: A Quinntessential career in hockey
---
Toronto: Houses should be checked for radon gas, cause of 16% of Canadian lung cancer deaths per year
---
London: Onex to acquire packaging maker SIG for up to $4.7B
---
Quebec: Outrage is first response to Lucienne Robillard's proposed $2.3B in spending cuts; govts find it easier to increase spending than cut it
---
Ottawa: NDP accused of trying to stifle conflicts as two more staffers file lawsuits; union under fire
---
Forum Research poll: Two-thirds of Canadians support Iraq mission to combat ISIS; majority finds ISIS a direct threat to Canada
---
Toronto: Retiring Linden MacIntyre calls it like he's seen it re: CBC cult of celebrity; hyped CBC celebs in uproar, full denial, stamping little feet and holding breath
---
Halifax: 2014 HISF concludes, brought together over 300 people from 60 countries to discuss security issues and challenges in democracies and the world
---
Halifax: Opening remarks by Peter Van Praagh, President of the 2014 Halifax International Security Forum
---
Toronto: Temporary return to fall weather for Ontario means heavy rain and blustery winds
---
Ottawa: Feds to spend $200M over 6 years on mental health in the Canadian military
---
Manitoba: The slow death of the hotel beverage room
---
Toronto: TransCanada takes Jeff Rubin to task for sloppy assertions about Energy East pipeline
---
Fantino: $1.1B over 7 years in unspent budget of veterans dept 'not lost money'; past procedure was to quick-spend left over budget, new procedure is to return it to treasury so can be re-budgeted
---
Halifax International Security Forum: The 'Davos' of world security forums doesn't disappoint; high-level discussion from high-level world participants on issue after issue [with link to live video]
---
Conrad Black: Harper is right to call Putin the thug that he is
---
London: Legal battle over Ontario wind turbine farm may redefine 'harm'
---
updated ~ Petawawa: Canadian Forces soldier Kyle Sinclair, 27, dies from 'incident' during work Friday night
---
Forum Research poll: 'Trudeau effect' evaporates; Conservatives and Liberals now tied
---
Toronto: Rob Ford selling last of Mayor Ford bobbleheads to raise money for cancer research
---
Iraq: ISIS takes credit for inspiring terrorist attacks that killed two Canadian soldiers
---
Ottawa: Ontario MPP Hillier proud of son's personal mission to fight ISIS
---
Ottawa: Canadian who volunteered to fight with Kurds against ISIS says it's the 'right thing to do'
---
Statistics Canada: Inflation rate 2.4% in October, driven by 20.1% increase in natural gas
---
Macleans: Rogers family donates $130M to heart research
---
Polar Bears: Recent study actually is good news, the population has recovered; but authors try too hard to link to non-existent global warming
---
Anthony Watts: Newspapers mislead public about Polar Bear numbers; thick spring ice a bigger issue for beasts than thin ice
---
Toronto: Bell Media lays off another 80, including more familiar faces and voices
---
Iraq: Canadian CF-18s hit ISIS positions near Kirkuk with four 2,000-pound bombs, destroying them
---
Ottawa: New Govt Railway Operating Certificates required immediately for new operations; existing Canadian railways given 2 years to obtain; enable safety enforcement without court action
---
Guelph: Michael Sona sentenced to 9 months in jail for 2011 robocalls scam
---
Auditor General: Liberals' decision to re-open teachers' contracts cost Ontario $468M; quid pro quo teacher union supported Liberals in election
---
updated ~ Ottawa: Maria Mourani, ex-Bloc MP, joins NDP but not caucus; Montreal MP says wants to run as NDP candidate in 2015
---
Ottawa: Suspended MPs in limbo as committee sidesteps probe
---
Oblivious to negative impact: Charles Sousa won't rule out Ontario tax hike
---
Chantal Hébert: Political fate likely sealed for accused Liberal MPs; what is Trudeau's next gaffe?
---
John Ivison: By-election results show NDP losing ground in Ontario's suburbs, improving Trudeau's chances in 2015; but only to 2nd-place
---
Ontario: Liberals to close schools to cut $500M from education budget
---
Iraq: Four of Canada's CF-18s hit ISIS warehouse/IED manufacturing target
---
Ontario: FinMin Sousa meets with bankers to discuss budget shortfall
---
Statistics Canada: Canada's richest see share of income fall to 6-year low, putting lie to Broadbent Institute claims; number of women in top wealth pyramid hits record high
---
Alberta: Two brothers charged in Calgary teen's violent kidnapping, sex assault
---
Saint John: New Brunswick Liberals lose by-election to replace quick-quitting Lib MPP
---
Oshawa: Conservatives easily win two by-elections, embarassing Trudeau and media, and trampling NDP; note to media: a 7% margin is not "close"
---
London: Coalition of industrial wind turbine foes looking to weigh in as huge wind-farm appeal kicks off in court today
---
Toronto: Canada's average house price rises 7% to $419,699
---
CBC: David Bertschi blocked as candidate in Ottawa-Orleans as Liberals clear path for Trudeau pal Andrew Leslie; 'A purely political decision that came directly from the top'
---
Honolulu: Harper says he won't drop Ukraine whether it takes 5 months or 50 years; Russian lies show they're on the defensive
---
Turkey: Six Canadian sailors from HMCS Toronto and 2 members of RCAF jumped into action to evacuate building and fight a fire in Antalya, before police and firefighters arrived on scene; at a nearby restaurant after a NATO exercise when saw fire
---
Emmett Macfarlane: The myth of federal health care "cuts"; Mulcair taken to woodshed for lying to public
---
Toronto: After decades stranded in Thailand, 28 Vietnamese refugees arrive in Canada
---
Rosie DiManno: First Nations parents can now doom their sick children
---
updated ~ Civic Info BC: Full provincial election results
---
Vancouver Sun: Live - Election coverage
---
"Fake soldier" Franck Gervais faces several charges after impersonating soldier at Remembrance Day ceremony
---
Bruce Ward: Parallels between Savile, Ghomeshi sagas; how did the CBC, like the BBC, become a place for a star to exploit his power; are there others 'Ghomeshis' at CBC?
---
Brisbane: Stephen Harper at G20 tells Vladimir Putin to 'get out of Ukraine'; no false diplomacy by leaders
---
Brisbane: In official communique, G20 leaders express concerns about Ebola and offer praise for those fighting it in Guinea, Liberia and Sierra Leone
---
Globe and Mail editorial: A native 'right' to refuse life-saving medicine? It does natives no favours
---
Defending sick children: When irresponsible, deluded parenting in the name of 'culture' is homicide by a different name
---
Toronto Star editorial: Traditional medicine shouldn't trump science when a child's life is at stake
---
Inside ISIS: Calgary man's picture found in documents revealing underbelly of extremist group; budgets, phone numbers, payments to martyrs' families in cache
---
Picton: Improved high-speed internet now available across mostly rural Eastern Ontario
---
Justice blind? Judge rules aboriginal girl can be subjected to whatever treatment her parents desire; reject application by Children's Aid Society to continue her chemotherapy leukemia treatment at McMaster Children's Hospital whose President said "We know we can save this child's life. We can't give up on this child"
---
Auckland: Harper says he doesn't support war on Mideast countries, only ISIS/ISIL
---
Ottawa: ISIS fighters 'likely' killed in Tuesday's CF-18 airstrike north of Baghdad which destroyed artillery moving along road
---
Terror war: ISIS leader threatens Canada, says it will fight to the last man in audio recording
---
Ottawa: Terrorist Michael Zehaf-Bibeau cased Parliament buildings on tour just weeks earlier; identified on tour video
---
Tom Adams & Ross McKitrick: Hot air from the wind power lobby
---
Vivian Krause: A vote for Vision is a vote for U.S. interests; Robertson a puppet
---
Vancouver: Robertson mayoralty campaign imploding, stuns audience by apologizing for six years of mistakes; Meena Wong says she won't throw support
---
Ottawa: Soldier impersonataor being investigated; outrage widespread
---
Orwellian: Language police alive and well in Quebec, demanding shutdown of English-only retail websites
---
Iraq: Media determined to distort Canadian ISIS mission; airpower is forcing ISIS to take cover, reducing their capability, but media presents as failure
---
Nanos: Harper passes Trudeau for preferred PM
---
Winnipeg: Two charged with attempted murder in brutal attack and attempted drowning of Rinelle Harper
---
Andrew Coyne: Any 'box' the Tories have put the NDP and Liberals in is one of the opposition's own making
---
Kingston: Queen's professor disputes shallow, non-peer-reviewed wind turbine report
---
Toronto Star: Kevin Donovan: Jian Ghomeshi video showed woman's bruises, cracked rib to CBC
---
Not a whopper: Alberta fishermen get kudos for reeling in 80 million-year-old never-before-seen "mostly intact" dinosaur
---
Fall Economic Statement: Canada upgrades growth outlook for this year and 2015; on track to record budget surplus next year despite falling crude prices
---
Toronto: Canadian oil comparatively strong amid global crude sell-off, TD says; lower dollar helps Canadian oil companies weather price decline of crude
---
Iraq: RCAF destroys ISIS artillery near Bayji, north of Baghdad
---
Remembrance Day: Statement by Prime Minister Harper
---
Chris Vander Doelen: More free trade coming our way
---
Montreal: Bombardier hopes to boost Chinese aircraft sales with leasing agreement
---
Ebola: Canada imposes quarantine, self-monitoring measures
---
updated ~ Southend: 5 missing teens rescued from Malcom Island in northern Saskatchewan's Reindeer Lake
---
Ottawa Citizen ~ LIVE: Princess Anne visits Ottawa
---
Southend: 5 missing Saskatchewan teens believed still alive after weekend sighting
---
Royal visit: Princess Anne's Ottawa tour will honour 'everyday heroes'; 2-day trip that begins Monday will include meetings with aboriginal youth, police officers, soldiers
---
updated ~ Fighting ISIS: Canadian-Israeli Gill Rosenberg joins Kurds in Syria
---
Beijing: Trans-Pacific trade deal is close, leaders say
---
Southend: Poor weather hampers search for five missing youths on Saskatchewan lake
---
Had believed the on-air him: Jian Ghomeshi allegations leave Iranian-Canadians feeling sad and betrayed
---
Toronto: Canada's fight against child and forced marriages
---
Margaret Wente: The face Canada showed the world; when stereotypes are repudiated
---
Memories: Back when rock 'n' roll was spelled 'Winnipeg'
---
Edmonton: Passenger describes being struck by propeller during emergency landing
---
Toronto: Former longtime PC Premier Bill Davis endorses Christine Elliott for Ontario PC leadership
---
Kincardine: Wind turbine owner threatens lawsuit over farmer spreading manure on his fields
---
Christie Blatchford: Jian Ghomeshi's lawyer's sexual violence jokes expose double standard
---
Andrew Coyne: If MPs are going to be kicked out for something, we should at least know what that alleged something is
---
Viral bear: BC photog tells back-story behind grizzly with camera photo seen 'round the world
---
Owen Sound: MOH Dr. Hazel Lynn questions methodology of Health Canada wind turbine study; says failure to interview people who moved away from wind turbines left out most affected group
---
Beijing: Commercial agreements signed between 20+ Canadian and Chinese companies and organizations; sectors include sustainable technologies, aerospace, transportation, construction, mining, energy, infrastructure, agri-food, and information and communications technology
---
Sept-Îles: Divers recover body of conductor Enrick Gagnon, 45, from engine room, following Quebec iron ore train landslide derailment
---
Beijing: Harper announces Canada will open new trade offices in Chinese cities of Hangzhou, Xi'an, Xiamen and Tianjin
---
Beijing: China, Canada to expand use of Yuan in trade and investment; China's Central Bank to designate clearing bank in Canada for Yuan transactions
---
Windsor: MTO, Transportation Minister provide assurances Herb Gray Parkway will be safe after billion dollar beam bungle fixed
---
Matthew Fisher: Harper pitches closer Sino-Canadian trade ties
---
Beijing: Harper asks Chinese official about removal of church crosses
---
Tom Flanagan: Trudeau's rush to judgement
---
Ottawa: Former NDP staffer sues MP, alleging mistreatment over gender
---
Toronto: CBC executive calls Jian Ghomeshi 'egomaniacal' and 'tyrannical'
---
Pierre Cliche: The niquab case; "Becoming a Canadian citizen is a privilege, not a right"
---
Toronto: Rogers' new roaming deal finally cuts the the high cost of talking in the U.S.
---
Ottawa: Canada has asked about early purchase availability of four F-35s, according to Pentagon brief
---
Toronto: Ontario Govt says its knows what's best for you; bans smoking on restaurant and bar patios, children's playgrounds and publicly owned sports fields; blocks sale of tobacco on university and college campuses
---
Ottawa: Canadian dollar gains nearly a cent on robust domestic jobs report
---
Ottawa: Economists had predicted a loss of 5,000 jobs, but economy gained 43,000 jobs instead
---
Canada's job surprise surge: What the economists say
---
Ottawa: Canada posts second month of big job gains; jobless rate dives to six-year low
---
Toronto: TSX nears one-month high as natural resources jump
---
Edmonton: Air Canada emergency crash landing sends at least three to hospital
---
Manitoba: Corrections officer dead, six prisoners injured in vehicle accident south of The Pas
---
Toronto: OPP off-duty officers will carry service guns on Remembrance Day, but not Toronto Police, by order of their lame-duck Chief Blair
---
Ottawa: Fall economic and fiscal update on Nov. 12th will have budget update but no spending or tax measures beyond those already announced
---
Alberta: Canadian soldier Pte. Steven Allen, 20, of Victoria, killed in training exercise at CFB Wainwright
---
Ottawa: NDP accuses Trudeau of playing politics with sexual harassment allegations
---
Parliament Hill harassment—6 unanswered questions; 'personal misconduct' appears to have derailed 2 political careers. Have things unfolded fairly? Did Trudeau show leadership or incompetence?
---
Ontario: Honda to invest $857M in 3 Alliston plants; province gives auto maker 10%
---
Toronto: CRTC prohibits TV, phone and internet companies from requiring 30-day notice to cancel a service
---
Montreal: In next 18 months, SNC-Lavalin to axe 1,000 jobs in Canada and 3,000 jobs abroad
---
Toronto: Jian Ghomeshi's new lawyer joked about his behaviour as 'foreplay' when she emceed event for criminal lawyers last week
---
Ottawa: NDP MP says her party upset allegations of sexual misconduct by NDP MPs against Liberal MPs went public
---
Ottawa: Liberal MP Andrews denies allegations of sexual harassment
---
Ottawa: Former Parliament Hill staffer for Liberals and NDP says 2 MPs sexually harassed him; may name names; now a political commentator on CBC's 'Power and Politics'
---
Toronto: October 2014 breaks record for Ontario electricity costs and losses; over $1B loss for province
---
Randall Denley: The experimental farm could become Ottawa's Central Park
---
Ottawa: One of suspended Liberal MPs was high-profile in attacking government over scandals; both suspended as 2015 candidates
---
Ottawa: Trudeau removal of Liberal Ethics Critic and Quebec Caucus Chair for sexual misconduct allegations by two female NDP MPs accompanied by request for "clear guidelines and procedures" in future
---
Ottawa: Statscan says 2nd quarter growth 0.5% stronger than thought; was actually 3.6%
---
Ottawa: Dean Del Mastro resigns from House of Commons, will continue his appeal
---
Toronto: Jian Ghomeshi's $55 million lawsuit against CBC an attempt to 'influence media and the public,' CBC says in bid to have it dismissed by court
---
Ottawa: 2 Liberal MPs suspended from caucus after separate sexual harassment allegations
---
Winnipeg Free Press poll: Most Manitobans say Premier Selinger should resign
---
Ottawa: Canada-U.S. border to have 700km network of video cameras, radar, ground sensors and thermal radiation detectors from Maine to west of Toronto, says RCMP
---
Toronto: CBC says current and former employees have now come forward to complain to the broadcaster about Jian Ghomeshi
---
Toronto: Prominent employment lawyer Janice Rubin to head CBC's internal Jian Ghomeshi probe
---
Toronto Star: Kevin Donovan: Former York University student alleges Jian Ghomeshi fondled him; says disgraced radio host was "very sexist and womanizing"
---
Pembroke: Small Canadian company using crowdfunding to send micro-rover and mini-lander to Mars
---
John Ivison: Former intern tells tale of sexual harassment on Parliament Hill
---
Ottawa: Retired U.S. Marine gets threats after guarding Canada's National War Memorial
---
Toronto: Scotiabank cutting 1500 jobs
---
Ottawa: Canadian dollar down to 88 cents U.S. as Saudis cut oil to $77 in face of growing U.S. production from fracking
---
Ottawa: Canada posts $710M trade surplus in September; third surplus in four months
---
Toronto: Mastercard, Visa to cut fees for Canadian merchants after federal government pressure; should reduce prices for consumers
---
Sports: Players who could be heading to MLS for 2015?
---
Toronto: 'Q' executive producer taking time off as CBC comes to grips with Jian Ghomeshi scandal
---
Barrie: ISIS hacks Ontario church website
---
Ottawa: Canadian hospital sues, challenges patenting of human genes which creates heavy cost for patients; "It's like patenting air or water"
---
London: Western students warned away from Q internships says professor; journalism students heard interning at Q was 'off limits' over concerns about host Jian Ghomeshi's 'inappropriate' behaviour.
---
Toronto: Jian Ghomeshi's uncomfortable, unplanned dinner with Star investigative writer Kevin Donovan
---
Montreal: Seven suing Kahnawake Mohawk Council over unconstitutional racial discrimination law that bans 'mixed-race' couples from living on native reserve
---
Deportation: Ottawa man wanted by France in 1980 Paris synagogue bombing seeks Supreme Court appeal
---
Edmonton: Wildrose loses MLA following by-election losses
---
Cultural continuity: Canada leading global study looking at best ways to prevent Inuit suicide
---
Andrea Mrozek: Letting families keep more of their money is good policy
---
Catherine Porter: Rape myths emerge in wake of Jian Ghomeshi story; five potent myths about rape that run deep in our culture
---
Elisabeth Faure: Former Q intern questions CBC's lack of action; more heads to roll?
---
The Guardian: Ruth Spencer: I dated Jian Ghomeshi, Canada's fallen radio star; "he's accused of choking, bruising, and biting several women. Now I see our relationship in a new light"
---
Charles Adler: A few thoughts on Jian Ghomeshi
---
Toronto: Police appeal for evidence, including photos, video, and corroborating materials, as senior investigators work on Jian Ghomeshi case; now 3 official complaints
---
Toronto: Jian Ghomeshi scandal becoming a tipping point for anger over mistreatment of women
---
Daniel Greenfield: Margaret Atwood claimed Christians want to rape and enslave women, but supports liberal who allegedly beat women
---
Longueuil: Warrant Officer Patrice Vincent to be honoured today at funeral; PM, opposition leaders to attend
---
Rosie DiManno: Jian Ghomeshi story shouldn't have gotten this ugly
---
Ottawa: Live-in caregivers will no longer be required to reside with employers
---
Cold War redux? Russia warns it's coming for the Arctic's oil, including an area Canada claims as its own
---
Ottawa: Mosque called police after Luqmann Abdunnur praised killer of Cpl. Nathan Cirillo "as a hero"; he was was arrested last Saturday and charged with assaulting police, obstructing police, resisting arrest and driving with a suspended licence
---
Andrew Coyne: As a work around to a true flat-tax system, you could do worse than Harper's income-splitting benefit
---
Toronto: Police finally investigating Jian Ghomeshi after two women come forward
---
Toronto Star: Kevin Donovan: Jian Ghomeshi showed CBC executives video that depicted him engaged in bondage, beating
---
CBC: Evidence of 'physical injury to a woman' spurred Jian Ghomeshi firing
---
Toronto: Behind the CBC's decision to fire Jian Ghomeshi
---
Toronto: Jian Ghomeshi's former band Moxy Fruvous speaks out in wake of allegations
---
Ottawa: Harper to visit China from November 5th to to 10th; triple focus to trip
---
Howard Levitt: Jian Ghomeshi may have lost the last chip he had to play in his defence, lawyer says
---
Ottawa: Canada agrees with Australia, stops issuing visas to countries with widespread Ebola
---
Toronto: Couple charged in 59 neighbourhood break-ins, sex assaults
---
Susan Delacourt: Facebook is personal, Twitter is political
---
Moncton: Mountie killer Justin Bourque sentenced to 75 years before parole eligibility
---
Many victims, many guilty: #BeenRapedNeverReported hashtag trending, as women share stories of assault
---
#IBelieveLucy: Outpouring of support for Jian Ghomeshi's alleged victims
---
Ottawa: New live-in caregiver reforms will allow caregivers to seek permanent residency
---
Ottawa: Federal deficit shrinks to $300M in August; deficit for 1st 5 months of year sits at $1.1B — down from $6.6B last year
---
Lindsay: Independent MP Del Mastro found guilty of spending violation in 2008 election
---
Ottawa: Prince Charles donates to families of slain Canadian soldiers
---
Rosie DiManno: Why split hairs on an act aimed at terrorizing? Why stigmatize the mentally fragile instead of conceding what is so monstrously apparent — the killers of Vincent and Cirillo were 'terrorists'
---
Toronto Star: Jian Ghomeshi dumped by PR firm over 'lies,' sources say
---
Reva Seth: Why I can't remain silent about what Jian Ghomeshi did to me
---
Contempt: Female stars speak out about allegations against Jian Ghomeshi; "We went on a date once and some of what these women mention was the same for [me]. He never hurt me but I was so repulsed by him and his arrogance I never went to his home. Had he punched me in the head I would likely have stabbed him in the throat"
---
Toronto: Jian Ghomeshi's PR firms announce they have dropped him as a client
---
Jennifer Ditchburn: Harper courts suburban voters with broad tax relief for families with kids
---
Toronto: Another alleged victim of Jian Ghomeshi violence talks on radio
---
Detailed backgrounder: The Family Tax Cut, Universal Child Care Benefit enhancement, increased Child Care Expense Deduction, and doubling of Children's Fitness Tax Credit
---
Wall Street Journal: After balancing budget a year early, Canada target-cuts taxes for families by $26.76B over next 6 years
---
Toronto: CBC offers counselling to employees in wake of Jian Ghomeshi affair
---
New study: Contracts with wind, solar power companies driving up electricity bills in Ontario; "Wind and solar power systems provide less than 4% of Ontario's power but account for 20% of cost paid by Ontarians"
---
Ottawa: RCMP names five 'high-risk travellers' including girl whose parents worried might 'go to Syria to fight': Ahmad Waseem, Mohamed El Shaer, Ali Abubaker, Naomi Mahdere and Hamza Omer
---
Dan Savage: Interviews with two women who dated Jian Ghomeshi; "Ghomeshi's apparent MO — initiating rough sex, gauging a woman's response, calling that *asking for consent*"
---
Ottawa: Michael Zehaf-Bibeau overheard talking about killing soldiers in mall a day before terror attack
---
Sandy Garossino: What kind of woman won't report sexual assault?
---
Toronto: Twitter account detailed Jian Ghomeshi abuse in April; named after his teddy bear
---
Toronto Star: Canadian artists sign petition supporting women with Jian Ghomeshi allegations
---
Toronto Star: Now 8 women accuse former CBC host Jian Ghomeshi of violence, sexual abuse or harassment; actor Lucy DeCoutere puts face to accusations
---
Toronto: Anonymous woman accuses disgraced, fired Jian Ghomeshi of punching her in the head on second date; interviewed on CBC's 'As It Happens'
---
Ottawa: Ex-Chief of Defence Staff Gen Walt Natynczyk (ret'd), President of Canadian Space Agency, named as Deputy Minister of Veterans Affairs
---
Ottawa: MPs exchange handshakes and vows of "standing together" but Mulcair hits clanger with denial of "terrorism"
---
Ottawa: Peter MacKay suggests anti-terror laws don't need overhaul; Justice Minister reviewing existing laws before writing new ones
---
Back to future: New Blackberry Classic to look familiar — "If it ain't broke, don't fix it"
---
Ottawa: Canada and Germany announce group hug for CETA
---
Bounceback: Rainfall pushes levels on Great Lakes to their highest since 1990s
---
---
Links formerly right here, now at http://www.newswatchcanada.ca/oldnews2014-2.html
---
---
---