---
Wellington: New Zealand's John Key wins third term
---
Brasilia: Brazil election battle between Workers Party President Rousseff and socialist party challenger Silva hinging on faltering economy
---
Paris: France launches first airstrike against ISIS in Iraq
---
Russia: Sochi has already turned into a ghost town; Putin's other folly
---
Guinea: Ebola outbreak: Health team and accompanying journalists found murdered
---
Washington: U.S. Senate approves anti-ISIS bill 78-22; provides $500M to help train and arm Syrian rebels
---
Edinburgh: Oil-rich Shetland islands may pony up for independence from Scotland if today's vote is to separate from UK
---
Washington: U.S. airstrikes target ISIS training camp in Iraq for first time
---
Marketwatch: Elon Musk: A thermostat-sized box may one day power your house
---
Aircraft boneyards: The real world of airplane recycling
---
Newsweek: Leaks claim 40 ISIS cells are waiting to strike Lebanon
---
Santiago: Chile arrests 3 suspects in subway bomb attack, focusing attention on anarchist movements
---
Amazon/eBay challenge: Ahead of IPO, Alibaba hints at U.S. expansion
---
updated ~ Washington: Kerry testifies as ISIS tanks capture 21 Kurdish villages in northern Syria near Turkish border
---
Zerohedge: An appalling practice used by only two nations, of which the U.S. is one
---
Sydney: 15 detained in Australian counterterrorism raids; 800 federal and state police officers raided more than a dozen locations
---
Rome: ISIS has plan to assassinate Pope Francis and plant jihadi flag on top of St. Peter's Basilica in Vatican City
---
Cairo: Suez Canal 2.0: Egyptians pour savings into President's ambitious project
---
Edinburgh: Scottish `No' vote takes lead in late-stage polls [video]
---
Gut punch: Artificial sweeteners linked to obesity epidemic, scientists say in journal Nature
---
Beijing: China worried about economy, pumps $81B into 5 banks
---
CBS/NY Times poll: Disapprove of Obama record: 50%; Approve: 40%
---
NFL: Budweiser maker pressures league to up its game over issues of domestic and child abuse; other advertisers also pushing to clean up mess
---
Jack Mintz: Scotland and the economics of country break-ups
---
Time for pink slips? CIA Director John Brennan refuses to tell Congress who authorized Senate spying
---
WWIII: ISIS, in magazine, warns of 'Armageddon' in confrontation with U.S., West
---
VOA: Rich, poor divide could determine Scotland's future
---
Moscow: Russians urged 'don't panic' as ruble hits new low
---
Iraq: First U.S. air strikes near Baghdad
---
San Jose: New report finds Tesla will have big cost advantage as CO2 rules hit competitors
---
Manila: Lava flows from Philippines volcano; thousands flee amid fears of violent burst
---
Moscow: Russia's ruble drops to all-time low amid fears over fallout from economic sanctions
---
updated ~ Ebola: U.S. to send 3,000 military personnel to Africa, build 17 treatment centres
---
Washington: Emails reveal collusion with green activist groups over EPA climate agenda
---
George F. Will: Scotland and 'the crisis of Britishness'
---
Scotland: Prime Minister Cameron warns vote is 'forever'
---
Referendum: A Scottish 'Yes' also means automatic exits from EU, NATO
---
Mediterranean: Human traffickers kill 500 migrants by ramming their boat off the coast of Malta; another migrant boat capsized this morning off Libya, drowning many
---
Generation gap: Young Scots tend to favor independence; older ones say keep things as they are
---
Referendum: Even zero debt would have costs for independent Scotland
---
Donetsk: International monitors shelled in eastern Ukraine
---
Nature Medicine journal: Scientists unveil 'magnetic cure' for bad blood
---
Balmoral: Queen Elizabeth to well-wisher in the crowd: 'Scots need to think carefully about future'
---
Politico: Third time's the charm; Mitt Romney should run in 2016. He could win.
---
New York: TV ratings to rise as Nielsen finally adds handhelds
---
Lagos: At least 44 dead in Nigeria church building collapse; many trapped
---
Washington: New hurdles for Obamacare in coming 2nd sign-up season
---
Scottish independence: Quebec lessons for Scotland? [video]
---
BBC: Scottish independence: Crowd protests against 'BBC bias'
---
The scum strike again: ISIS says executed David Cawthorne Haines, British aid worker; releases video with propaganda reading before beheading
---
Nastiness: Scottish independence battle draws 'day of reckoning' warning to business
---
Baghdad: Iraq PM says will protect civilians after U.S.-Iraq air strikes against ISIS
---
But it's still summer: Autumnlike chill, frost to grip North East this weekend
---
Ransom: Families of beheaded reporters "threatened" by Obama Govt
---
Homeland Security: EMP threat 'very much on our radar screen'
---
What warming? NOAA: 246 low maximum records broken or tied from Sept 1st to Sept 10th — some longstanding records broken by 16°F
---
FATCA: Welcome to Berlin, Yankee! Hope you brought a mattress for your money!
---
Air power: U.S. flew 2,700+ Iraq missions before Obama's new push
---
Sydney: Australia boosts terror threat level to 'high' for first time in 10 years
---
Domino theory? Can an Independent Scotland, free of London's dominance, survive?
---
Cancer: Second Madoff son dies; leaves $15M in will
---
South Africa: Pistorius found guilty of 'culpable homicide' — but cleared of more serious murder charges; to be sentenced in mid-October
---
Nervous times: Scottish Independence suffers poll setback before vote
---
Pretoria: Pistorius cleared of murder, culpable homicide verdict to come
---
Scotland votes: What the referendum means for Scots abroad
---
Sky News: What happens if Scotland leaves the Union?
---
Risks: Three major foreign banks warn Scotland it faces deep recession if it goes it alone: Analysts say price of independence could be wage cuts, unemployment and mass home sell-off
---
Referendum: Would Britons be British without Scotland?
---
Poroshenko: Eastern Ukraine promised greater autonomy, not independence
---
UAE, Oman and Bahrain: UK forces plan three new bases in Middle East to fight ISIS
---
Rich Lowry: Obama boldly … delays
---
Obama finally has an ISIS strategy: To share his plans with U.S. public today, September 10th; also to seek arms, training for Syrian opposition
---
Despite Obama naïveté: No end in sight for America's MidEast war duties
---
Official history released: Before Pearl Harbor, Japan's Emperor Hirohito called plans to attack U.S. 'self-destructive'
---
Washington Post/ABC News poll: More than half of Americans believe Obama's Presidency has been a failure, 50% are opposed to giving illegal immigrants the right to jump queue and live and work in U.S. legally
---
Had opposed ISIS: Leader of one of Syria's largest rebel groups reportedly killed in massive suicide bombing during leadership meeting
---
San Francisco: Twitter investigating death threats with possible links to ISIS
---
Alabama: DA: Bodies of 5 missing South Carolina children found; father arrested
---
Shop while you tweet: Twitter launches 'buy' buttons, goes after mainstream
---
Fairfield: Invented the toaster in 1905, GE moving out of direct service to consumers
---
Stockholm: Electrolux to buy appliance division of General Electric in $3.3B deal
---
Dhuluiya: ISIS launches gunboat attack on Iraq river-side town north of Baghdad
---
Bloomberg editorial: Still missing: 3.9M prime-age jobs
---
Peter Morici: Jobs numbers tank as Obama's policies fail; Obamacare drag on economy now more than theory
---
Chris Cillizza: How President Obama mishandled immigration
---
Cairo: Arab League to back Iraqi-U.S. campaign against Islamic State
---
Meet (and Mislead) the Press: Obama denies the obvious—that immigration reform delay is to help Democrats in mid-term elections
---
Villages submerged: Monsoon floods kill nearly 300 in India, Pakistan
---
Arab League chief: ISIS must be confronted
---
ISIS patrol destroyed: U.S. air strikes target insurgents near Iraq's Haditha Dam
---
NY Times: In the wee hours, Japan erupts in celebration; tennis fans rejoice
---
New York: U.S. Open losses by Novak Djokovic, Roger Federer rock tennis' world; Kei Nishikori and Marin Cilic pull off huge upsets
---
Deserving: Vin Scully 'overwhelmed' by Selig honor; Dodgers microphone legend receives Historic Achievement Award
---
Washington: Obama delays immigration action until after mid-term elections in November; abandons pledge to act by end of summer
---
Charles Krauthammer: Obama's stunning passivity in the face of Russian aggression leaves Ukraine abandoned
---
Jennifer Rubin: Obama has never understood our enemies; if the current cease-fire holds in Ukraine, we will be one step closer to the dismemberment of Ukraine and a humiliation for the West
---
Mitt Romney: The need for a mighty U.S. military
---
Washington Post editorial: Russia sees a military solution in Ukraine even if the West doesn't
---
George Will: Has NATO lost its will as well as its muscle?
---
How convenient: IRS says it has lost emails from 5 more employees who are part of congressional probes into politicization of tax behemoth
---
Beirut: Syrian warplanes hit Islamic State-run bakery, training camp
---
Mosul: How a former U.S. prisoner of war created an Islamic state
---
Peggy Noonan: Joan Rivers: The Entertainer
---
Rochester: Pilot of unresponsive plane radioed air traffic control twice to ask permission to descend
---
Washington: Pentagon says al-Shabab terror leader killed in Sept. 1 airstrike in Somalia
---
Surprise, sky not falling: Climate science not settled on warming; evidence says not warming
---
Wales: NATO approves plans for rapid response force aimed at deterring Russia
---
Consequences: Ex-NSA official: ISIS using Snowden leaks to avoid U.S. detection
---
A force of nature: Joan Rivers, dead at 81
---
Mathew Ingram: Twitter courting irrelevance for existing users as it fiddles with timeline and filtered feeds
---
Margaret Wente: The unspeakable truth about Rotherham
---
Rome: ECB slashes key rate to kick-start Europe's flagging economy
---
Fender Stratocaster: A design icon at 60
---
Wales: 'Several thousand' Russian combat troops inside Ukraine; West faced with 'dramatically changed security environment' says NATO top official
---
Wales: Cameron makes the case for air strikes on ISIS in Syria and Iraq and warns: 'Assad is part of the problem'
---
Russia: Ukraine's desire to join NATO threatens peace talks
---
50 missing: Bus carrying wedding guests swept away by flooded stream in Indian-held Kashmir
---
London: To fight Ebola in West Africa, some experts suggest an untested treatment: blood of survivors
---
Wind turbines unreliable: Britain faces 'winter of blackouts' as firms are asked to ration electricity
---
Miami: Sotloff family mourns, challenges ISIS leader to debate
---
Grim Reaper: UN says $600M needed to tackle Ebola as deaths top 1,900
---
Brussels: Russia could be stripped of the 2018 World Cup, kicked out of Formula One and banned from Champions League football over its military intervention
---
Washington: France backs off sending Mistral warship to Russia in $1.7B deal
---
Italian paper: Putin says he could take Kiev in a fortnight
---
Wired: The police tool that pervs use to steal nude pics from Apple's iCloud
---
Washington Post: Saudi Arabia arrests 88 suspects in alleged al-Qaida cell
---
Pentagon: Death of al Shabaab leader in U.S. strike would be major blow
---
Washington Post: Islamic State claims to have beheaded American journalist Steven Sotloff
---
Mitt Romney: Obama's mistakes led to the rise of ISIS
---
Jennifer Rubin: The Syria canard: The same voices who refused to recognize the growing threat of ISIS before it took root in Syria and Iraq now claim we have no viable options for confronting a fundamental threat to U.S. and its allies
---
Jonah Goldberg: If 'evil' doesn't apply to ISIS, what does?
---
Pittsburgh Tribune-Review: Verbatim: what was said this week
---
David M. Shribman: The world is changing fast and the United States seems stuck
---
Poroshenko: Kiev doesn't ask West to send troops but expects military-technological aid
---
Latest outbreak first spread at Sierra Leone funeral: Five co-authors of a new Ebola study died of the virus before their research was published
---
Judicial Watch: Imminent terrorist attack warning by Feds on U.S. southern border
---
Henry Kissinger: The assembly of a New World Order; the concept that has underpinned the modern geopolitical era is in crisis
---
Washington Post: War in Europe is not a hysterical idea; the time to prepare is long past
---
Schwartz: An expert at the quick flip cooking up a whopper deal; Burger King's chief has displayed both self-belief and financial wizardry
---
Moscow: Families of Russian troops in Ukraine want answers from Putin, not lies
---
Berlin: Merkel ally sees Russian invasion as 'act of war' as Germany debates role
---
Kiev: Ukraine to initiate cancellation of Ukraine's non-bloc status, seek full NATO membership
---
London: Terror attack on UK 'highly likely' as threat level raised
---
NY Times: Beheadings in Syria by ISIS now routine, UN panel says
---
Bloomberg: Can the Middle East re-draw itself?
---
New York: Tsarnaev sister arrested on suspicion of making bomb threat
---
Paris: Air France urged to suspend Sierra Leone flights over Ebola; British Airways extends its existing suspension into 2015
---
USA Today/Suffolk University poll: Romney breaks away in Iowa as frontrunner for 2016 with 35% support and no others in double digits
---
Viv Forbes: Cut the costly climate chatter
---
Human Rights Watch: Hamas must stop extrajudicial execution of collaborators
---
WSJ: 2008 meltdown was worse than Great Depression, Bernanke says in deposition
---
Forbes: No, inversion is not unpatriotic. Yes, we need corporate tax reform
---
U.S. tax-hungry: Ohio Democratic Senator calls for Burger King boycott over planned Tim Hortons deal
---
Loose lips sink ships: The U.S. had no idea Egypt and UAE were going to bomb Libya
---
Oswegatchie: Amish to build garage for couple who returned kidnapped girls
---
Ukraine: President calls snap vote amid fighting; October 26 election
---
Beirut: Over 500 dead in battle as ISIS seizes Syrian air base
---
Islamic State? No, call it QSIS, says top Islamic authority in Egypt
---
BBC: Whole organ 'grown' in world first; findings published in Nature Cell Biology journal
---
Bat to monkey to lion: Smuggled 'bushmeat' is Ebola's back door to America
---
What are your cops wearing? When police officers in one small California city started wearing body cameras, citizen complaints against police fell 88%
---
Lima: M7.0 mid-depth quake strikes southern Peru
---
Rear Admiral Edward Masso, ret'd: Our aircraft carriers are not sitting ducks
---
Richard Attenborough: The irreplaceable actor, director and producer dead at 90
---
Maureen Dowd: The Golf Address; Obama eviscerated for avoiding his responsibilities
---
Toronto: Months-long backlog of Americans in Canada seeking to renounce U.S. citizenship
---
Foreign Policy: Putin's 'humanitarian' convoy is simply a pretext for the war the Kremlin's been planning for months
---
No trials: Hamas publicly executes 18 Palestinians suspected of 'collaboration' with Israel
---
Sinai: Egypt tourist bus crash leaves 33 dead and 41 injured
---
Jerusalem: Targeted assassinations of its top commanders deal Hamas a heavy blow; Thursday's killings appears to have thrown Hamas off balance for first time
---
Ferguson: Town residents say their small city has been mischaracterized by media; former mayor says it's not a hotbed of racial tension, "people get along here"
---
Atlanta: U.S. aid workers released from hospital after cleared of Ebola
---
Jerusalem: Three senior Hamas leaders killed in Israeli air strike as foreign airlines are placed on high alert after militant group threatens to target Tel Aviv airport
---
Brooklyn: Canadian drug kingpin, New York's top marijuana supplier dubbed Pot Playboy, gets 27 years behind bars
---
Washington: Obama waits 24 hours before condemning ISIS beheading of American journalist; was busy playing golf
---
Ferguson: Missouri cop was badly beaten before shooting Michael Brown says source
---
Ferguson: Canadian newsman arrives on scene with deep biases, quickly starts re-thinking whether race played any factor in death of thug Brown as sees "racial stereotypes" played out in front of him
---
Japan: Mudslides kill 36 in Hiroshima
---
Ferguson: Officer Darren Wilson suffered "orbital blowout fracture to eye socket" during Mike Brown attack; "more than a dozen" witnesses step forward to back cop's version of assault
---
Don Pardo: Saturday Night Live announcer dead at 96; 38 years as SNL's commanding voice, longtime announcing career
---
Ferguson: Police come under gunfire, arrest 31 in Missouri racial unrest
---
Social media: People starting to get risks, more keeping child pix offline
---
Damascus: Syria strikes hard at militants as U.S. targets them in Iraq
---
Ukraine: Dozens killed in attack on refugee convoy flying white flags
---
NY Times: Autopsy results disagree with claims by "eyewitnesses"; Brown shot from front, arms not raised, 4 of 6 bullets hit right arm of 6'4" 290-pound teen resisting arrest, assaulting cop
---
Ferguson: Finally, Missouri Gov. Nixon gets it, declares curfew; indecision allowed days of rioting
---
Iraq: ISIS mass-executes scores of Yazidi men; taken away in groups of a few dozen each and shot on the edge of village
---
Reuters: Islamic State 'massacres' 80 Yazidis in north Iraq
---
Caliphate abuse: ISIS child recruitment push hints at long-term ambitions
---
Ferguson: Other side of the story: shot teen Michael Brown not so innocent, had committed 'strong-arm' robbery, resisted arrest, tried to grab officer's gun in squad car, say police
---
2016: Clinton backtrack, conflicting statements muddle Syria message; where did she really stand?
---
New York: Coca-Cola buys 16.7% stake in Monster beverage; sub-brands will change hands
---
Lauren Bacall: Dies at age 89
---
Iraq: My night on the mountain of hell with dying Yazidi refugees
---
Big loss: Robin Williams dead at age 63; funny man defined improvisation
---
George Jonas: How the communists killed communism
---
American Thinker: Scientist confesses he made up polar bear population estimates
---
---
Links formerly right here, now at http://www.newswatchcanada.ca/oldnews2014-1.html
---
---
---
---

---
Click this for Kiev/Ukraine video links, videos & screen caps from Feb. 20
---
American and Canadian NORAD jets intercept total of eight
Russian military planes that neared restricted airspace


NORAD jets intercepted Russian planes near the edge of restricted American and Canadian airspace.
---
Edinburgh: Sore loser, Scotland independence leader Salmond quits
---
London: Cameron sets out UK-wide changes 'to build better future'
---
Edinburgh: Scotland rejects independence by ~ 55% to 45%
David Cameron commits to stunning constitutional revolution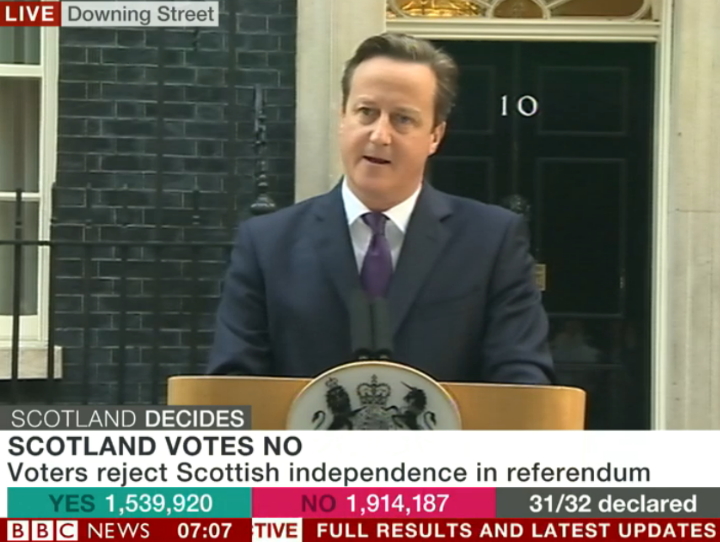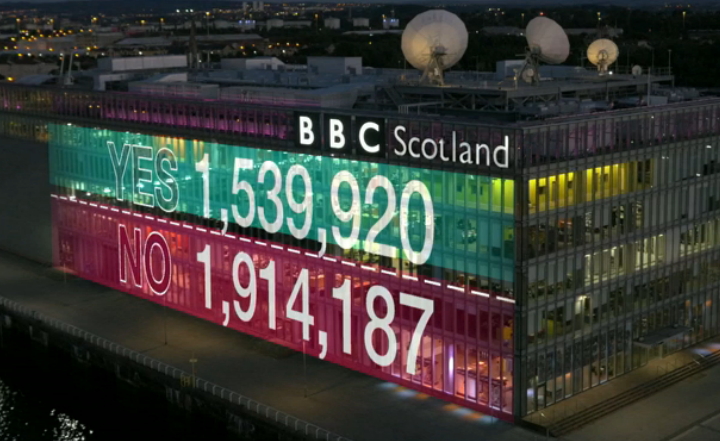 The BBC crunches the numbers at 6:08 am declares the United Kingdom will remain united; then at 7:07 am Prime Minister David Cameron vows to undertake major governing changes with dizzying speed. ~ screencaps BBC
---
Detailed referendum results for all 32 Scotland councils at this link
---
32nd Scotland referendum result: Highland - 87.0% turnout
yes - 78,067
no - 87,739

---
31st Scotland referendum result: Argyll and Bute - 88.2% turnout
yes - 26,324
no - 37,143

---
30th Scotland referendum result: Edinburgh - 84.4% turnout
yes - 123,927
no - 194,638

---
29th Scotland referendum result: Moray - 85.4% turnout
yes - 27,232
no - 36,935

---
28th Scotland referendum result: Fife - 84.1% turnout
yes - 114,148
no - 139,788

---
27th Scotland referendum result: Aberdeenshire - 87.2% turnout
yes - 71,337
no - 108,606

---
26th Scotland referendum result: Scottish Borders - 87.4% turnout
yes - 27,906
no - 55,553

---
25th Scotland referendum result: East Ayrshire - 84.5% turnout
yes - 39,762
no - 44,442

---
24th Scotland referendum result: South Ayrshire - 86.1% turnout
yes - 34,402
no - 47,247

---
23rd Scotland referendum result: North Ayrshire - 84.4% turnout
yes - 47,072
no - 49,016

---
22nd Scotland referendum result: Glasgow - 75.0% turnout
yes - 194,779
no - 169,347

---
21st Scotland referendum result: East Renfrewshire - 86.2% turnout
yes - 24,287
no - 41,690

---
20th Scotland referendum result: East Dunbartonshire - 91.0% turnout
yes - 30,624
no - 48,214

---
19th Scotland referendum result: Angus - 85.7% turnout
yes - 35,044
no - 45,192

---
18th Scotland referendum result: Perth and Kinross - 86.9% turnout
yes - 41,475
no - 62,714

---
17th Scotland referendum result: Aberdeen - 81.7% turnout
yes - 59,390
no - 84,094

---
16th Scotland referendum result: South Lanarkshire - 85.4% turnout
yes - 100,990
no - 121,800

---
15th Scotland referendum result: North Lanarkshire - 84.4% turnout
yes - 115,783
no - 110,922

---
14th Scotland referendum result: Dumfries and Galloway - 87.5% turnout
yes - 36,614
no - 70,039

---
13th Scotland referendum result: City of Dundee - 78.8% turnout
yes - 53,620
no - 39,880

---
12th Scotland referendum result: Falkirk - 88.7% turnout
yes - 50,489
no - 58,030

---
11th Scotland referendum result: Stirling - 90.1% turnout
yes - 25,010
no - 37,153

---
10th Scotland referendum result: East Lothian - 87.6% turnout
yes - 27,467
no - 44,283

---
9th Scotland referendum result: Midlothian - 86.8% turnout
yes - 26,370
no - 33,972

---
8th Scotland referendum result: West Dunbartonshire - 87.9% turnout
yes - 33,720
no - 28,776

---
7th Scotland referendum result: West Lothian - 86.2% turnout
yes - 53,342
no - 65,682

---
6th Scotland referendum result: Renfrewshire - 87.3% turnout
yes - 55,466
no - 62,067

---
5th Scotland referendum result: Inverclyde - 87.4% turnout
yes - 27,243
no - 27,329

---
4th Scotland referendum result: Na h-Eileanan Siar - 86.2% turnout
yes - 9,195
no - 10,544

---
3rd Scotland referendum result: Shetland Islands - 84.4% turnout
yes - 5,669
no - 9,951

---
2nd Scotland referendum result: Orkney Islands - 83.7% turnout
yes - 4,883
no - 10,004

---
1st Scotland referendum result: Clackmannanshire - 88.6% turnout
yes - 16,350
no - 19,036

---
BBC: LIVE coverage of Scottish referendum results
---
Sydney: Terrorism raids: plot to kill Aussies
on video by top terrorist Mohammad Baryalei
---
Scotland Decides: Crowd gathers at Scottish parliament at Holyrood


CROWDS have been gathering outside the Scottish Parliament this evening as voting continued in the Independence referendum. ~ Ian Georgeson Edinburgh News
---
Edinburgh: 'Yes' to outspend 'Better Together' in last 48 hours
---
Sydney: Seized Islamic terrorists were going to snatch random person
off street and videotape beheading; "This is going to be the modus
operandi of these groups around the world from now on..."

---
Cancer: Toronto Mayor Rob Ford has 'rare' malignant sarcoma
and will undergo immediate chemotherapy and possible surgery
---
Ottawa: Ukraine President thanks Canada for unwavering
support in speech at joint session of Parliament;
"Ukraine has 'crossed the Rubicon' to a new westward-looking future"


Ukrainian President Petro Poroshenko acknowledges supporters in the gallery following his address to the Canadian Parliament, Wednesday September 17, 2014 in Ottawa. ~ Adrian Wyld The Canadian Press
---
Ottawa: Ukraine's Poroshenko says no hope of restoring Soviet Union;
addresses Canadian Parliament to rousing welcome inside/outside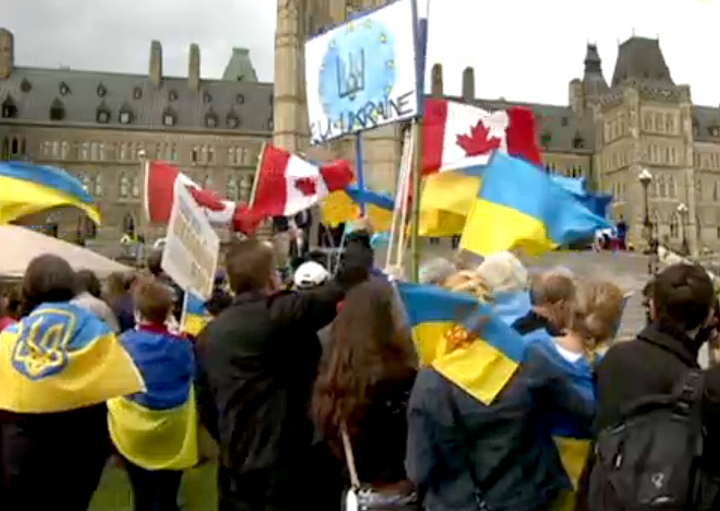 A pro-Ukraine demonstration outside Canada's Parliament Buildings hailed address by President Petro Poroshenko. ~ screencap CBC
---
Hot air: The scandal of UK's death-trap wind turbines;
A turbine built for 115 mph winds felled in 50 mph gusts


The turbine that fell at East Ash Farm, Bradworthy had been installed with the wrong configuration of nuts at its base, upsetting its balance. ~ Mike Southon SWNS.com
---
Kids at risk: Suspected EV-D68 cases in Windsor nearly double in one day
---
Remarkable up-close photos of asteroid by ESA's 'Rosetta' spacecraft


Jagged cliffs and prominent boulders are visible in this image taken by OSIRIS from a distance of 62 km from comet 67P/Churyumov-Gerasimenko on September 5, 2014. The left part of the image shows a side view of the comet's "body", while the right is the back of its "head". ~ ESA/Rosetta/MPS OSIRIS Team MPS/UPD/LAM/IAA/SSO/INTA/UPM/DASP/IDA
---
OECD: Canadian economy 2nd fastest growth among G7 nations in 2014
---
Obama naïveté & thin skin on full display in private media meeting;
has failed in all dealings with terrorists, yet gives advice to ISIS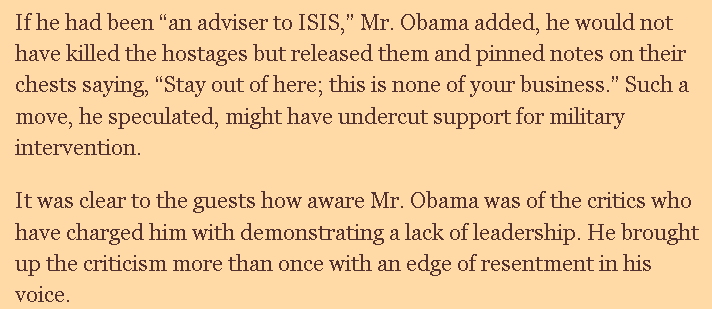 ---
Sydney: Australia deploying troops and planes to Middle East
---
London: Cameron vows to destroy ISIS 'and what it stands for'
---
Kiev: Russians are trying to 'eliminate' our country, says Ukraine PM


A Ukrainian army helicopter flies over their positions in Debaltsevo in the Donetsk region of Ukraine. ~ AP
---
Toronto: Mayor Rob Ford pulls out of re-election bid to due to health
---
Scotland: Will a referendum loss trigger 2008-level financial meltdown?
---
Time to remember: 9/11 commemoration amid renewed terror threat
---
New York: Thirteen years later, America remembers 9/11 horror


Albert Biatta prays in front of the inscribed name of his uncle, Antoine Biatta, at the North Tower Memorial Pool during a memorial service honoring victims of the September 11, 2001, terror attacks on September 11, 2014 at the World Trade Center site in New York. ~ Justin Lane European Pressphoto Agency
---
BBC: ISIS: A speech Obama hoped to avoid;
Sometimes a President is defined by what he stands for
Sometimes a President is defined by what he doesn't...


U.S. President Brack Obama gave a speech one can imagine he had been desperately hoping to avoid. ~ AFP
---
Prime-time TV: Obama lays out plan to degrade/destroy ISIS militants;
First airstrikes to be launched in Syria and much more bombing in Iraq;
Not impressed, political opponents say something better than more waffling
---
Kerry: World won't permit ISIS romp
---
Canada's John Baird: Fighting Islamic extremism
the 'greatest struggle of our generation'
---
Franklin expedition find: How they did it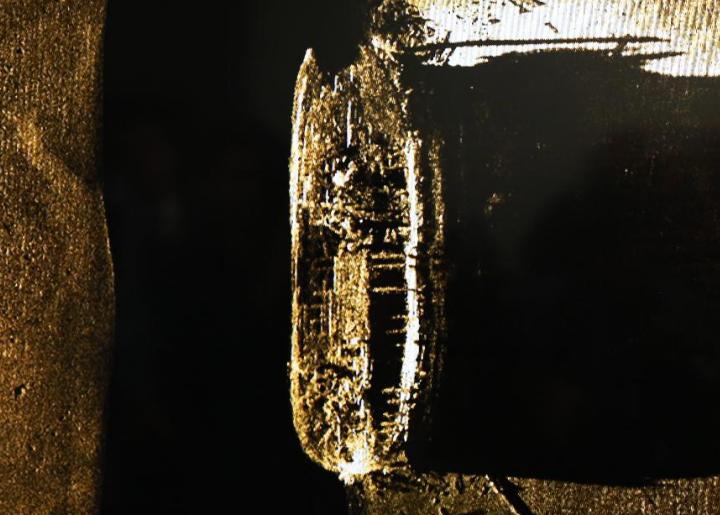 A sonar image of the discovered Franklin vessel. ~ Parks Canada
---
Arctic: Harper announces one of Franklin's lost ships has been found;
Queen Elizabeth sends congratulations; wreck found September 7th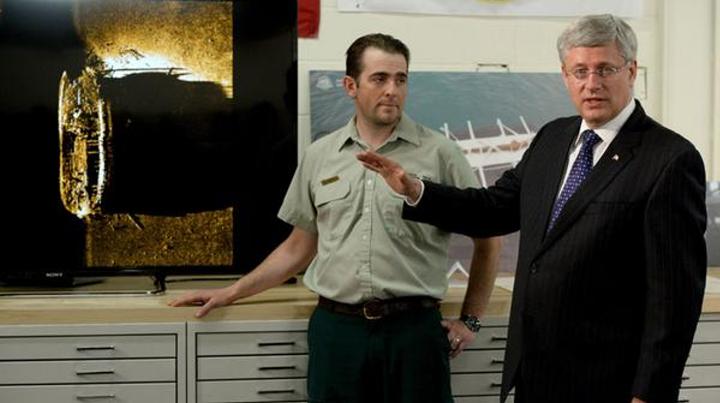 Franklin ships gone since 1845. Team of archeologists from Nunavut located first artifacts found in modern times.
---
Kyiv Post: MH17 report consistent with Ukraine's BUK missile theories
---
MH17: Transcript of flight's last moments reveals frantic contact efforts
---
MH17: Russians 'controlled BUK missile system'
---
MH17 crash: Dutch experts say numerous objects hit plane;
rules out pretty much everything except BUK missile shrapnel


The crash site was in rebel-held territory in eastern Ukraine, making investigation even more difficult.
---
Commercial air traffic: We will 'close down skies' warns angry Russian PM
---
Santiago: Chile official says subway blast a 'terrorist act'
---
Canadian warship HMCS Toronto buzzed by Russian fighter jets
during NATO military exercise in Black Sea


The HMCS Toronto, in Halifax in 2013.
---
BBC: Markets wake up to Scottish independence
---
Managua: Nicaragua meteorite strike raises concern over space tracking
---
London: UK parties disagree on powers to offer
Scotland over independence referendum
---
London: Cameron faces calls to quit if Scotland votes Yes
---
Scottish vote: Pound slumps as poll reveals Yes campaign's shock lead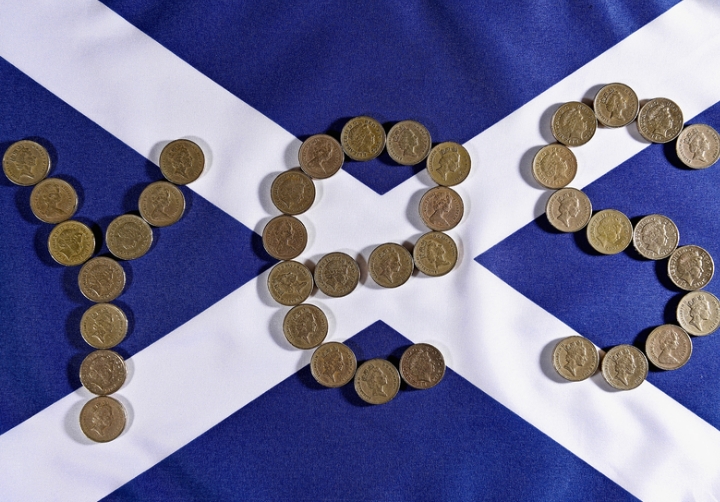 The one per cent decline to just 1.62 versus the U.S. dollar adds to sharp losses seen last week. ~ Independent
---
Geneva: UN human rights chief calls on world
to protect women, children from ISIS
---
What ceasefire? Ukraine shelling claims lives, sets houses ablaze
---
London: UK offers Scotland greater autonomy ahead of referendum


Opposing supporters wait for leader of Britain's opposition Labour Party, Ed Miliband, during campaign visit, ahead of forthcoming Scottish vote for independence from United Kingdom, in East Kilbride, Scotland, Sept. 4, 2014. ~ Reuters
---
Alberta: Jim Prentice new Premier; wins in landslide on 1st ballot
---
Daily Mail exclusive: Jack the Ripper unmasked: How amateur sleuth
used DNA breakthrough to identify Britain's most notorious criminal
as Polish hairdresser 126 years after string of terrible murders
---
Kiev: Ukraine ceasefire appears to hold
amid claims both sides violated agreement


A burned Ukrainian army tank is seen near a destroyed kindergarten in the village of Kominternove, Saturday, Sept. 6, 2014. After four months of war, eastern Ukraine begins first full day of uncertain ceasefire. ~ Sergei Grits AP Photo
---
Wales: NATO rapid response force will
have a stocked command HQ set up in Eastern Europe
---
Official text: Wales NATO Summit Declaration
---
Ukraine: Poroshenko orders army ceasefire after agreement
reached with rebels; ceasefire started Friday at 11 am ET
---
Broader war next? NATO chief, at summit, says Russia attacking Ukraine
---
Wales: Putin scheming fails to calm Ukraine as NATO backs Kiev


Britain's Prime Minister David Cameron, NATO Secretary-General Anders Fogh Rasmussen and U.S. President Barack Obama (front row L-R) arrive for a group photograph at the NATO summit at the Celtic Manor resort, near Newport, in Wales September 4, 2014. Canadian Prime Minister Stephen Harper awaits their arrival in the front row. The resort is the venue for the two-day NATO summit which started today. ~ Andrew Winning Reuters
---
Wales: Skepticism greets Putin's Ukraine ceasefire plan
---
Ukraine: Putin remains in denial, pushes 'peace plan'
that would have Ukraine withdraw its forces
---
U.S., allies to stage exercises in West Ukraine as battles rage in East
---
Ukraine: Peace 'moves' agreed upon but fighting rages on
---
Ukraine: Putin denies Russia has agreed to a ceasefire
and asserts Russia not 'a party to the conflict'
---
Ukraine: Putin, Poroshenko agree on
'permanent ceasefire' in Donbass region
---
9/11 redux? Missing Libyan jetliners raise fears of suicide airliner attacks;
western intelligence agencies warn jets could be used in terrorist attacks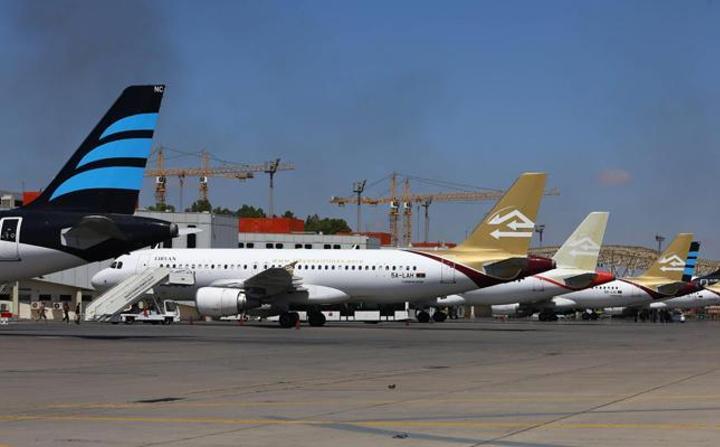 Islamist militias in Libya took nearly a dozen commercial jetliners last month, and western intelligence agencies have issued ominous warning.
---
Atlanta: CDC director calls for worldwide effort to stop Ebola
---
NY Times: Affiliate of Al Qaeda confirms capture
of UN peacekeepers in Syria
---
Putin, defiant toward West, likens Ukraine conflict to WWII
---
Europe on alert: 7 NATO allies to create new rapid reaction force;
Denmark, Latvia, Estonia, Lithuania, Norway, the Netherlands and Canada
---
Nuclear extortion: Putin reminds world Russia has nukes
---
Hapless: Texas Gov. Perry pounds Obama for 'no strategy' on Syria
---
NATO to Russia: "Stop 'illegal' military operations in Ukraine"
---
UN: Death toll in east Ukraine nearly 2600
---
Russian troops in Ukraine a 'game-changer'; Ukraine's
President says it draws "Ukraine and entire world into a full-scale war"
---
Putin's deadly adventurism: Over 100 Russian
soldiers killed in single Ukraine battle
---
Kiev: Russian Army, in two armoured columns, captures
key Ukrainian town of Novoazovsk on Sea of Azov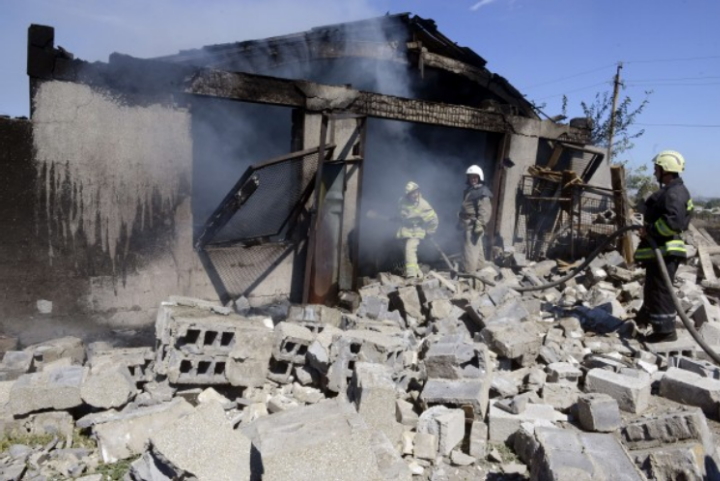 Firefighters work to extinguish a fire after shelling by pro-Russian militants on outskirts of the small southern Ukrainian city of Novoazovsk, Donetsk region. August 27, 2014 ~ Alexander Khudoteply AFP/Getty Images
---
WSJ: Buffett's Berkshire to pay U.S. tax rate on Burger King investment;
pure tax rate comparison misleading as some states have low corp rate


From article comment section: "The real benefit to headquartering in Canada isn't the corporate tax rate, which is actually competitive with the rate Burger King pays in Florida. It's because Canada doesn't practice top-up taxation as the U.S. does -- this means profits earned by subsidiaries outside the U.S. will in the future be taxed only at the rate of the host country. The U.S. deems it proper to add its own taxation to that paid elsewhere. Thus this deal will allow Burger King (and Tim Hortons, which already operates abroad) to grow faster than competitors based in the U.S. Warren Buffett gets it. Will other US corporations?"
---
They score! Tim Hortons, Burger King agree to merger deal;
New company Canada-based; Tim Hortons shareholders get $$ + stock


The combination of Canada's international coffee/doughnut juggernaut with the growing international presence of Burger King will create world's third largest fast-food company with combined global sales of $23 billion and have 18,000 locations in 98 countries. The new combined company would be based at the current headquarters of Tim Hortons, in Oakville, Ontario, just west of Toronto. Burger King would continue to maintain its global home in Miami.
---
Losing business: Deep tax cuts opens Northern front for U.S. companies;
and CETA and other international free trade deals make it even better
---
Michael Den Tandt: 'Use it or lose it' — Harper's Arctic
strategy more than just a political gambit


Canadian Prime Minister Harper gestures towards the ship Martin Bergmann as he stands on a wharf
Saturday, August 23, 2014 in Cambridge Bay, Nunavut. ~ Adrian Wyld The Canadian Press
---
updated Bay area quake: 120 injured, broken gas/water mains, buildings;
state of emergency declared as damage being assessed, trailers burn
---
Napa: M6.0 quake damages buildings, infrastructure;
biggest California quake since 1989


Damage to a building in Napa, California early Sunday, August 24, 2014. Officials say an earthquake with a preliminary magnitude of 6.0 has been reported in California's northern San Francisco Bay area. ~ Lyall Davenport AP Photo
---
California: Shallow M6.0 quake rocks San Francisco Bay area
---
Reykjavik: Iceland raises aviation volcano alert to red


The Bárdarbunga volcano lies beneath the 500-metre-thick Vatnajokull icecap, the largest glacier in Europe.
---
NY Times: Russia invades Ukraine, firing artillery on Ukraine forces
---
New York: Obama slammed for serial insensitivity and inattentiveness;
his AWOL behaviour seen as 'conduct unbecoming a President'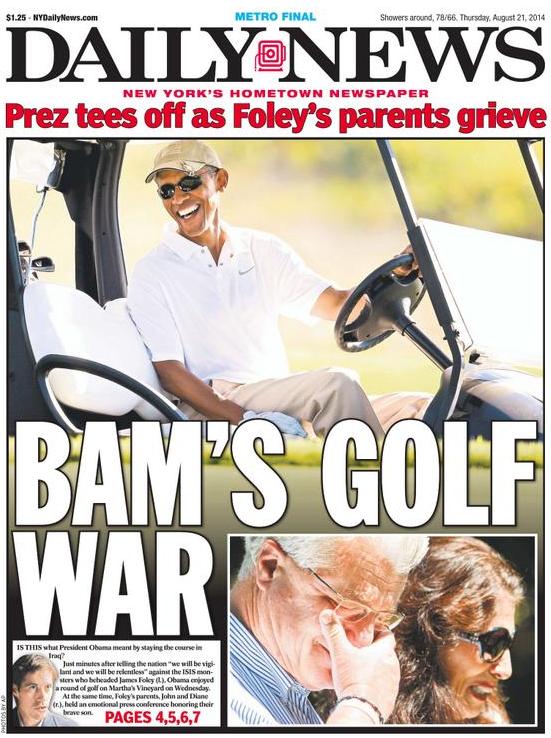 Lame duck President Obama is seen to put playing golf with buddies before doing his job whether on formal vacation or
when he's supposed to be at the White House. To make matters worse, in a time of world crisis and American sorrow
over the ISIS beheading of journalist James Foley and others he's seen non-stop partying.
---
Monrovia: Liberia seals slum as Ebola claims 1,350 lives
---
Pakistan: Qadri commands siege of Parliament by 'Revolution Marchers'
---
REVOLUTION: 3D printers changing the world, replacing
conventional parts manufacturing; faster/better houses next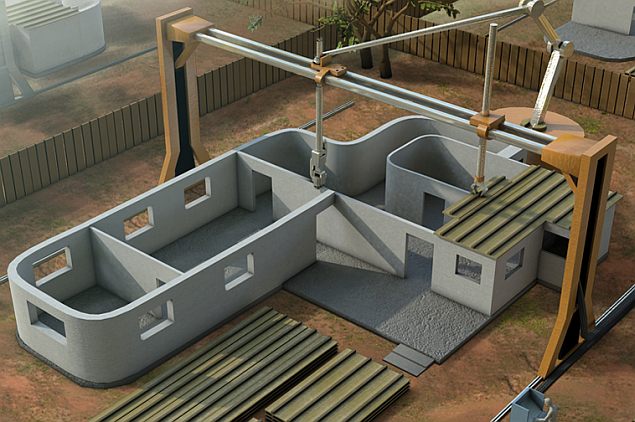 "It's pretty easy to see that you're going to be able to print a house, and that it's going to be different and better that what we are making now, the old-fashioned way." 3D systems 'print' objects by laying down thin layers of metal, plastic or ceramic, one atop another, to create a three-dimensional finished product. As the technology improves, larger and faster printers will drive up demand for the raw materials, according to an expert. With key patents for 3D printing technology expiring this year, the machines are expected to become more common in manufacturing industry. ~ NDTV
---
WSJ: Canada agency cites host of factors for 2013 Quebec rail disaster
---
Lac-Mégantic report says rail firm audited for safety bureaucracy but not for its effectiveness; recommends key changes for modern train operation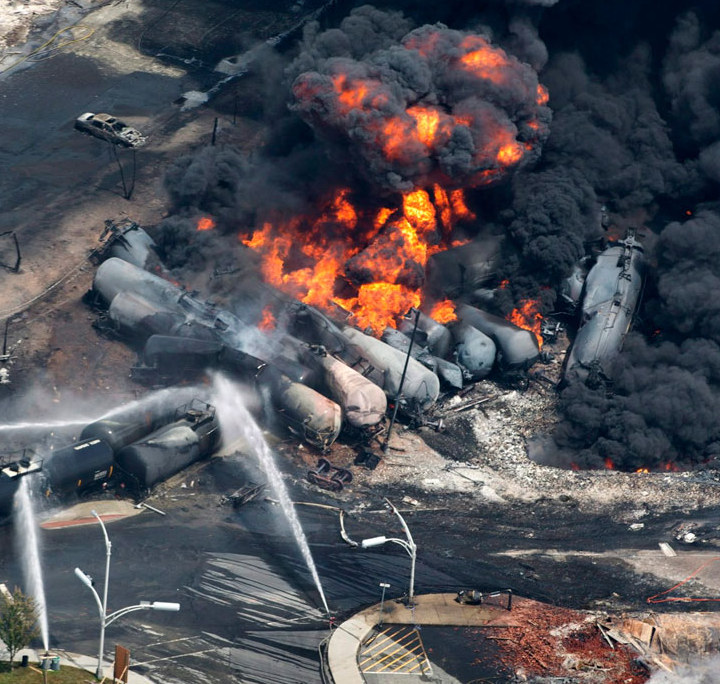 Smoke rises from railway cars carrying crude oil after derailing in downtown Lac-Mégantic, Quebec in July 2013. In its final report into the Lac-Mégantic accident, the Transportation Safety Board of Canada called for more thorough audits of safety management systems and said more physical defenses were needed to prevent runaway trains.
---
Liberia: Ebola fears rise as Monrovia clinic looted;
up to 30 patients flee, as their sheets, belongings stolen
---
Ottawa: Canada to fly weapons to Kurdish forces battling ISIS
---
Ukraine President says artillery "quickly destroyed" Russian column
---
Ukraine demolishes Russian armed convoy says Kiev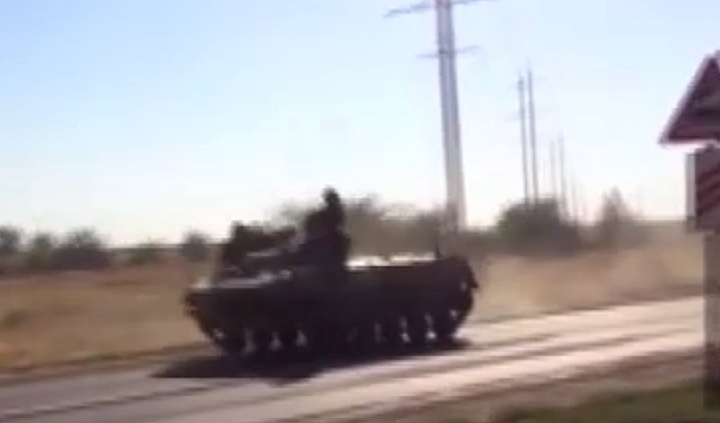 Russian armoured vehicles about 40 kilometers (25 miles) away from Ukraine were seen heading toward the border. ~ Bloomberg
---
Brussels: NATO accuses Moscow of escalating Ukraine conflict
---
Ukraine: Russian army trucks and armoured
vehicles cross at obscure border crossing
---
New York: WHO backs use of experimental
Ebola drugs in West African epidemic
---
New York: When someone runs onto a live race track in a fit of pique
why does anyone believe the driver who hit him is at fault?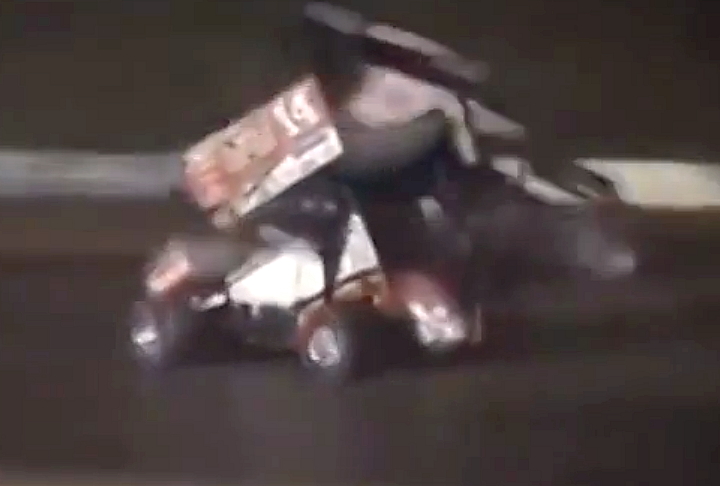 This is the moment Tony Stewart's #14 dirt track sprint car hits driver Kevin Ward, Jr. who had exited his crashed #13
(background) and charged down the slippery clay track at Stewart waving his arms while cars circled the track under
the yellow caution flag. ~ screen capture from https://www.youtube.com/watch?v=TQYlWDcMFJo
---
update: Patient at Brampton, Ontario hospital tests negative
for deadly Ebola virus after trip to Nigeria
---
New York: WHO declares Ebola an international health emergency
---
---
Links formerly right here, now at http://www.newswatchcanada.ca/oldnews2014-1.html
---
For full news link archives since December 7, 2009
follow page links from
NWC Old News
Welcome to Worldwide Visitors
Send news tips to
Editor@NewsWatchCanada.ca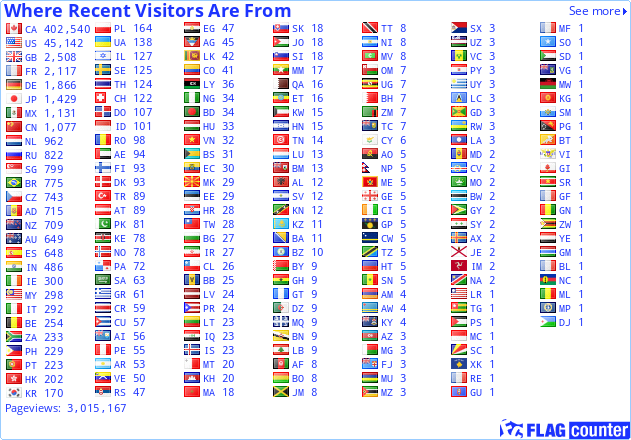 SELL locally and to the entire World!

~ ears, blocks, dedicated ad pages available ~
---
New York: Canadian Foreign Minister Baird tells United Nations Security Council ISIS "is more of a terrorist army than the traditional image of an isolated cell of extremists. It is the toxic mix of medieval ideology with modern weaponry."
---
Andrew Coyne: In Scotland and Quebec referendums, Yes votes born out of sense of entitlement, not need
---
Ottawa: MPP Lisa McLeod to run for Ontario PC Leader; to join MPPs Christine Elliott and Monte McNaughton in race; MP Patrick Brown and MPP Vic Fedeli expected to join race shortly
---
Esquimalt: Canadian Navy to retire 4 obsolete Cold War-era ships as modernization continues
---
Ottawa: RCAF intercepts Russian bombers approaching Canadian airspace in Arctic [video]
---
New Brunswick Monday election: Liberal lead shrinks as Tories gain, CRA poll says
---
Los Cabos hurricane aftermath: Dead, looting, devastation and lack of communication scaring Canadians with trapped loved ones
---
Ottawa: Netflix rejects Canadian content regulations, tells CRTC to keep hands off its internet delivery model
---
Old Farmer's Almanac: 'T-Rex' of winters in store for Canada
---
Hamilton: Harper announces naming of class of Arctic/Offshore Patrol Ships and first ship itself after WWII hero Vice-Admiral Harry DeWolf
---
Ottawa: Scottish referendum: Canadians are pulling all-nighters for Scotland
---
Toronto: Device that 3D prints human 'skin' for burn victims wins national prize for pair of University of Toronto women engineering students
---
Ottawa: Harper to host Canada-EU Summit with Herman Van Rompuy, President of the European Council, and José Manuel Barroso, President of the European Commission to celebrate the historic end of negotiations of the Canada-EU Trade Agreement (CETA)
---
New York: Canada best country in G20 for doing business; second in world only to Hong Kong; Canada moves up from 6th place
---
Message from sick bed: 'Toronto needs Doug Ford': Ailing Mayor Rob Ford kicks off brother's campaign in audio statement hours before chemo begins
---
Quebec City: Liberals re-introduce a provincial values charter that recognizes the limits of multiculturalism
---
New DNA evidence: Modern Europeans descended from three groups; common ancestors with 'native' Americans
---
Ottawa: Liberal Leslie abuse targeted by DND change to 'final move' policy change eliminating short-haul taxpayer gouging
---
Liberal dictatorship: Justin Trudeau's abortion stance 'undemocratic, say ex-MPs
---
Network implications? Netflix dominates Canadians' prime-time data usage
---
Andrew Coyne: Just because McGuinty hasn't broken laws by lobbying does not make it right in any way
---
Fredericton: An unprecedented disaster of an interview for the Liberal leading in New Brunswick
---
Ottawa: Federal Cabinet to back MP Michael Chong's Reform Act which will change relationship of Party Leaders to MPs and party members
---
Robyn Urback: Dalton McGuinty landing a new gig as lobbyist would be funny if it weren't so obnoxious
---
Ottawa: Canada announces 5-year terms of loan agreement to Ukraine
---
Alberta: Prentice appoints MP Rob Merrifield as provincial envoy to Washington; 14-year veteran steps down from federal Parliament to take post; former MP Jay Hill becomes representative to B.C., Saskatchewan and the North
---
Ottawa: Hiva Mohammad Alizadeh pleads guilty to terror charge; given 24-year sentence
---
Scotland referendum: Canadian observers watching independence vote
---
Toronto: Liberals' aviation fuel tax hike sending air carriers into tailspin, costing jobs
---
Ottawa: Foreign Minister John Baird announces new sanctions against Russia; Ukraine President Poroshenko to address Canada's Parliament on Wednesday
---
Toronto: Stephen Harper pledges Canada's 'unblinking' support for Ukraine; joined onstage by Wayne Gretzky
---
Waterloo: Researchers discover new producer of crucial vitamin B12
---
BBC: Toronto Mayor Rob Ford tells newspaper he is 'pretty sick'
---
Toronto: Wind Mobile says no plans for merger after Globalive consortium snaps up stake from VimpelCom
---
Richmond: Tentative deal reached in B.C. teachers' strike:
---
Double helix: How ancient DNA is rewriting human history; quaint myths and legends have been very misleading
---
Andrew Coyne: Justin Trudeau to be put to the test as Tories, NDP turn focus to policy
---
Chris Selley: Eventually Justin Trudeau will have to sell some policies and not just old-time Liberal religion
---
Role model: Sir John Franklin's worldly, wayfaring, indefatigable wife
---
St. John's: Paul Davis wins PC leadership, to be new Premier of Newfoundland and Labrador
---
Olds: Trailer carrying 30 rescue dogs from California flips on Alberta highway; at least 2 dead, several missing
---
An unfinished race: A look at the final days of the Rob Ford Toronto mayoralty campaign from his return to his exit
---
Toronto: Rob Ford made us care about the city's fate
---
Forum Research poll: Doug Ford starts mayoral campaign in competitive second place
---
Sauced: Apple again messes up maps, confuses Toronto and Ottawa, misspells St. John's and misplaces Edmonton
---
Toronto mayor race shake-up: Doug Ford getting support from the get-go
---
Ottawa: Canada-China investment treaty to come into force October 1st
---
Toronto: Ford brothers' odd situation means they face thicket of election-finance rules
---
Toronto Star: Rob Ford withdraws from mayor's race, Doug files to take his place
---
Kelly McParland: Facing 'battle of a lifetime' Rob Ford pulls a switcheroo and runs brother Doug in his place
---
Toronto: Poll shows Torontonians support Land Transfer Tax reduction; Chow supports increase
---
Toronto: University of Toronto Professor stabbed in office; 21-year-old woman in police custody
---
Toronto: Mayor Rob Ford spends third day in hospital as election deadline looms; in top cancer hospital for abdominal tumour investigation
---
Don Braid: Prentice signals a liberal dose of change in Alberta politics
---
Viral furball: B.C. bear cub's golf-course dance viewed more than 180,000 times on YouTube

---
Maclean's: Face to face with a Franklin crew member, 140 years later
---
Aaron Wherry: Michael Chong proposes two more changes to his Reform Act
---
Ottawa: PM not an 'entry-level job': NDP joins Conservatives in attacking Justin Trudeau's lack of credentials
---
St. John's: Newfoundland Labrador Govt acknowledges efforts of residents on 9/11 anniversary in helping grounded air travellers; together we "watched an unspeakable tragedy unfold"
---
Ottawa: Federal Govt cuts EI premiums for small business by 15% to stimulate job growth; Finance Minister Oliver says 780,000 Canadian businesses will benefit from cut
---
Toronto: Mayor Rob Ford hospitalized with abdominal tumour in midst of election campaign
---
Prime Minister Harper recognizes Canada's entry into WWII: "On September 10th, 1939, nine days after Germany invaded Poland, Canada made its first declaration of war as a sovereign country"
---
Alberta: Calgary's 'Snowtember' becomes 'Treemageddon'
---
Scotland referendum: UK leaders make late campaign dash for unity in a rare display of cross-party unanimity
---
Toronto: Left-wing report says cost of university tuition to rise 13% over 4 years; spins pitch for lower tuition, more grants, wants governments paying more
---
Manila: Philippines to deport Canadian imam over terror links
---
Buffalo: Hometown Pegulas winning $1.4B bid for NFL's Bills is highest price for franchise in league history; Toronto bid group thwarted; will an expansion franchise land north of the border?
---
Toronto: West Queen West is world's second 'coolest neighbourhood' according to Vogue magazine
---
Toronto: One man dead after house collapses during renovation with four construction workers inside
---
CKWS: Franklin ship wreck should be studied, not raised: Kingston Marine Museum curator
---
Missing for 165+ years: Ship from lost Franklin expedition found in Canadian Arctic
---
Victoria: BC Liberals Bonney, Robertson charged under Elections Act
---
Markham: Driver charged with vehicle and marijuana offenses after 7-yr-old girl hit and killed crossing street
---
Toronto: Convicted criminal charged in VIA Rail terror plot whines about constitutional rights
---
Crux of the Matter: Homework ban's long-term consequences for students & society
---
Deployment awaits final arrangements: Canadian army advisers to be stationed in Iraq's north
---
New Brunswick: Party leaders pit shale-gas jobs against fracking moratorium
---
Quebec City: Philippe Couillard softens Constitution talk; says remarks were misquoted
---
Quebec City: Premier Couillard wants Quebec to sign Constitution by 2017
---
Take that, Trudeau: Mulcair to unveil key NDP platform planks one year ahead of 2015 election: "more from us than, frankly, talking points, platitudes or partisan attacks"
---
Alberta: From the coal mine to Alberta's top political office: the life of Jim Prentice
---
Halifax: Mounties use drone to help find hikers lost in Nova Scotia woods
---
TIFF 2014: Oscar-worthy Bill Murray gets a huge deserved standing ovation for 'St. Vincent'
---
updated ~ No injuries: Mall evacuated after partial roof collapse in St. Thomas, Ontario; some stores re-open
---
The Economist: How innovation is driving oil sands deep extraction efficiencies
---
No more homework: Movement grows to ban, especially early on, after-school assignments
---
Andrew Coyne: Be under no illusions — action on ISIS and Ukraine requires a long-term commitment
---
Iraq: Canadian media confused by government policy; can't figure out how to attack or explain Baird trip with Dewar and Garneau because it doesn't fit their twisted anti-Harper template
---
Pick-and-pay: A 'sea change' is coming for Canada's TV viewers
---
Kabul: Americans and Canadians on plane forced to land in Iran
---
TIFF 2014: Bill Murray Day celebrates maestro and he offers advice in Q&A: "You can do the very best you can when you're relaxed," Murray advised fans. "The more fun I had the better I did."
---
Ottawa: Harper pleased with successful NATO summit
---
Luhamaa: NATO faces 1st test, as Estonia accuses Russia of abduction
---
John Baird: Islamic State's campaign of terror must be stopped
---
Ottawa: Canadian military advisers join fight against ISIS in Iraq; Harper announces deployment of 'several dozen' for 'up to 30 days' to help Kurds
---
Konrad Yakabuski: Ontario's woes preclude provincial unity
---
Ottawa: Canada posts widest trade surplus since 2008 led by auto exports; surplus grew to $2.58B, from $1.83B in June, as exports rose to a record
---
Irbil: Baird calls visit to combat post in northern Iraq an eye-opener
---
Cornwall, Toronto: Tesla fires up first two supercharger stations in Ontario
---
Windsor: Good jobs go begging as local housing takes off
---
Bounceback: Rainfall pushes levels on Great Lakes to their highest since 1990s
---
Kiev: Canada joins NATO exercise in Ukraine
---
Breakthrough: Ottawa researchers discover link between protein, heart attacks
---
Game after game: Prepare for a hockey tsunami
---
"A vote with immense consequences" Canada's Harper weighs in against Scottish independence
---
Victoria: Premier Christy Clark wants BCTF teachers in classrooms during contract negotiations; Clark: "They are still demanding twice as much as other public sector workers have received"
---
Head in sand: 'Opportunity lost': Nova Scotia set to ban onshore shale fracking
---
Toronto: Manulife to buy Standard Life's Canadian assets for $3.7B
---
Class action lawsuit seeks $400M in damages: Canadian beekepers sue Bayer, Sygenta over neonicotinoid pesticides
---
Toronto: Rob Ford unveils subway-heavy transit plan
---
Ottawa: U.S. military wants multi-purpose sensors in Canada's Arctic
---
Ottawa: NATO leaders' focus could be split between ISIS and Russia
---
Ottawa: Harper heads to NATO summit in Wales
---
Toronto: Ontario fully rolls out full-day kindergarten; some classrooms not yet ready; Minister blames "really, really, really" cold winter, but some construction didn't start until July
---
Ottawa: Bank of Canada seen holding rate steady again
---
Toronto mayor race: Floundering Chow pushes tax increase, wants more tax dollars to spend
---
Edinburgh: Lloyds could move south if Scots vote for independence
---
UK's fate in the balance: Poll shows record support for Scottish independence
---
Vancouver: 'We don't want to be held hostage': Students to protest B.C. public school shutdown as selfish teacher demands put students' futures at risk
---
Cal Thomas: Debating Scotland's future
---
'Science' journal: Ancient DNA shows Inuit were not first to settle Arctic
---
Sydney: Abbott axes wind turbines in Australia
---
Economic juggernaut: Canadian economy expands at 3.1% pace in Q2; biggest quarterly GDP gain since 2011
---
WSJ: Canadian Q2 growth beats expectations; driven by exports, consumer spending and business investment in housing
---
Domestic issues matter, too: Canada plans legislation to end pay-to-pay billing fees
---
Winnipeg: Canadian Ebola vaccine saves lives of infected monkeys in trial; use advised now in West Africa
---
Montreal: Police charge 44 city workers for trashing city hall in pension protest
---
Ottawa: Canada sending relief supplies, has started delivering military equipment to help Iraq
---
Andrew Coyne: Problem with charities isn't their politics, it's their generous tax credit
---
Kelly McParland: 1996 Royal Commission into Aboriginal Peoples advised 444 changes — but was ignored by Chretien and Martin Liberal Govts; "another footslog through ashes of past mistakes best way to avoid action"
---
Forum Research poll: John Tory still leads in Toronto mayor race, but Rob Ford a close second and gaining ground, Chow way down in large sampling
---
Toronto: 'Manhattanization' via downtown development growing at 'mind blowing' rate; 18 more towers approved; second largest agglomeration of skyscrapers in the world
---
Sweden second: Canada tops in key measures of scientific literacy
---
Toronto: Tim Hortons a big part of Canadian identity
---
Sierra Leone: Canada bringing home three-person Ebola lab team for now; they are currently in isolation
---
Canada's Missing: Primarily male, do you know any of these people and/or their whereabouts?
---
Crux of the Matter: Public inquiry re: murder of Aboriginal women: political correctness that ignores the misogyny
---
Brinkmanship: Chopper makes night rescue of boaters less than 2,000 feet from brink of Niagara Falls; Ontario Hydro reduced river level to help rescue
---
Ottawa: Canada Post division reports $53M profit before tax in Q2, compared to a loss before tax of $104M in the same quarter of 2013; sees growth from online shopping
---
In denial: Predictably, NHL denies expansion report -- so stay tuned for expansion announcement
---
Bloom and others: NHL expansion will add teams in Quebec City, Toronto, Seattle, Las Vegas and/or Kansas City by 2017 as world soaks up hockey on TV 24/7
---
Bonavista: Newfoundland fossil shows earliest evidence ever of animals with muscles
---
Toronto: Tim Hortons proof of success Conservatives have shown in improving Canadian economy
---
Windsor: CETA cited as positive factor influencing Ford's choice for new $1.5B engine plant; putting plant in Canada will be a 'game-changer'
---
Bloomberg: Buffett, Burger King, and Tim Hortons: A Sweetheart Deal? [video]
---
Toronto: Burger King and Tim Hortons pen 'Commitment to Canada' as part of $12.5B merger deal; 'business as usual' with same community face
---
Ottawa: Man drunkenly entered Justin Trudeau's unlocked home in error, left warning note: Police
---
No global warming, again: Harsh winter expected for much of Canada, Farmer's Almanac predicts
---
Ebola outbreak: Canadian company says its vaccine looks promising
---
Caught in the whine: Former Manitoba Chief claims he has "receipts" for $261,000 in questionable spending
---
Front burner: Tim Hortons, Burger King shares surge, traders anticipate tax-friendly merger
---
What the companies say: Tim Hortons and Burger King have something cooking
---
Motley Fool: Why Tim Hortons Inc. should rebuff Burger King Worldwide Inc.'s takeover offer
---
John Williamson: The conservative path to a better country
---
Kelly McParland: United in debt, Ontario and Quebec conclude alliance of the needy; the two will share $11B in equalization money from Ottawa this year, almost 70% of the national total
---
Forum Research poll: Christine Elliott ahead in Ontario PC leadership race
---
Tax inversion deal: Burger King in talks to buy Tim Hortons; combined market value of about $18B
---
The Playboy Interview, 1969: Marshall McLuhan: Canadian "metaphysician of media" whose 'probes' haven't aged
---
Documentary film: The Betrayal by Technology: A Portrait of Jacques Ellul
---
Montreal: Possible Ebola patient quarantined at Maisonneuve-Rosemont Hospital
---
Whitehorse: PM Harper announces northern research program
---
Ottawa: CRTC wants to bring cable, satellite choices into 21st Century, including everything from cheaper bundles and American Super Bowl ads to personal channel choices; seeking public input first
---
Ottawa: Wind Mobile cuts roaming rates by 95% after CRTC decision forces big telecoms to charge smaller rivals less
---
Forum Research poll: Federal Liberal support dropping like a rock, lead down 9% since July
---
Ottawa: Harper North trip to highlight agriculture, Arctic sovereignty
---
Ottawa: Canadian Medical Association delegates reject CMA leadership's neutral stance, vote to formally oppose smoking of marijuana; say smoking harms lungs' "natural cleaning and repair system and traps cancer-causing chemicals" in airways; Mulcair's in-person pro-marijuana plea ignored, will Trudeau now attack?
---
Ottawa: Canada moves again to tackle internal trade barriers
---
Toronto: Ontario could make more money, see lower prices by ending booze monopoly: study
---
Misspent Ontario: Toronto's $456M 'boutique' train service to airport will gouge users, too
---
Montreal police chief vows probe as municipal workers, including firefighters, storm city hall while police stood idly by
---
TIFF 2014: Toronto International Film Festival flexes muscles, unveils mega line-up of flicks and film stars
---
Montreal: 'Savage' pension protest at Montreal city hall condemned by Mayor Coderre
---
Montreal: Unions storm, ransack Montreal city hall during council meeting in violent pension protest
---
NHL: Steve Moore reaches settlement with Todd Bertuzzi before trial start: reports
---
IGA buffers: Canada-U.S. dual citizens could be worse off if FATCA lawsuit succeeds
---
Calgary: Calgarian fighting for ISIS reported dead
---
Friend in need: Canada sends 3rd plane of supplies to Ukraine
---
Ottawa: Canada created revised 41,700 jobs in July, more than double the expected boost; original release of data had shocked with faulty 200 figure; unemployment down to 7%
---
Justice: Lynne Knight's ex-boyfriend found guilty of murder 35 years after she was strangled and stabbed in California
---
Toronto: Oath to the Queen upheld in citizenship challenge
---
FATCA: Compliance with U.S. banking law violates Canadian Charter, suit claims
---
Kelly McParland: Trudeau's vow to help chiefs hide incomes treats band members as second-class citizens
---
Toronto: Canadians' net worth grew nearly 8% last year on higher housing and investment values
---
Toronto: Chow drops like rock into third place as John Tory stands alone in first says new poll
---
Ottawa: Canada trade surplus widens to two-and-a-half year high of $1.9B
---
---
Links formerly right here, now at http://www.newswatchcanada.ca/oldnews2014-1.html
---
---
---