---
Jerusalem: Targeted assassinations of its top commanders deal Hamas a heavy blow; Thursday's killings appears to have thrown Hamas off balance for first time
---
Ferguson: Town residents say their small city has been mischaracterized by media; former mayor says it's not a hotbed of racial tension, "people get along here"
---
Atlanta: U.S. aid workers released from hospital after cleared of Ebola
---
Jerusalem: Three senior Hamas leaders killed in Israeli air strike as foreign airlines are placed on high alert after militant group threatens to target Tel Aviv airport
---
Brooklyn: Canadian drug kingpin, New York's top marijuana supplier dubbed Pot Playboy, gets 27 years behind bars
---
Washington: Obama waits 24 hours before condemning ISIS beheading of American journalist; was busy playing golf
---
Ferguson: Missouri cop was badly beaten before shooting Michael Brown says source
---
Ferguson: Canadian newsman arrives on scene with deep biases, quickly starts re-thinking whether race played any factor in death of thug Brown as sees "racial stereotypes" played out in front of him
---
Japan: Mudslides kill 36 in Hiroshima
---
Ferguson: Officer Darren Wilson suffered "orbital blowout fracture to eye socket" during Mike Brown attack; "more than a dozen" witnesses step forward to back cop's version of assault
---
Don Pardo: Saturday Night Live announcer dead at 96; 38 years as SNL's commanding voice, longtime announcing career
---
Ferguson: Police come under gunfire, arrest 31 in Missouri racial unrest
---
Social media: People starting to get risks, more keeping child pix offline
---
Damascus: Syria strikes hard at militants as U.S. targets them in Iraq
---
Ukraine: Dozens killed in attack on refugee convoy flying white flags
---
NY Times: Autopsy results disagree with claims by "eyewitnesses"; Brown shot from front, arms not raised, 4 of 6 bullets hit right arm of 6'4" 290-pound teen resisting arrest, assaulting cop
---
Ferguson: Finally, Missouri Gov. Nixon gets it, declares curfew; indecision allowed days of rioting
---
Iraq: ISIS mass-executes scores of Yazidi men; taken away in groups of a few dozen each and shot on the edge of village
---
Reuters: Islamic State 'massacres' 80 Yazidis in north Iraq
---
Caliphate abuse: ISIS child recruitment push hints at long-term ambitions
---
Ferguson: Other side of the story: shot teen Michael Brown not so innocent, had committed 'strong-arm' robbery, resisted arrest, tried to grab officer's gun in squad car, say police
---
2016: Clinton backtrack, conflicting statements muddle Syria message; where did she really stand?
---
New York: Coca-Cola buys 16.7% stake in Monster beverage; sub-brands will change hands
---
Lauren Bacall: Dies at age 89
---
Iraq: My night on the mountain of hell with dying Yazidi refugees
---
Big loss: Robin Williams dead at age 63; funny man defined improvisation
---
George Jonas: How the communists killed communism
---
American Thinker: Scientist confesses he made up polar bear population estimates
---
---
Links formerly right here, now at http://www.newswatchcanada.ca/oldnews2014-1.html
---
---
---
---

---
Click this for Kiev/Ukraine video links, videos & screen caps from Feb. 20
---
New York: Obama slammed for serial insensitivity and inattentiveness;
his AWOL behaviour seen as 'conduct unbecoming a President'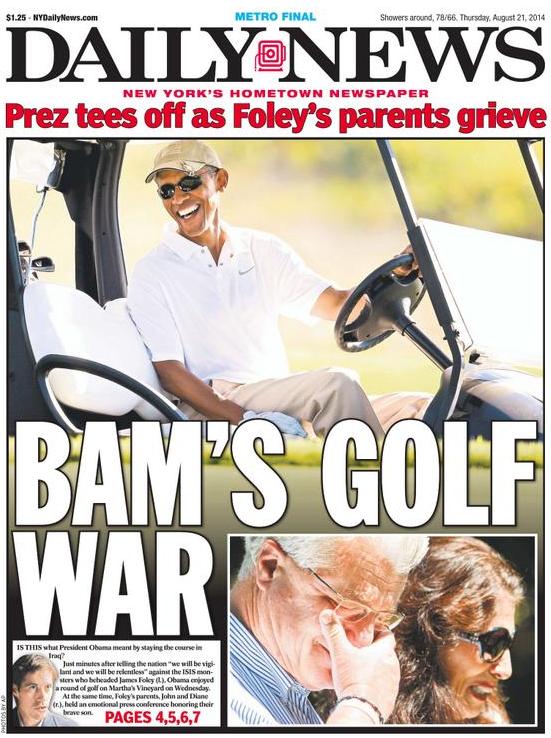 Lame duck President Obama is seen to put playing golf with buddies before doing his job whether on formal vacation or
when he's supposed to be at the White House. To make matters worse, in a time of world crisis and American sorrow
over the ISIS beheading of journalist James Foley and others he's seen non-stop partying.
---
Monrovia: Liberia seals slum as Ebola claims 1,350 lives
---
Pakistan: Qadri commands siege of Parliament by 'Revolution Marchers'
---
REVOLUTION: 3D printers changing the world, replacing
conventional parts manufacturing; faster/better houses next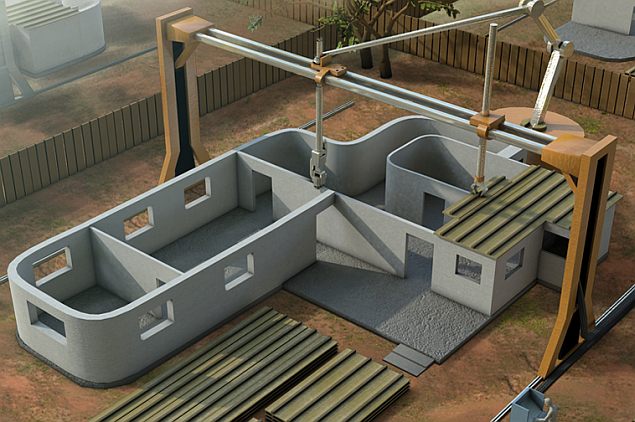 "It's pretty easy to see that you're going to be able to print a house, and that it's going to be different and better that what we are making now, the old-fashioned way." 3D systems 'print' objects by laying down thin layers of metal, plastic or ceramic, one atop another, to create a three-dimensional finished product. As the technology improves, larger and faster printers will drive up demand for the raw materials, according to an expert. With key patents for 3D printing technology expiring this year, the machines are expected to become more common in manufacturing industry. ~ NDTV
---
WSJ: Canada agency cites host of factors for 2013 Quebec rail disaster
---
Lac-Mégantic report says rail firm audited for safety bureaucracy but not for its effectiveness; recommends key changes for modern train operation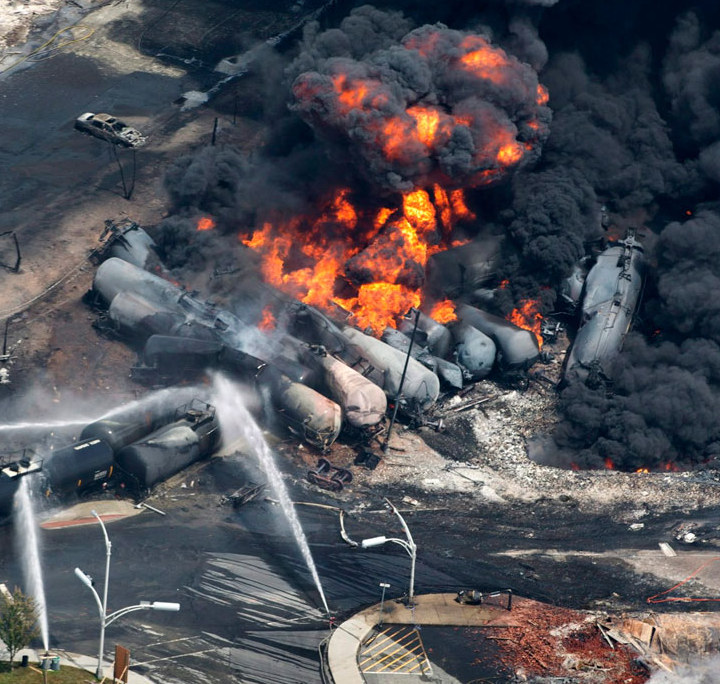 Smoke rises from railway cars carrying crude oil after derailing in downtown Lac-Mégantic, Quebec in July 2013. In its final report into the Lac-Mégantic accident, the Transportation Safety Board of Canada called for more thorough audits of safety management systems and said more physical defenses were needed to prevent runaway trains.
---
Liberia: Ebola fears rise as Monrovia clinic looted;
up to 30 patients flee, as their sheets, belongings stolen
---
Ottawa: Canada to fly weapons to Kurdish forces battling ISIS
---
Ukraine President says artillery "quickly destroyed" Russian column
---
Ukraine demolishes Russian armed convoy says Kiev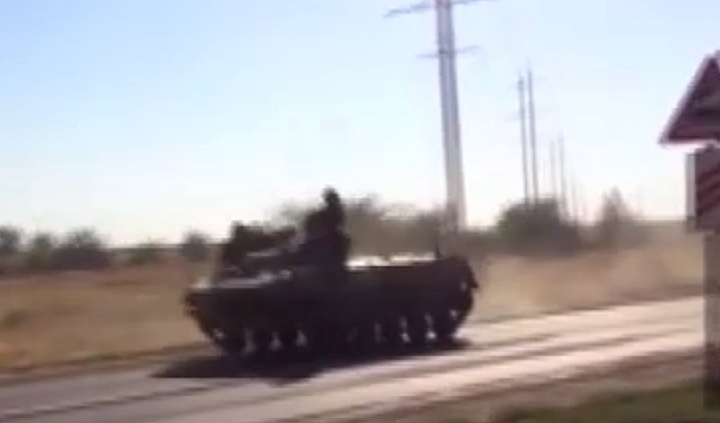 Russian armoured vehicles about 40 kilometers (25 miles) away from Ukraine were seen heading toward the border. ~ Bloomberg
---
Brussels: NATO accuses Moscow of escalating Ukraine conflict
---
Ukraine: Russian army trucks and armoured
vehicles cross at obscure border crossing
---
New York: WHO backs use of experimental
Ebola drugs in West African epidemic
---
New York: When someone runs onto a live race track in a fit of pique
why does anyone believe the driver who hit him is at fault?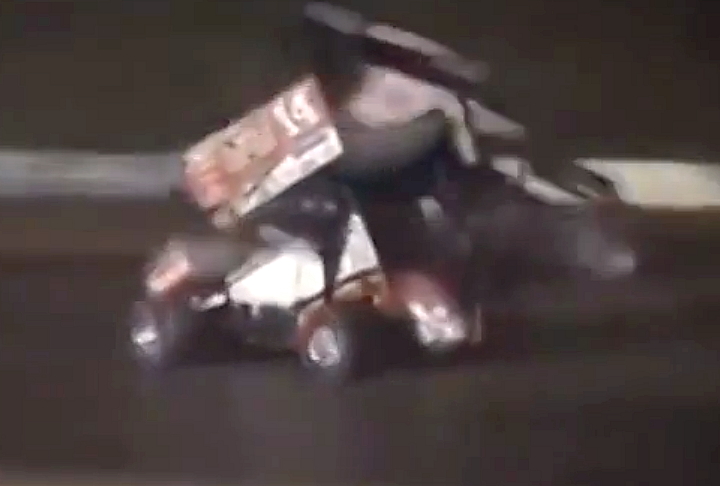 This is the moment Tony Stewart's #14 dirt track sprint car hits driver Kevin Ward, Jr. who had exited his crashed #13
(background) and charged down the slippery clay track at Stewart waving his arms while cars circled the track under
the yellow caution flag. ~ screen capture from https://www.youtube.com/watch?v=TQYlWDcMFJo
---
update: Patient at Brampton, Ontario hospital tests negative
for deadly Ebola virus after trip to Nigeria
---
New York: WHO declares Ebola an international health emergency
---
---
Links formerly right here, now at http://www.newswatchcanada.ca/oldnews2014-1.html
---
For full news link archives since December 7, 2009
follow page links from
NWC Old News
Welcome to Worldwide Visitors
Send news tips to
Editor@NewsWatchCanada.ca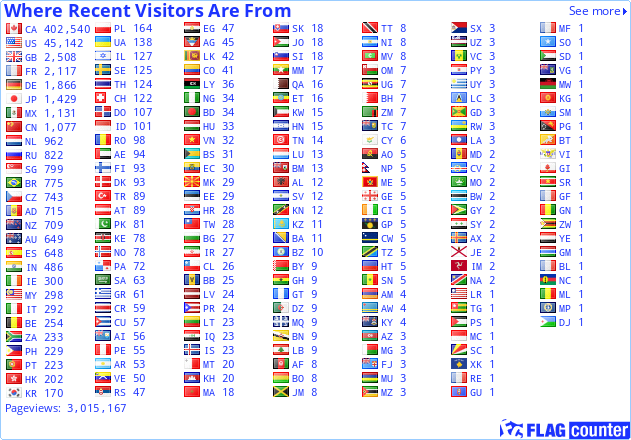 ---
Whitehorse: PM Harper announces northern research program
---
Ottawa: CRTC wants to bring cable, satellite choices into 21st Century, including everything from cheaper bundles and American Super Bowl ads to personal channel choices; seeking public input first
---
Ottawa: Wind Mobile cuts roaming rates by 95% after CRTC decision forces big telecoms to charge smaller rivals less
---
Forum Research poll: Federal Liberal support dropping like a rock, lead down 9% since July
---
Ottawa: Harper North trip to highlight agriculture, Arctic sovereignty
---
Ottawa: Canadian Medical Association delegates reject CMA leadership's neutral stance, vote to formally oppose smoking of marijuana; say smoking harms lungs' "natural cleaning and repair system and traps cancer-causing chemicals" in airways; Mulcair's in-person pro-marijuana plea ignored, will Trudeau now attack?
---
Ottawa: Canada moves again to tackle internal trade barriers
---
Toronto: Ontario could make more money, see lower prices by ending booze monopoly: study
---
Misspent Ontario: Toronto's $456M 'boutique' train service to airport will gouge users, too
---
Montreal police chief vows probe as municipal workers, including firefighters, storm city hall while police stood idly by
---
TIFF 2014: Toronto International Film Festival flexes muscles, unveils mega line-up of flicks and film stars
---
Montreal: 'Savage' pension protest at Montreal city hall condemned by Mayor Coderre
---
Montreal: Unions storm, ransack Montreal city hall during council meeting in violent pension protest
---
NHL: Steve Moore reaches settlement with Todd Bertuzzi before trial start: reports
---
IGA buffers: Canada-U.S. dual citizens could be worse off if FATCA lawsuit succeeds
---
Calgary: Calgarian fighting for ISIS reported dead
---
Friend in need: Canada sends 3rd plane of supplies to Ukraine
---
Ottawa: Canada created revised 41,700 jobs in July, more than double the expected boost; original release of data had shocked with faulty 200 figure; unemployment down to 7%
---
Justice: Lynne Knight's ex-boyfriend found guilty of murder 35 years after she was strangled and stabbed in California
---
Toronto: Oath to the Queen upheld in citizenship challenge
---
FATCA: Compliance with U.S. banking law violates Canadian Charter, suit claims
---
Kelly McParland: Trudeau's vow to help chiefs hide incomes treats band members as second-class citizens
---
Toronto: Canadians' net worth grew nearly 8% last year on higher housing and investment values
---
Toronto: Chow drops like rock into third place as John Tory stands alone in first says new poll
---
Ottawa: Canada trade surplus widens to two-and-a-half year high of $1.9B
---
---
Links formerly right here, now at http://www.newswatchcanada.ca/oldnews2014-1.html
---
---
---